Ducati found its Taglioni-engined twins a good match for the fledgling Formula TT series, and produced road and track versions.  This California example has apparently never seen the road, and not much of the track as evidenced by the unfettered condition.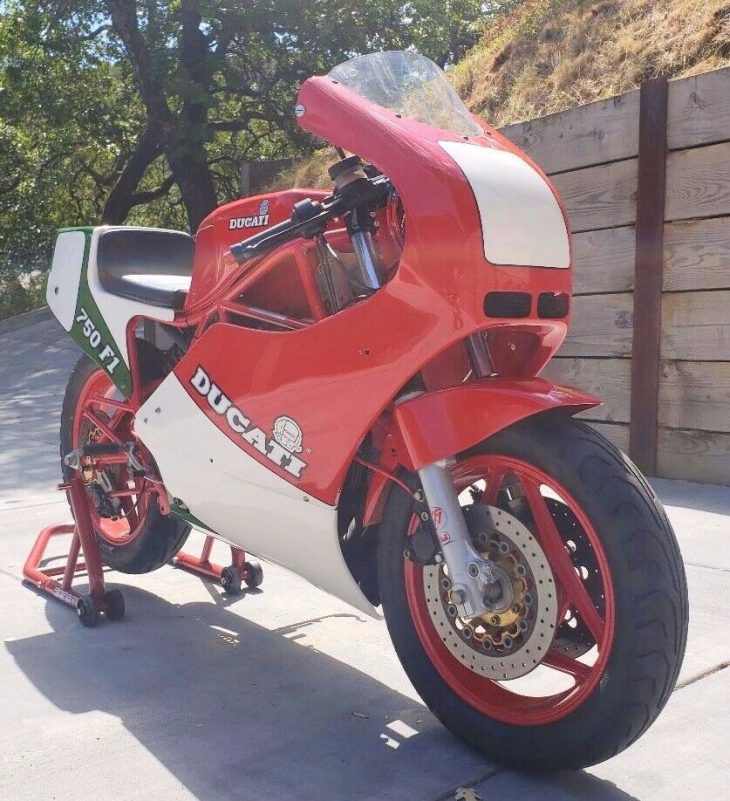 The F1 refers to its Tourist Trophy class, the 600-750cc segment of the race series which got its start when FIM decided the Isle of Man was too dangerous a venue.   As presented for the street, the F1 claimed 63 hp, with two valves per cylinder and 36mm Dell'Orto carbs.  The artfully crafted chrom-moly chassis and swingarm had Marzocchi dampers front and rear.  Brembo brakes are not oversized at 280mm, and the six-spoke alloy wheel sizes were staggered at 16 inch front, 18 rear.  The sub-400 lbs. weight came through judicious use of lightweight materials and drilling everything else.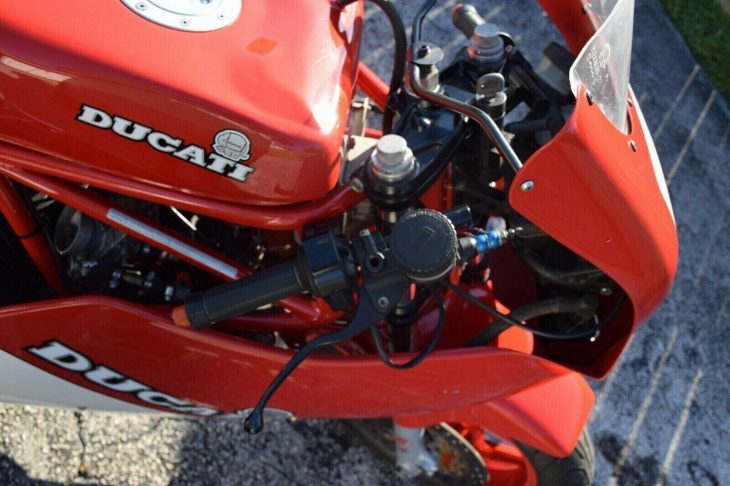 Hard to expect a full ownership and maintenance history for a find like this though the seller does posit an odometer issue.  Can't tell all from the pictures provided, but the finishes look excellent and lack the patina that not much actual use would provide.  Carburettors have been upgraded to 38mm Mikunis, and fuel plumbing had to be changed to accommodate.  From the eBay auction:
1987 Ducati F1B that was never titled for the road. The speedometer has 4 miles. I don't believe it to be original miles. The 750 F1 was a factory prepped track bike that saw very little use. The paint is in beautiful condition and as you can see in the photos. Bike is fitted with a harness for track, with out a left side headlight switch. The bike starts and runs flawlessly. Carbs are Mikuni race 38 mm flatslides. The bike would need little work to return it to a road bike but at the end it is a original factory 750 F1. The frame paint shows no use and is in beautiful condition without any damage or scratches. The bodywork has some small spider cracks on the mono seat, fairing is in beautiful condition. The plastic windscreen shows a small crack visible in the photos.
Ducati started out in Formula TT with their 600 F2 under Tony Rutter, who laid down 4 consecutive championships.  The 750 F1 wasn't quite so lucky, but has become an iconic model.  Special F1 editions commemorating wins at Montjuich, Laguna Seca, and Santamonica may have put Ducati on the path to continuing limited editions.  This F1B is a classic piece of exotica and has the ask to match – but looks worth a daydream or two.
-donn