Update 12.7.2022: This bike has SOLD! Congratulations to buyer and seller! -dc
Over its ten year lifespan, Yamaha's TZR-250 went through lightning-quick development, starting as a parallel twin in 1986 and wresting the championship away from Honda in 1990 and 1993.  RSBFS fan Tom presents his totally rare 3XV8 with lots of recent maintenance and California tags.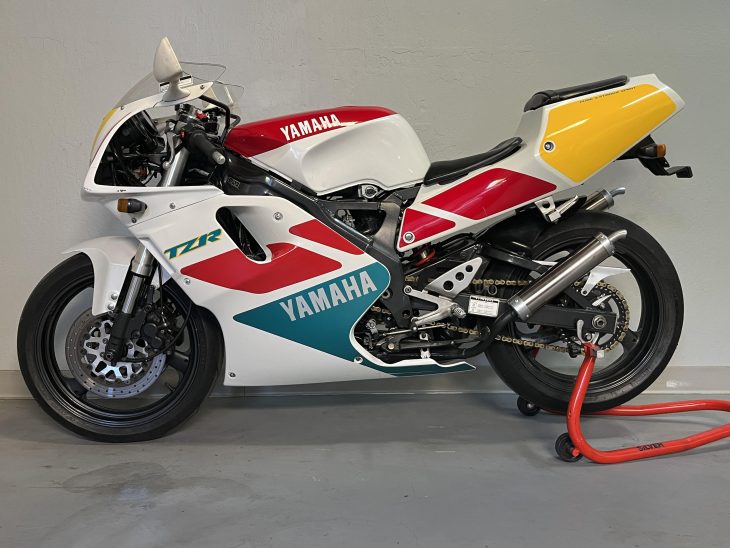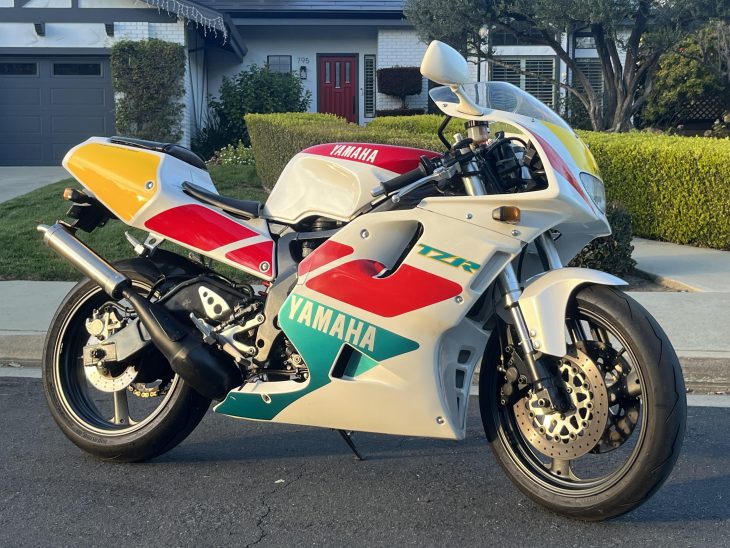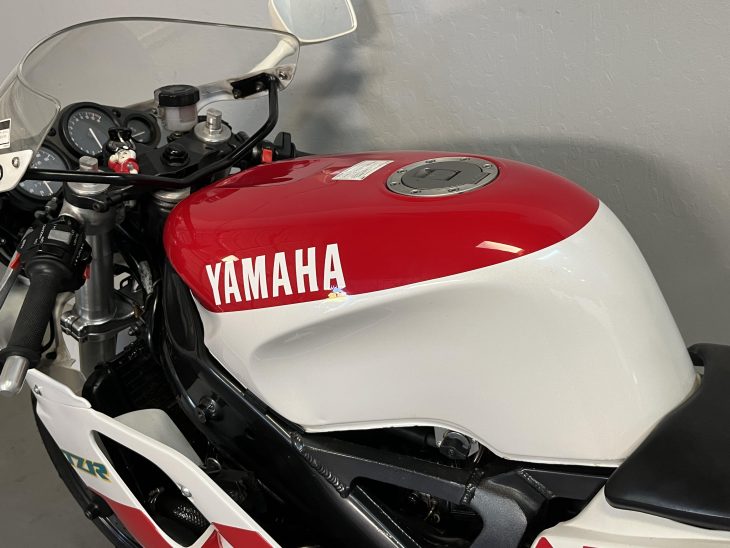 1991 and later TZR-250's were V-twins, with reed valves, exhaust power valves, and un-restricted claimed 60 hp, more than 200 hp per liter!  39mm upside-down forks are almost overbuilt for the weight, as are the dual disk brakes.  The RS sported a light dry clutch, and all 3XV's had 17-inch wheels.  The Deltabox frame is largely hidden by the full bodywork, with color block livery identifying it as an RS.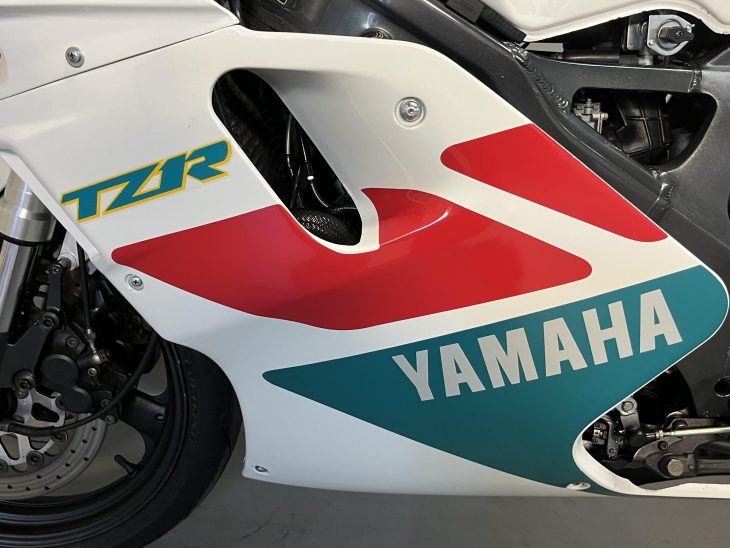 Tom has kept his TZR ready to go, with a recent engine overhaul, new clutch, Pirelli's and fuel petcock.  Clocks indicate 12.5K miles approaching, but aside from a few fairing cracks, sure doesn't look it.  Informative notes received at RSBFS –
Coming out for auction from my private collection of 2-stroke sport bikes is this 1992 Yamaha TZR250-RS. It is 1 of 1,000 limited edition RS's produced that year. What makes it an RS in 1992 is the dry clutch. This TZR is California registered, plated and insured in my name as a 1992 Yamaha 250.


The engine was fully rebuilt by a Yamaha technician approx. 2,400 miles ago. New crank, pistons, power valves, bearings, seals, even the dry clutch was replaced. It runs as new, starts 2nd or 3rd kick cold, 1st kick when warm, idles nice, very good throttle response, strong mid-range and revs out nicely. 
New Pirelli Diablo Corsa tires approx. 300 miles ago
NOS petcock recently installed
Carbs were just balanced
New spark plugs, transmission oil and air filter
New Vesrah front brake pads, flushed and system bled. Front brakes are strong. 

Known issues are only bodywork related:

Small crack on right side of upper front fairing
Large crack of left mirror mount
Small crack on left middle fairing
Small piece missing on right mid-section fairing
Paint chips on right front of nose fairing
Large crack and small piece missing from right mid section
Windshield is starting to have spiderweb cracks


Included is a Yamaha OEM used but nice condition right mid-section fairing, and also left middle fairing. Also included is best available complete reproduction decal kit from Image Works in the UK. This TZR is ready to ride and enjoy, or install replacement bodywork, get the remaining cracks repaired, new paint, install decals and you will have a cosmetically and mechanically restored, Cali plated TZR250 RS!

 

Bid with confidence, 18-year eBay seller. Please check out my seller feedback. I will work with your shipper, and also I can hold the bike for 30 days for you after the auction is closed. Immediate $500 deposit required after auction ends, full amount within 3 business days. Thanks for looking!
Having never been imported by the factory, the TZR-250 will always be somebody's baby, with the real excitement found as the rev counter passes 8,000 rpm.  Tom's looks ready for a grand day out, or could be brought to the next level.  Either way the next owner will be toward the center of the next Bikes and Coffee event.
-donn