2004 BMW-R Boxer Cup Replica for sale and is #209 of 300
A quick search of RSBFS.com tells me that we've only posted 1 BMW on our site. So what better way to kick off a Tuesday morning other than posting this fine BMW BCR. Forwarded to us by viewer Dave (twice now, sorry!) is this low mileage BMW LE complete with Randy Mamola's signature… well, not his real one. Once, again I'll have to admit that I don't know squat about a bike, which is very humbling, but anyone in the know can help me out by making comments 🙂
The first thing that jumped out at me was how clean the bike appears to be. And it also appears that this bike has never had it's cases rubbed on asphalt which is a good thing when street riding a collectible cycle with carbon case covers.
The next thing I noticed was how simplistic BMW made adjusting the pre-load on the rear shock. No more clumsy wrenches eh?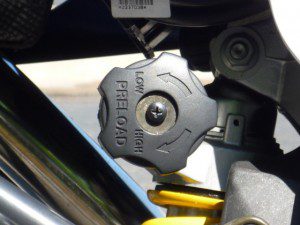 Here's some quotes from the listing:
2004 BMW R1100S Boxer Cup Replica. Only 4k Miles, #209 of 300 Produced, And This Bike Is Flawless!!!! The only reason I am selling the bike is because I lost my job. Any questions about the bike, shipping, etc… please email me, I will respond right away.

Bike has been garaged is whole life, and you won't fine a nicer more well maintained low mile example of a Boxer Cup Replica anywhere. Recently serviced at the BMW dealership….New battery, new Dunlop Sportmax Qualifier high performance rear tire, also comes with a new BMW power socket (for Battery Tender or heated clothing). Very smooth BMW shaft drive, 6 speed transmission, lots of carbon fiber parts including the valve covers, forged magnesium wheels, adjustable suspension, and very fun to ride, never abused or down, always adult owned.
Prefer German over Italian or Japanese products? This one is ready to roll with new tires, recent service and it looks like a million bucks or maybe $8,500 because that is the . Jump on over and check it out should you be interested. Since it is shaft driven it would make for a great sport tourer or Sunday sport rider. Whichever tickles your fancy, this one is worth a look.
Cheers!
dd