Check out this group of 3 late model Ducati superbikes for sale from the same seller. Heck, throw in a Hailwood & 888 SPO and you'll have a sweet chronology of Ducati Superbikes. These bikes all appear to be in great condition, so let's look at them individually.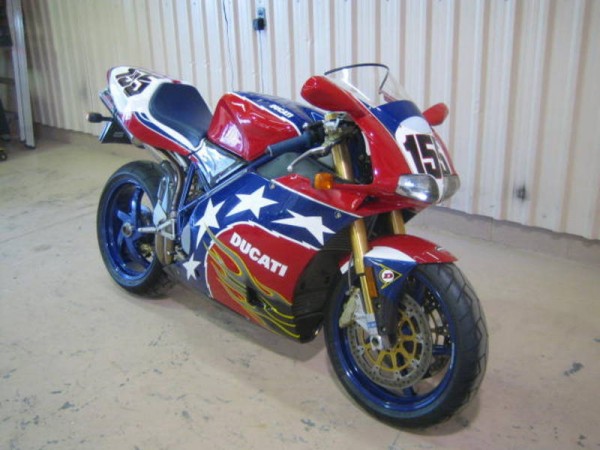 The 998s Bostrom is especially unique in the lack of miles it has accumulated through the years. Although we have seen a fair amount of Bostrom replicas on RSBFS (here), few have matched the low miles on this example – less than 1,000 miles! Although I love this model and the low mileage on it, the price at $25,000 U.S. dollars seems very optimistic to me.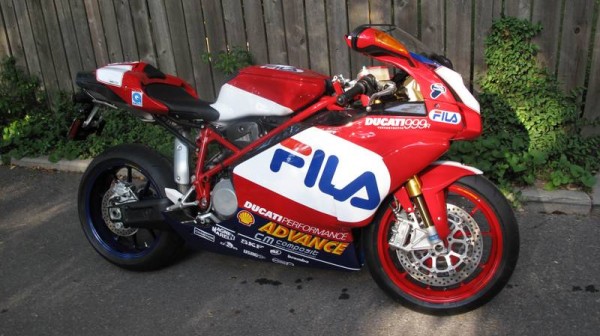 Ah the forgotten Ducati, the Fila 999R. Most Ducatisti will fondly remember the 916/996 series and most will also admire the handsome 1098/1198, but few cherish the 999. In some ways this bike never had a chance; following the 916 is no easy task. This bike is especially remarkable in that it is brand new – only 8KM! The price is virtually identical to the Bostrom, but this one is NEW.
On to the crown jewel of this trio – the 1098R Bayliss Replica. This bike is also brand new and nothing short of stunning. The Bayliss bike has been crippled from the get go by a weak economy, weak US dollar and aggressive pricing by Ducati. This convergence of factors led to an abundance of new or like new Bayliss bikes, similar to this one, selling way below MSRP right off the showroom floor.
I hope someone goes big and picks up all three.
Check out the listings with contact information below:
BG