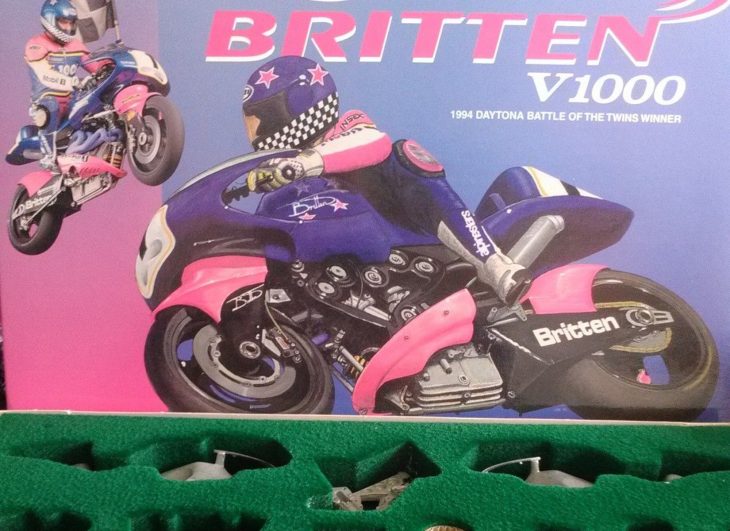 Look, I know it sucks: you're never going to own a Britten. You're never going to ride one. Honestly, most people will never actually see one in person. Maybe someday, someone will build a run of nearly perfect replicas built to the original specifications. But even if they do, you probably won't see one of those, either. But you can buy this scale model of the Britten V1000, and that's not a bad thing.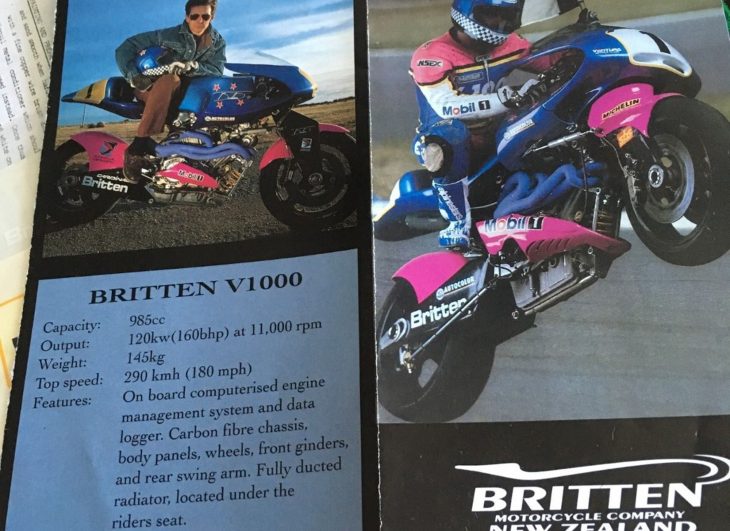 The V1000 is the ne plus ultra of scrappy underdog stories, and reminds me of the first Iron Man film, "Tony Stark was able to build this in a cave! With a box of scraps!" John Britten had use of a shed and a bit of help, but lacked Stark's resources and his V1000 certainly looks as impossible as a suit of flying armor, with an even more unlikely color scheme.
Just ten bikes made, with the lurid metallic blue and pink version being perhaps the most iconic. Looking absolutely alien, even to this day, the Britten V1000 took conventional thinking and pretty much threw it out the window. Nearly every single component was radical and innovative.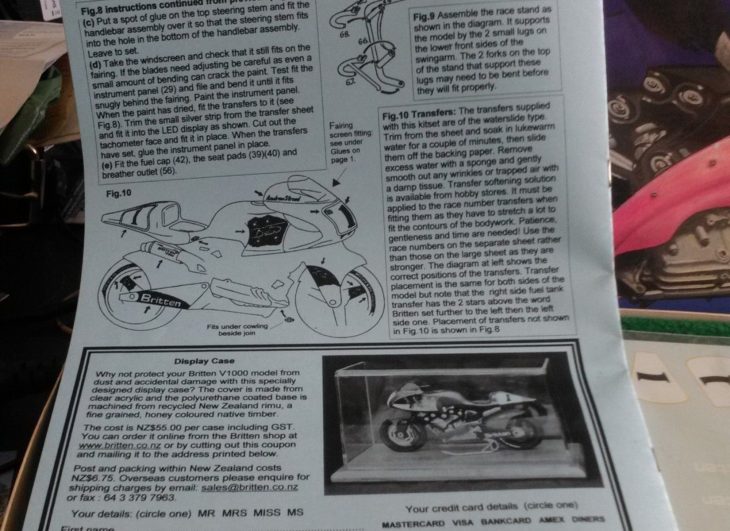 Suspension consisted of a carbon-fiber Hossack front end dampened by an Öhlins shock, with the rear Öhlins unit mounted in front of the engine and connected to the carbon-fiber swingarm via pushrods. The bike is basically frameless, and uses the engine as a fully-stressed structural member. A minimalist carbon-fiber structure links the heads and provides a mounting point for the front suspension. The swooping, minimalist bodywork is also carbon-fiber, and was designed to provide significant downforce, while vents in the nose ducted air to an underseat radiator. The wheels were made of carbon-composite.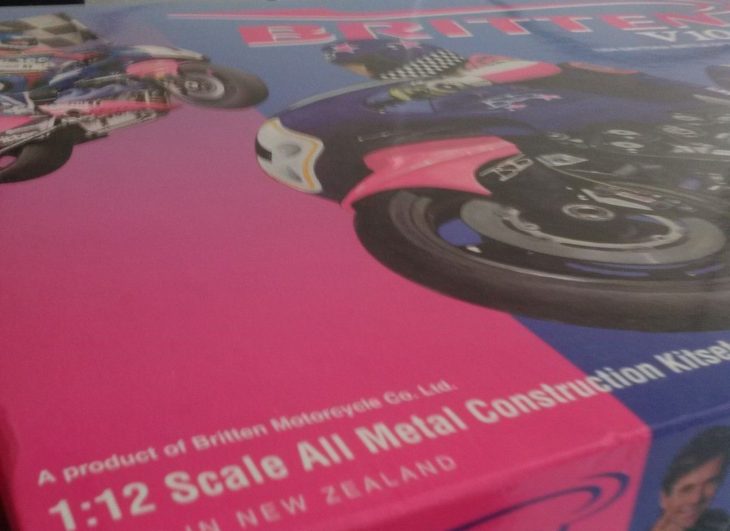 The powerplant itself was perhaps the most conventional component of the bike, although it did feature programmable engine mapping and data-logging that can be accessed via laptop, something unheard of at the time. It was a narrow-angle 60° v-twin designed entirely by Britten, displacing an on-the-limit 999cc that produced a claimed 166hp and included the usual raft of race-spec internals, but interestingly lacked balance-shafts. The five-speed gearbox from Yamaha was one of few significant components not produced in-house by Britten, although I've read there was an optional six-speed box available as well.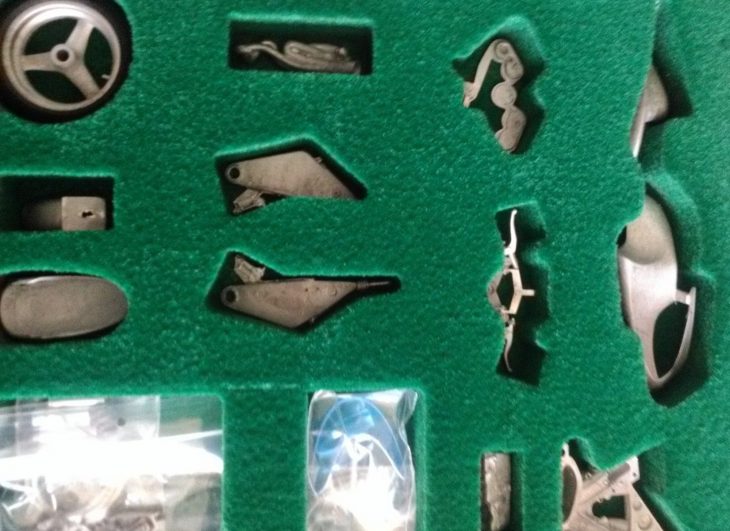 The result weighed just 304lb and recorded a top speed of 188mph at Daytona. The V1000 was successful in competition, winning various events between 1991 and 1994, mostly in twins-only series, since it was obviously never going to qualify for production-based racing. A shame, since one can only imagine it would have stacked up well against Ducati in WSBK.
From the original eBay listing: 1994 Britten V1000 MODEL for Sale
This Kit is 1:12 Scale of possibly the greatest Motorcycle ever raced.

This is number 115 of the first 200 ever produced to fund the development of the Britten.
These kits are an investment: there will never be any more produced since the factory was destroyed in the devastating earthquake at Christchurch NZ southern Island.

This kit is complete and unassembled.

Early kits included a supporters product pamphlet. It is included.

The metal is silver pewter of the best quality with brass screws.

The only plastic is the screen and control lines it has rubber tires.

Check with the seller for Postage cost.

THIS ITEM IS LOCATED IN AUSTRALIA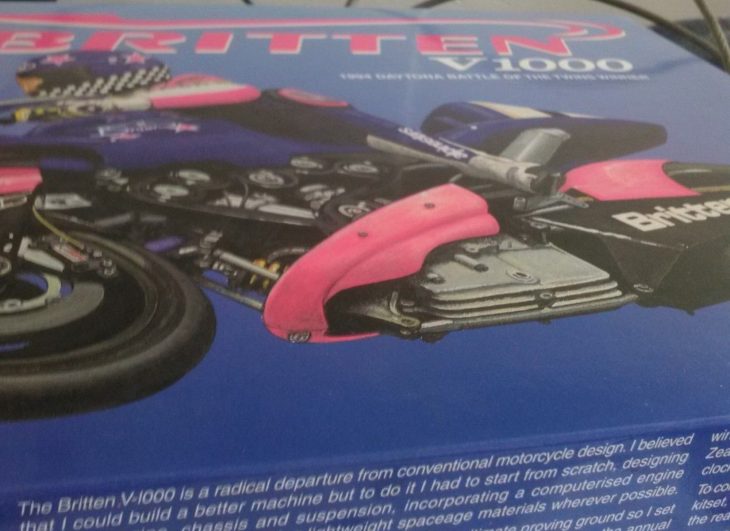 200 kits were produced to "fund the development of the Britten"?! Just how much did these kits cost originally? The seller is asking $1,200, and I've no idea what this might really be worth now, but it's a pretty cool piece of history. Speaking from experience, this combination of metal, plastic, and rubber isn't something you'd want to try and throw together unless you've got some skill. Unfortunately, part of its collectible value is that it hasn't been assembled, presenting the potential buyer with a conundrum: keep it in the original box, or commission a build of the thing. Or hey, if you're an experienced modeller, go right ahead and build it yourself for the ultimate desktop fantasy.
-tad