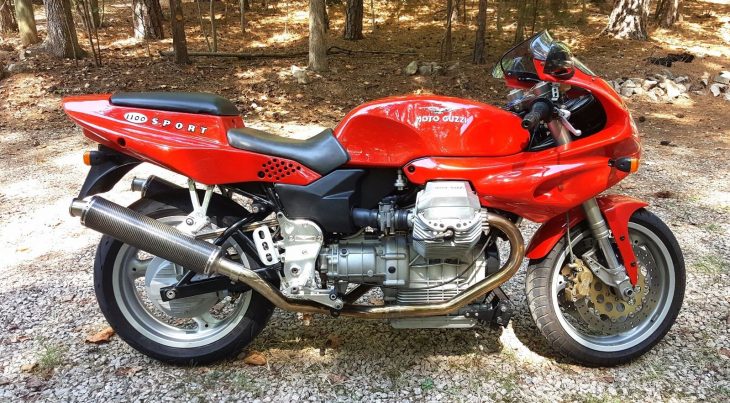 A sportbike powered by a 1064cc two-valve pushrod twin seems positively antediluvian in context and was absolutely outclassed by the competition even when new. But Moto Guzzi managed to take their rugged and very entertaining powertrain and fit it into their 1100 Sport that, while not cutting-edge, offered up charisma, handling, durability, and exclusivity. I've always been a huge fan of the looks and, unlike many of the earlier Tonti-framed bikes, prices on these have stayed pretty low so far, aside from the obviously collectible Daytona and RS models. If you're into long sweepers and midrange grunt, these are pretty cool motorcycles.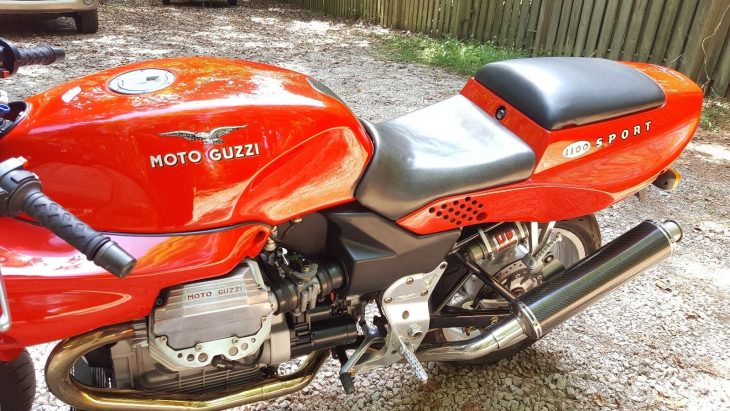 These are miles from "light and flickable" but, thanks to quality suspension at both ends and fundamentally correct geometry, they do handle. You just need to plan things out a bit more ahead of time and be very smooth. Fortunately, the Guzzi engine makes that fairly easy: the longitudinal v-twin, especially the two-valve model, is torque-rich and flexible, which is a very good thing because the antiquated five-speed gearbox is notoriously poor and likely a huge factor in the bike's "agricultural" reputation.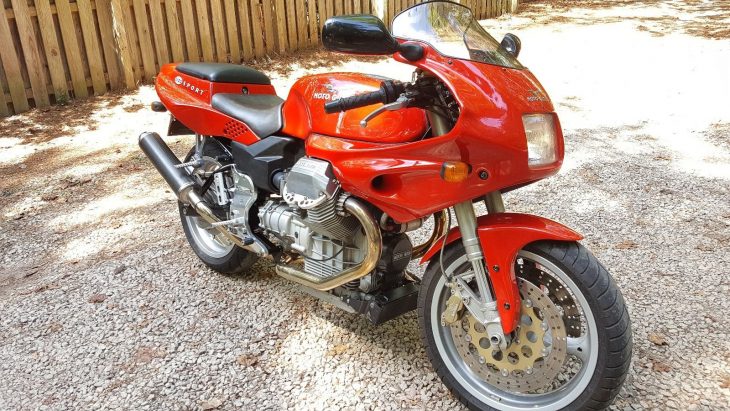 For years, even the sportiest Guzzis had very effective, but purist-offending linked brakes that saw the right hand lever operating one front caliper and the foot pedal operating the other front caliper and the rear, with a proportioning valve to control brake balance. The top-spec triple Brembos on the 1100 Sport were unlinked and had great feel and plenty of power, but braking performance is less than period rivals as those normally very effective stoppers had to haul the bike's 487 pounds dry down from speed.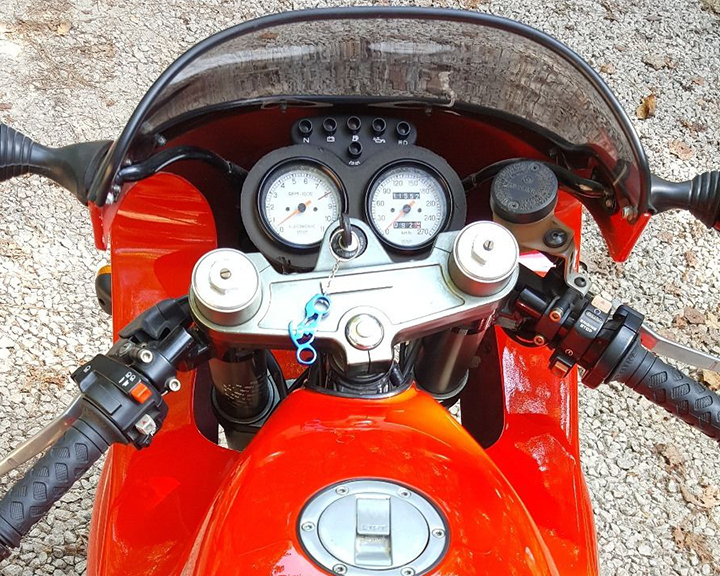 So the Sport is too heavy to be a real sportbike and not comfortable enough to really be a tourer, although plenty of folks fit a set of Helibars and some soft luggage and do it anyway. Certainly the sound from the carbon cans should have the next owner actively seeking out every tunnel on their tour route. Guzzis are famously durable, the shaft-drive very low-maintenance, and basic valve-adjustments on the two-valve twin should be a snap, since you don't even have to remove any bodywork to get to the heads…
From the original eBay listing: 1997 Moto Guzzi 1100 Sport for Sale
1552 km/ 2136 mi

Clean and clear NC title! Runs and rides great, normal wear and tear, ready to ride now and is in an EXCELLENT condition! The 1100 Sport is one of the very best looking models ever built by Moto Guzzi and is a REAL collectible motorcycle. This MOTO GUZZI 1100 Sport is part of an extensive Italian motorcycle collection at the moment and the previous owner was The Wisconsin Motorcycle Museum.

This is a European model and speedometer is in kph. Very low miles for the year model, original unmolested condition. Original paint with very few small chips. No dents.

No mechanical problems. Clutch and transmission in excellent condition. Drive shaft joints are perfect. Forks are not leaking and rear White Power shock is working very well. No leaks or dents in exhaust system. Period correct aftermarket performance carbon fiber mufflers. Not too loud, sounds fantastic.

New rear tire, front is good. Few chip marks on wheel rims from changing tires, no accident damage. See pictures.

Original scratch less screen.

Original toolkit included.

Fairly new battery.

This bike is ready for a cross country trip.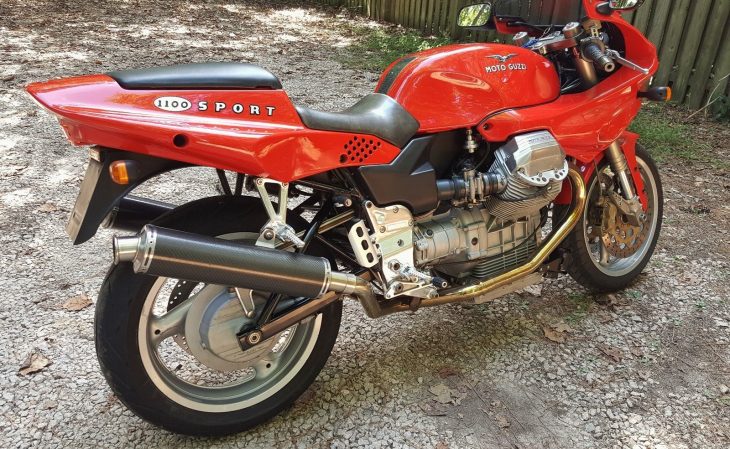 Bidding is pretty slow so far, well below what I've seen these sell for, and mileage is very low for a Guzzi. The seller insists that, although it's titled as a 1995, it is in fact a 1997 model. Guzzi was an early adopter of fuel injection on their roadbikes and the 1100 Sport had fuel-injection in 1996, so it looks like the seller is correct. An 18″ rear wheel would be a giveaway that it was the earlier, carbed bike as well.
The seller also believes it's a European model, but I'd guess it's more likely Canadian. Unfortunately, whatever its provenance, the bike has the US-friendly square headlamp that looks like it was shared with the Ducati 900SS of the period. That's a shame since some Euro-spec models had the much slimmer trapezoidal unit that the designers obviously intended for the bike. If you didn't know that different design existed, you'd probably never miss it. But once you've seen it, this headlight looks crude and awkward. If I bought one, I'd instantly begin a quest for the sleeker unit.
-tad