Update 7.31.2019: This bike has SOLD! Congratulations to buyer and seller! -dc
The 1997 Moto Guzzi Sport 1100i has been a bike for people who value quirks and personality over outright speed since its debut. With the marque's classic longitudinally mounted long-stroke, pushrod v-twin it's known for a smooth, torquey delivery rather than screaming speed. But what you don't get in lap times is made up for by the fact that the big Goose is solid, reliable, unique and timeless. And there are plenty of tasty pieces hung off the pretty trellis frame.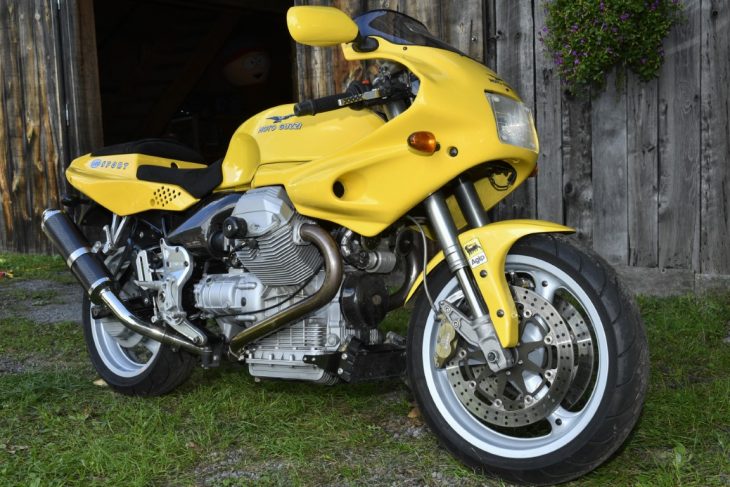 Despite a mill that made little sporting pretense, the bike wears WP forks and a WP shock, which guide a pair of lovely Marchesini wheels down the road. Thanks to that, and despite ground clearance hampered by the heads heading east and west, the bikes handle remarkably well.
And all that is before you get to how pretty the bike is, in this case in Guzzi's beautiful hue of yellow. This one has seen just shy of 7,000 miles, and less than 3,000 since its current owner took it to Ontario eight years ago.
By its condition, it is clear this bike has spent its entire life being babied, and as such, it is more than ready for a new owner to enjoy. From the seller:
This beautiful 1997 Moto Guzzi was listed on RSBFS in March of 2011, and was purchased by the current owner after seeing it on this website. Here is a link to the original posting here on RSBFS in 2011 – The bike was shipped to the border at Buffalo, New York, and was legally imported into Ontario at that time. The owner has Ontario ownership (title) in hand. At the time of the current owner's purchase the bike had only 3982 miles on the odometer. As you can see in the photos the bike has seen less than 2500 miles since moving north of the border.

Since moving to Ontario the bike has been kept indoors in a heated garage, except for its occasional use on sunny days. All plastic and bright bits are in excellent condition. It has a
new battery and starts and runs as intended. As you can see from the 2011 posting the rear sets and the levers are custom items, but the original controls and footrests were not included
in the original sale, so they are not available with this sale. The original owner's manual comes with the bike.

$7500. USD or $10,000. CDN

The Moto Guzzi is located about 30 miles east of Toronto. Assistance can be provided to facilitate shipping, but that is the responsibility of the buyer to organize. The seller, due to ill health, is selling his collection, and I am attempting to assist him with this process.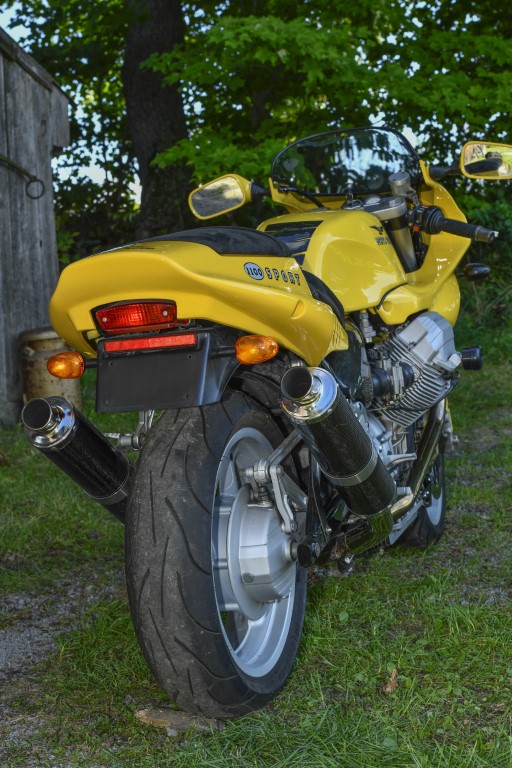 Thanks in part to its definite quirks and the fact that just being good at everything doesn't make you stand out, these lovely bikes don't command the premium that some of slightly less refined Japanese bikes do. But that, dear reader, is part of what makes this thing so desirable. The cost of entry means you don't need to be a budding tech oligarch to park one in your two-car.