Warning!
This post is in our archives. Links in this post have been updated to point to similar bikes available to bid on eBay.
Every post will be sent right to your inbox every morning when new posts are made. We will never sell our list or spam you. Plus you can click links to bid or buy right from the email and skip the site entirely. Subscribe to Rare SportBikes For Sale today!
Big, Beautiful, and Body Positive- I'd ride it!
Even though Guzzi describes it as a "sport bike" this, 450#, shaft driven machine pales in comparison to today's 200hp rockets, but it does have a certain mystique about it. I bet with a set of pipes the 992cc V2 would belt out a musical note worthy of the top spot on Mikes Mix-Tape. The reach from the seat to the clip-ons looks to be a bit long- can anyone confirm this?
1993 Moto Guzzi Daytona 1000
Fully stock.
Beautiful bike.
Always garage kept.
Biposto version (very rare)
#2 of only 250 that were imported into the US — own a piece of motorcycle history.
---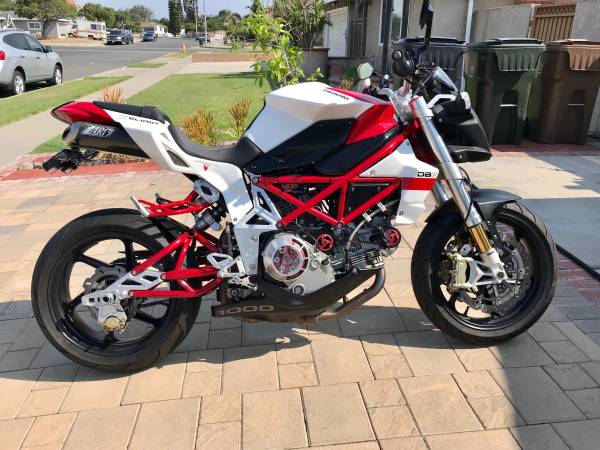 Simply a work of Hyper Bike Art. The Italians know what I like and continue to build some of the most eye pleasing machines- I could sit and look at this one All. Day. Long.
01 of 23 built in the world.
Power is from a Ducati 992cc SOHC L-twin paired with a six-speed transmission, and the bike is finished in Red/white with carbon fiber fenders and engine covers.

Additional features include Brembo radial front disc brakes with wave rotors, Zard mufflers, a steering damper, an inverted Marzocchi fork, and seating for two.
---
I had one of these gems on last weeks B-O-B's post and as long as I keep finding them you're going to keep seeing them 🙂
Super cool bikes that never gained much traction as a street machine, but they have plenty of cult following on the track. Back in the day, I had the opportunity to purchase one of these, but at the time I was all in on FZR400's. Much older and wiser now, I kick myself for not buying it when I had the chance.
Rides great no funny noises or smells, no overheating problems, battery is new , good chain & sprockets, good brakes, good tires, original paint, no accidents, just in great shape, no oil leaks it's a Honda.
It's a Honda- Preach it Brother!
---
Nothing too crazy here other than some snazzy decals. However, $4,000 for a 2,000 mile Ducati seems like a pretty good deal to me, but apparently, I'm an outlier because this one has been sitting on CL for a while.
Showroom condition on this Capirossi Monster. Only 65 of these were shipped to the USA.
---
Another small Honda that didn't garner too much attention when it was released, but I have to tell you- these are some neat little bikes. This 400cc inline four has gear driven cams and a 13,500 screaming red line. You don't see these very often and when you do, they're usually all jacked up with nasty paint, bumps and bruises. This one "appears" to be pretty nice and would make a great grocery getter or commuter.
What do you all think about these?
1990 Honda CB-1, 6 speed, 25,500 miles. Rare bike: 400cc inline four with gear driven cams, revs to 13.5k RPM. 3rd owner (all were in Bay Area), parked in garages its whole life. Under 300 miles on Pirelli Sport Demon tires. Original paint and seat.
---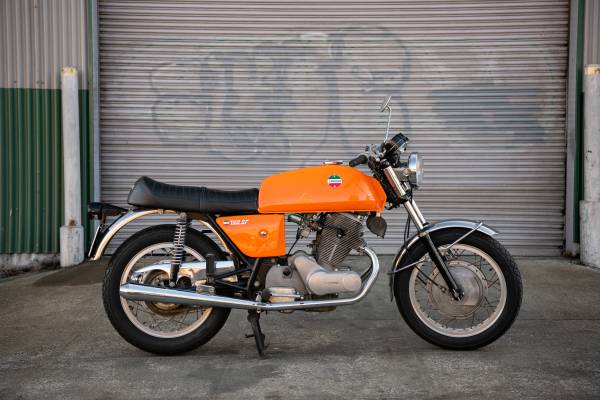 These older "Cafe Racer" machines always make me smile and while it would be a bad move on my part; if I owned this I'd wear a leather helmet and smoke goggles while riding it. You know- for the nostalgic kool factor.
Sensational Bike, Very Low Original Miles … Rare, Cool and Fun to Ride
---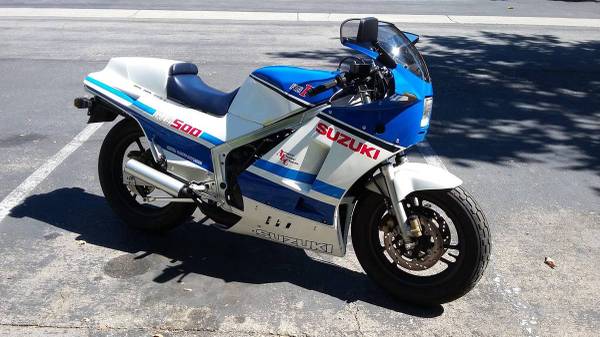 I'm just going to leave this one right here and let you all hammer out the details because we all know this is One Bad-Mutha!
This is extremely nice and very rare.
1985 RG 500 Gamma (Canadian Spec)
One owner…. Only 864 miles from new ! (1,391 kilometers)
California registered
$42,000.