Lucky to have been designed and manufactured during Aprilia's acquisition, Moto Guzzi's V11 Sport had some new ideas as well as classic Guzzi attributes.  This example shows just 3,130 miles and the condition indicates that is correct.
The V11 started its summation of Guzzi history right in the engine bay, with its largest-ever engine at 1,064 cc's, optimized for 69 ft.-lbs. torque but sporting 91 hp.  A newly designed 6-speed drew raves, along with an interesting two-plate dry clutch.  The chassis is a beefy rectangular tube connecting the headstock and sideplates, with the engine supported front and rear.  The shaft drive is a Guzzi hallmark, and the Brembo brakes look big enough to handle the 500 lbs. riding weight.  Styling is classic with upright but forward controls, nearly 6 gallons of fuel, and faired pillion.  Love it or don't, the green has been in and out of Guzzi's catalog since the original V7.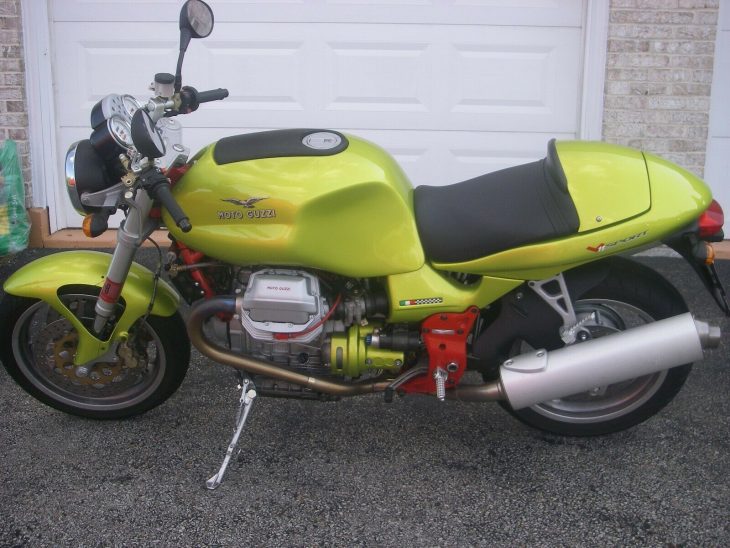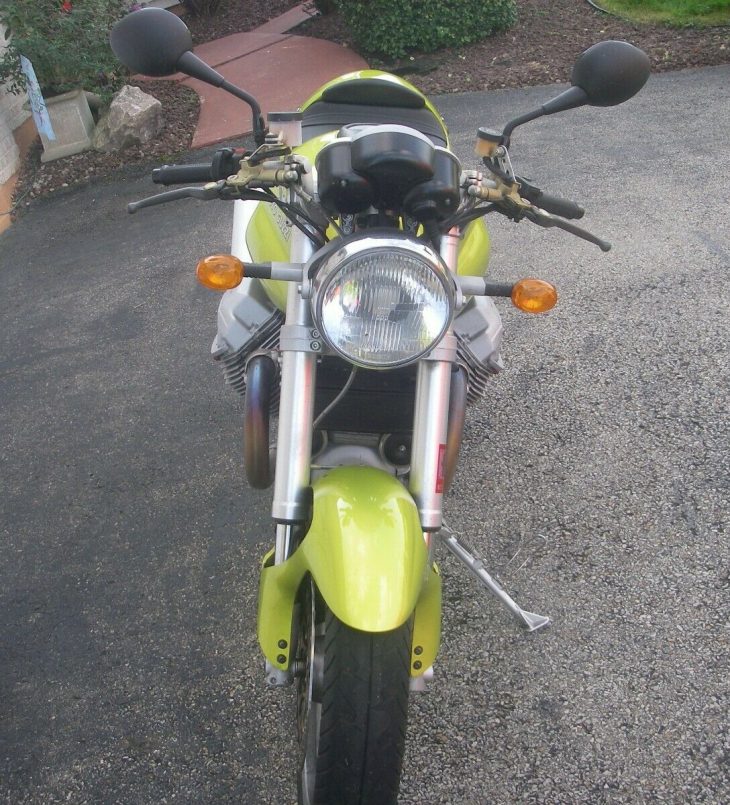 Somehow stored without damage after passing just a season's worth of miles, this V11 looks great and boasts a recent oil change and battery.  New baloney skins will be a requirement however.  Notes from the eBay auction:
Green color with Red frame edition in mint condition with only 3130 miles. It is a one owner motorcycle, all original with only a battery tender lead added. The Emissions Canisters have been removed as well as the side reflectors but I have these items in a box that's included in the sale. Newer battery installed as well as a recent oil change. Tires are original as well as everything else. Never in the elements and kept in a climate controlled garage. Clear PA title and 2 keys along with the Owners Manual.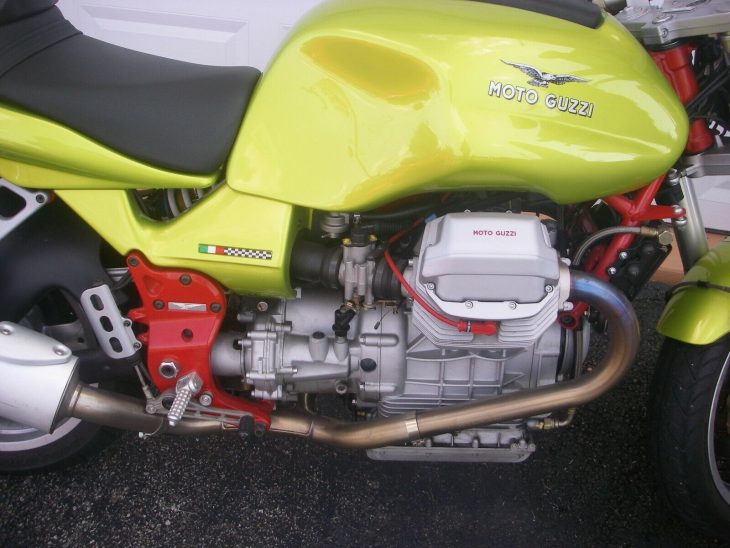 The V11 stayed in production until 2006, and the 1064 two-valve engine was used in the more muscle-bike Griso until recently, though only the 1200 is currently on the USA site.  Better for shorter rides without the Le Mans fairing, the semi-clip-ons give a sporty but relaxed ride.  Classic prices have been so bonkers it's hard to say whether this one will still be available when the post comes up, but it's worth reviewing to see a lovely stock example.
-donn