Update 4.27.2021: This bike has sold to an RSBFS reader! Congratulations to buyer and seller!
Check out our criteria and get your own Featured Listing! -dc
The 1997 Moto Guzzi Daytona RS is probably the pinnacle of MG's powers, and it's a true emblem of the storied marque's steadfast dedication to doing its own thing, consequence and technology be damned. The Daytona line was released in 1993 to celebrate Goose's racing success with a privateer in the 1980s. If you can find one from any production year, they are magnificent machines, but the '97 RS model adds some handling finesse and power the older bikes lack.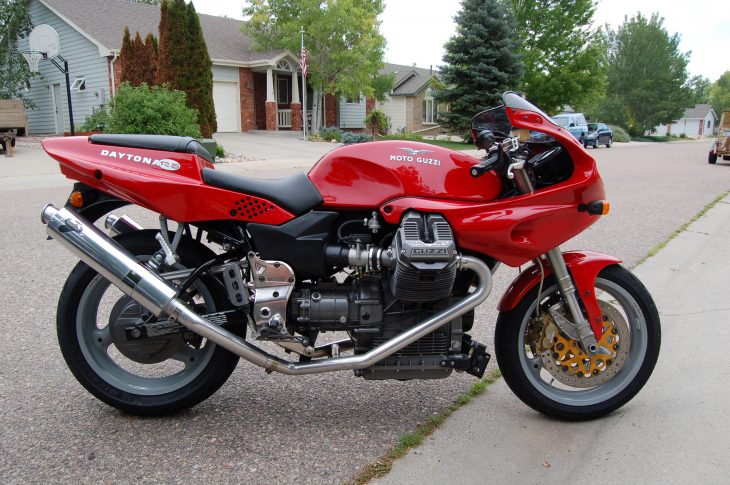 For '97, the v-twin got a 12-horsepower bump to just under 110 horsepower, thanks to better breathing heads, Carillo rods and forged pistons, a lightened crankshaft and upgraded EFI. Braking was now handled by Brembo, and adjustable WP suspension front and rear kept the 500-ish-pound brute headed the right direction. Other trick bits included Marchesini wheels and an Bitubo steering damper.
Complaints at the time included notchy fueling from the big twin, but this bike has had its issued smoothed out with a chip tune from Creedon. The mod should bump power slightly as well as cure the throttle response woes.
From the seller:
Asking price for this beautiful, rare beast is $14,500 and it shows 13,360 miles. It's not Ducati quick, or as precise and capable as a Japanese bike, but neither of those machines carries the same panache. Unless you're a member of a well-heeled Guzzi club, the chances you'll ever see another at the local cruise night are nil.