More than just a model, Moto Guzzi's V11 was a nice collection of special editions made from 1999 to 2006.  The tri-colore Coppa Italia commemorates the firm's participation in the Italian naked bike championship in 2003.  This 2004 has been lightly ridden and upgraded and appears to want only a healthy owner.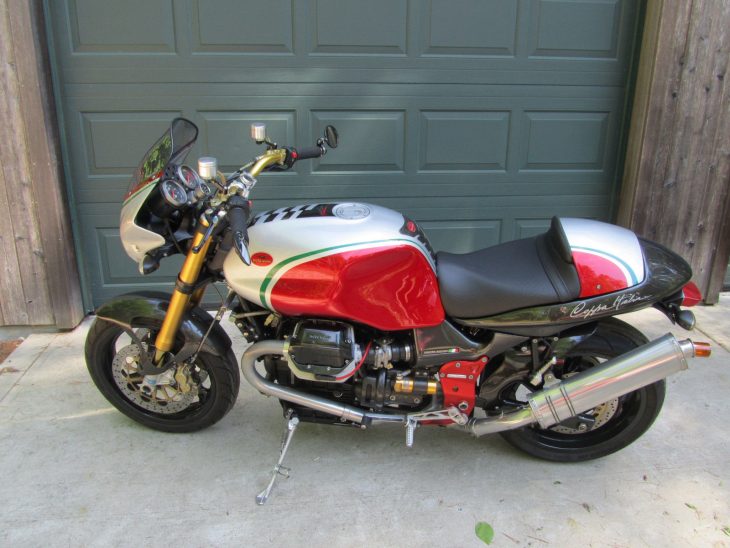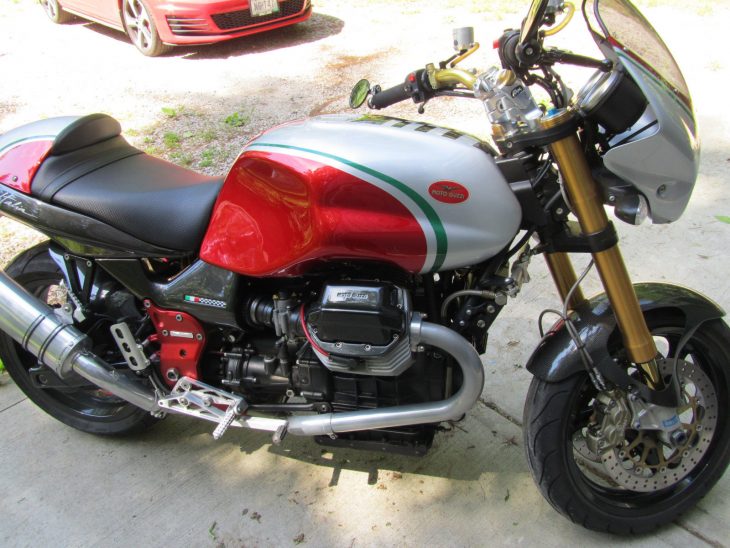 Moto Guzzi held the V11 back until the new engineering management from Aprilia had made their review, and the result was a classic Guzzi with up-to-date mechanicals and quality control.  The Coppa Italia came in the middle of the model run and capitalizes on the mature longitudinal V-twin with 91 hp.  Nearly 70 ft.-lbs. torque makes the road flatter for the 5-speed transmission.  The Öhlins upside-down forks and adjustable Sachs monoshock work well with the venerable shaft drive system.  The bikini fairing, tank and convertible solo seat fairing are finished in red, pearl white, and green stripes.
Presented by a Jaguar specialist, this Coppa Italia shows just over 7,000 miles and sports some piston-like hydraulic reservoirs as well as auxiliary oil pressure gauge and bar end mirrors.  Motratech lowers footpegs cope with the design's short-legged ergonomics.  Both the titanium exhaust and mufflers appear to have been jet-coated and looks like new.  From the eBay  auction:
I am offering my low mileage Coppa for sale.  It has 7,220 miles on it, has never been down or scuffed up.  It has the titanium exhaust and the racing ECU (re-flashed by Guzzi Tech).  There are no skips or stutters at any RPM.  The complete exhaust has been jet coated so there are no blue pipes.  It has:

 billet Rizoma clutch and brake reservoirs
CRG bar end mirrors
Roper plate
Motratech lowered foot controls (also originals)
Motratech oil pressure gauge
update on the Ohlins forks
some custom powdercoating
valve cover guards
100w Piaa headlight bulb
Peak horsepower was never a Guzzi hallmark,  but the steady handling and good torque make it a worthy companion to other European super sports.  The big fuel tank requires a forward riding position, though the owner's lowered pegs will help.  The premium components and graphics pushed the showroom price over $14,000 and with only a few hundred imported, they're not often seen here.  With its careful and knowledgeable previous owner, this might be a good Guzzi to bid for...
-donn