In 1974, the Laverda SF2 was roughly equivalent to an R1M, though at the time, twin disc brakes sufficed for high technology. Over-engineered and powerful, the bike in its day was as fast as it was premium. They aren't easy to find in any condition, let alone fully restored.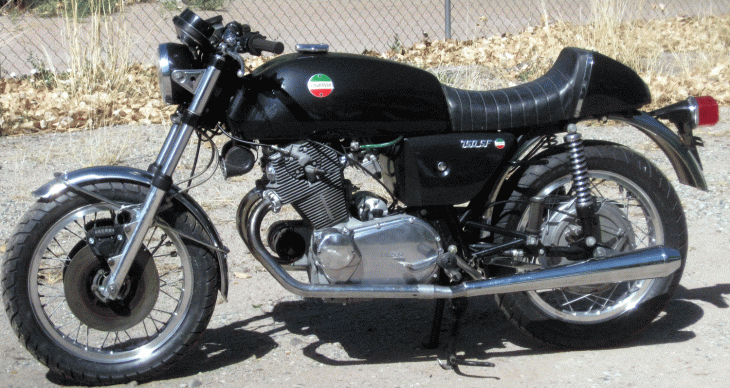 This one, which is located in a dusty corner of New Mexico, has been treated to a full engine and transmission rebuild recently  and wears an older cosmetic restoration. The seller says it isn't perfect, or entirely correct or original, but it will make a great riding addition to a Euro bike collection.
The seller went over the bike's attributes in great detail, so we'll let him take it from here. From the eBay listing:
1974 Laverda 750 SF2

First introduced at the 1966 Earls Court Show the big Laverda twin was a 650. Barely 100 were made before becoming a 750 in 1968. As production was about to begin, in 1968, four prototype twins were entered in the Giro d'Italia and all four finished in the top ten. The factory officially began racing in 1969 enjoying considerable success in long distance events like the Barcelona 24 hours and the Bol d'Or. These successes lead to the production development of the road bikes. In 1971 two intrepid Italians, one just 20 years old, took a pair of production 750s on a 34,000km ride from Tierra del Fuego to Alaska. They actually started in Buenos Aires, then to Tierra del Fuego, then to Anchorage, Alaska (if you'd like to read more about this adventure pick up a copy of Jean-Louis Olive's book Raid Tierra del Fuego – Alaska ISBN 9782956254812

A bike that was built to stay built. Laverda's own foundry sandcast the alloy engine components. The crankshaft is a pressed up full roller affair with a duplex chain drive to a camshaft running in ball bearings. Ancillaries were all top shelf components; much of the electrics including the starter and generator by Bosch, suspension by Ceriani, rims by Borrani, switchgear and instruments by Nippondenso (starting 1974), etc.

By 1973 the 750 shared carburettor and valve sizes with the illustrious SFC. The SF2 of 1974 introduced disc brakes. The first production bike with twin front discs. Further reading can be found online at RealClassic uk , simply search for Laverda SF750.

This example of the SF2 is an older restoration which has recently benefited from a full mechanical rebuild of the engine and gearbox, carbs, front suspension, brakes. It has also been fitted with fresh tires, drive chain and battery. This numbers matching bike sports the optional solo seat with locking glove box. It is finished in a dark metallic grey close to one of the 17 factory shades offered on these machines. This is not a concours machine by any means yet it is an attractive and reasonably correct (seat should be satin black, pattern silencers and stainless brake hose) rider in sound mechanical condition. If I were to do anything toward modernization it would be to upgrade the rear dampers to Koni or Ikon units. Included is the original exhaust crossover box, indicator stalks and owners manual. Please ask if you wish for specific images.

Something you'll appreciate, as a rider, is the ease of service by the owner and the absolute reliability of its operation. Simple to maintain it begs a "How to keep your Laverda 750 alive for the complete idiot" (with apologies to John Muir). However, the esteemed Mssrs. Tim Parker and Phil Todd have conspired to produce the Twin and Triple Repair & Tune Up Guide; ISBN: 9780979689109 aka "the Green Book". Get one. There are also international forums and facebook pages for the marque.

With a total production run, of all models 650/750, being something less than 19,000 units you'll be fortunate to see one on the road (compare this to something like 150,000+ Norton Commandos) or at a bike show. This is a good time to saddle up on a relatively unknown and undervalued, sporting machine known for its stable handling and inspiring reliability. For mountain residents I can jet for your altitude.

As it is for sale locally (Santa Fe -Taos CL) and may be removed from auction do consider the buy it now option.
The bike is on Craigslist in New Mexico for $12,000, though the bidding is at just over $8,000 with three days left.