While many of the 80s bikes we've featured recently look relentlessly forward, spending their lives on the bleeding-edge of sportbike design, other manufacturers were necessarily stuck in the past, limited by budgets and working to maximize the potential of existing, sometimes moribund designs like today's Laverda RGS1000. Laverda had certainly earned its fair share of laurels in the 1970s with their SFC endurance-racing machines but, fueled by strong sales, the Japanese manufacturers' experimental output exploded in the mid-to-late 1980s. We saw everything from big-bore inline fours to two-stroke, V3 race-replicas and the European manufacturers were left trying to shift some suddenly very obsolete machines.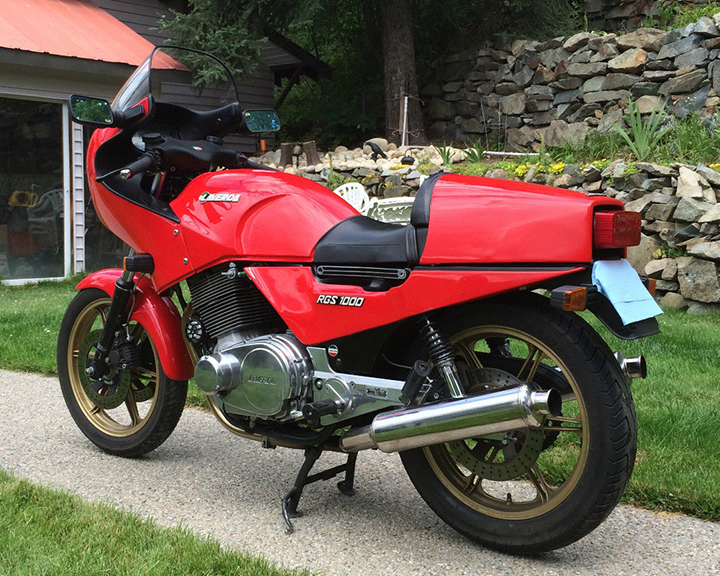 Laverda's manly 981cc three-cylinder Jota of the late 1970s was in every way a sport bike: uncompromised by comfort or practicality, obsessed with speed, power, and loud noises: it was rare, exotic, and required real commitment to ride, especially if you were under 5'10". But keeping pace with the Japanese in terms of outright performance meant developing a new engine, something that the small company could not afford.
So Laverda wisely cashed in on their brand's racing history and Italian sportbike credentials to recast their top-of-the-line sportbike as something more of a racy sport-tourer with a revised frame and fully-enclosed bodywork. The fuel door in the front of the fairing is an interesting detail and speaks to the bike's new mission. Could the RGS keep up with the latest and greatest machines from the Land of the Rising Sun? Certainly not, at least on the race track, but handling was excellent and that big engine was no slouch. By pitching their revised RGS at a well-heeled clientele less likely to buy a bike based on some ever-changing performance-per-dollar ratio, Laverda targeted a premium segment and attempted to stave off the inevitable. Unfortunately, the bike was good but it was also expensive.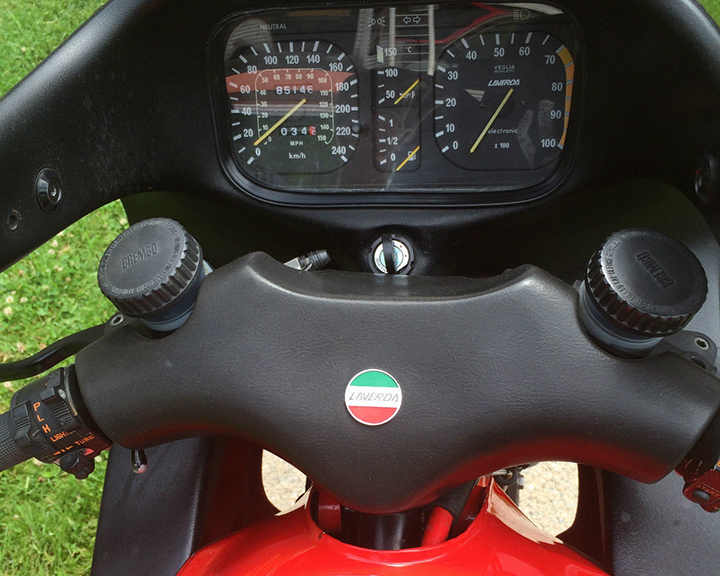 Although the cognoscenti typically prefer the earlier Laverda triples with their raucous 180° "one up, two down" crankshaft to the later, much more refined 120° bikes, don't think that the RGS is some shrinking violet. "Refinement" is a relative term, and an RGS with a free-flowing exhaust is one of the best sounding motorcycles I've ever heard, even if the sound is snarling out of the pipes of a somewhat awkward-looking machine. Today's example isn't perfect, but appears to have been sympathetically maintained and it certainly hasn't been left to slowly rust away in a shed somewhere, based on the miles its covered...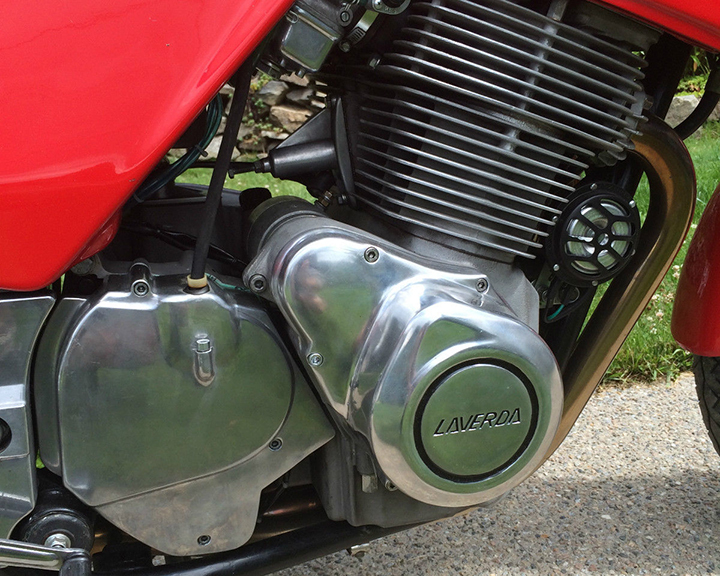 From the original eBay listing: 1983 Laverda RGS 1000 for Sale
Good condition, strong runner. Has no mechanical issues. Recently gone through by noted Laverda experts Wolfgang and Chris Haerter. Many parts replaced including, but not limited to. Wheel bearings, drive chain and sprockets, tires, entire exhaust, brake lines, cam chain, engine oil, fuel lines, carburetors ultrasonic, DMC ignition, Dyna coils, Foot control linkages, all rubbers, mirrors. Has no leaks starts very well and sounds amazing. 

A very good example of a well looked after daily rider. 
There are 86,000 miles on the bike, but these engines are very well built and, assuming the maintenance has been done as indicated, there should be plenty of life left in this beast still. Obviously, if your heart pumps premix and your riding boots all have their toes ground off, this probably isn't the bike for you. But if a classy gentleman's express appeals and you want something far sexier and more exotic than a BMW twin, the RGS can provide you with the traditional Jaguar values of grace, pace, and space.
-tad