For Sale: 1984 Laverda RGA 1000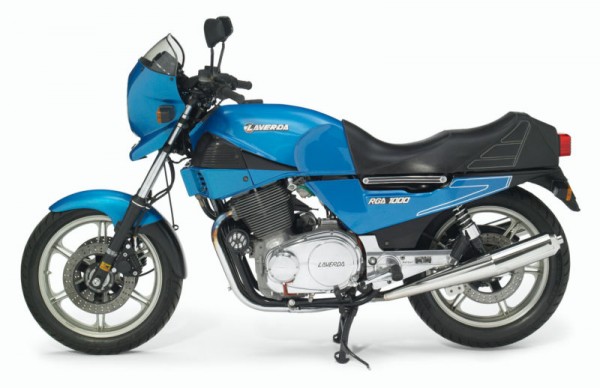 Just check out this wonderful survivor from a slightly less hyperactive era. Sure, it is no cutting edge, no excuses sportbike. Rather, this was designed when cubic inches were important, and when build quality and solid construction trumped the "disposable" era of mass produced plastic. This is a bike that was built for the ages, and you could hang on to this one for the next 20 years and it will still show very well.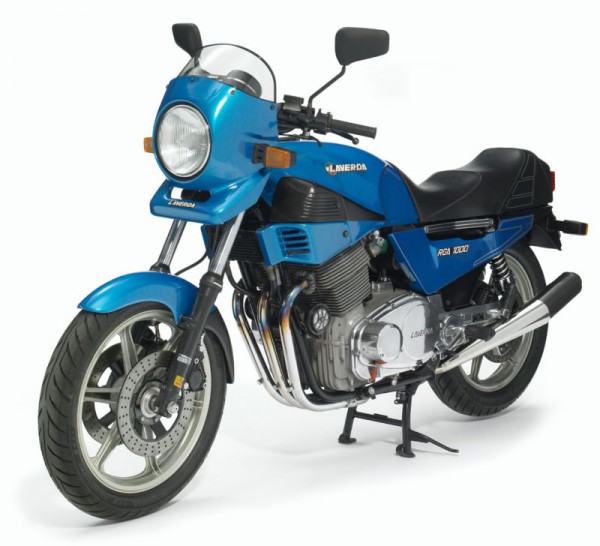 This is not the more-often seen RGS model, but rather the very rare RGA variant. The seller has included a lot of information, and thus I will let him tell the story.
From the seller:

For those (many) of you unfamiliar with the marque, here's a simple analogy: if you think of Ducati as the Ferrari of the motorcycle world, then think of Laverda as Lamborghini. Also like Lamborghini, Laverda's roots are in the manufacturing of farm equipment. Laverda is best known for their robust, powerful twin- and triple-cylinder motorcycles of the late 60's and 70's, where they competed directly against other Italian manufacturers like Ducati and Moto Guzzi.

What we have here is a very original and unmolested motorcycle; with exception of the tires, nearly everything you see here is exactly as it rolled off the showroom floor. The RGA is a rare variant of the much more common (well, in Laverda terms anyway) RGS model line: the best educated estimate I have found is that there were only around 30-40 of these ever produced. Sold new by Southern California Laverda dealer Europoean Cycle Specialties in Garden Grove, CA, the bike has spent it's entire life in the Orange County area under the care of two fanatical owners, with the first having the bike from new until 2004. All paint and trim is completely original and untouched everywhere, and the bike retains all it's original engine and frame parts, airbox, body panels, tool tray, and seat.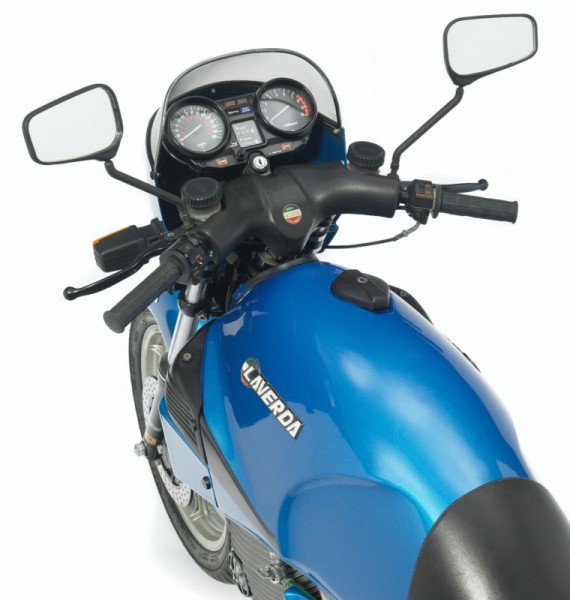 From the seller:
Only two modifications from stock were performed by the original owner: the mufflers are free-flowing stainless replicas, and the original, US government-mandated 85-mph speedometer was replaced by a 150-mph unit (the odometers are separate items in these instrument clusters, so original mileage is unaffected.) The original mufflers and speedometer are included as part of this sale. Also included with the bike are the original owner's manual and tool kit.

Having spent the last several years in my living room, the bike has just undergone a thorough servicing to make it completely ready for the road, including the cleaning and refreshing the entire fuel system, carburetor tuning using a 4-gas analyzer, valve clearance and all chain adjustments, rebuilt brake and clutch systems, rebuilt forks, new rear shocks, (originals also come with the bike) tires, tubes, and battery. Everything on this bike works as intended, and you could ride it anywhere tomorrow. A good friend who is a long-time Laverda owner took this bike for a test ride and pronounced it "the best running triple I have ever ridden." Production date on the frame tag is 10/83. In the Laverda world, bikes are typically referenced by their engine number, which in the era of 17-digit VIN's has nothing to do with the frame number. This one's engine number is 2486. Engine and frame are original and matching just as they left the Breganze factory.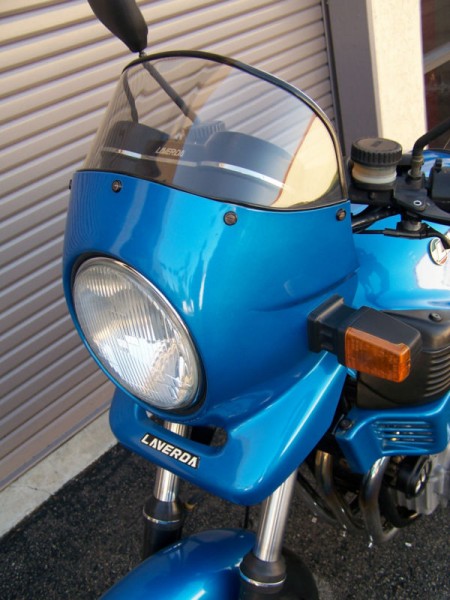 A beautiful bike, an knowledgeable seller, and some fantastic hi-res photos really tell the whole story around this bike. Bidding has also told an interesting story; interest has been very high, and the current bid is up to $7,500 with reserve still in place. The BIN on this one is set at a pretty reasonable $10k – there is a lot of rare motorcycle here for that number. I suspect we will see this auction go the distance.
For more info and to check out the action, click on the link and jump over to the auction. Good Luck!!
MI