Air cooled early superbikes are becoming rarer by the minute, especially built in Italy and tarted up in England. Today's Jota has an owner or two's worth of miles but apparently was restored at some point and still looks great.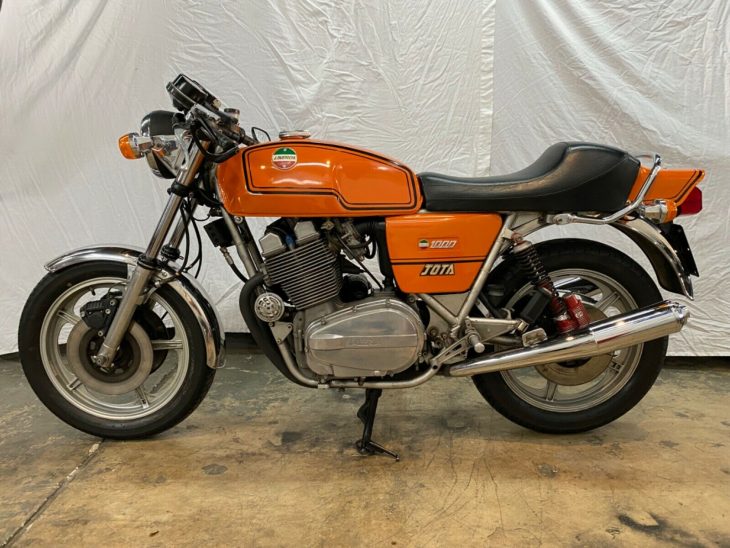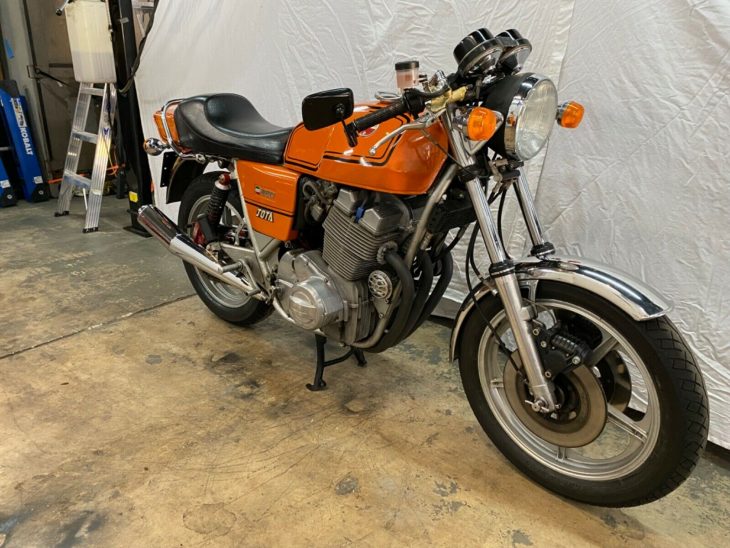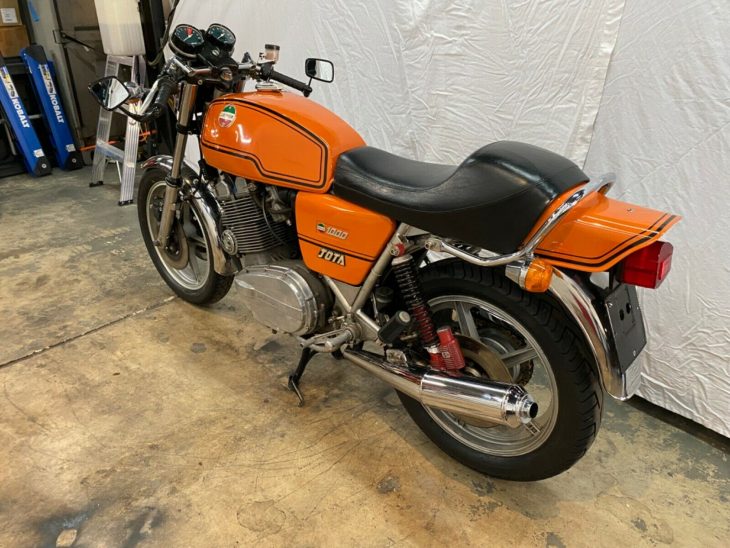 Laverda had been making motorbikes since 1949, and their 750 twin was a great success, especially in endurance racing.  As new competition from Japan was arriving, the company created a 980cc triple, with double overhead cams and 32mm Dell'Orto carburetors.  English importer Slater Bros. saw more potential and commissioned higher lift cams and 10-to-1 pistons resulting in a whopping 90 hp.  A strong steel backbone accompanied the light-looking downtubes, making for a solid foundation for the usual Ceriani suspension units.  Handlebars are adjustable but not too much higher, due to the 140 mph speeds expected.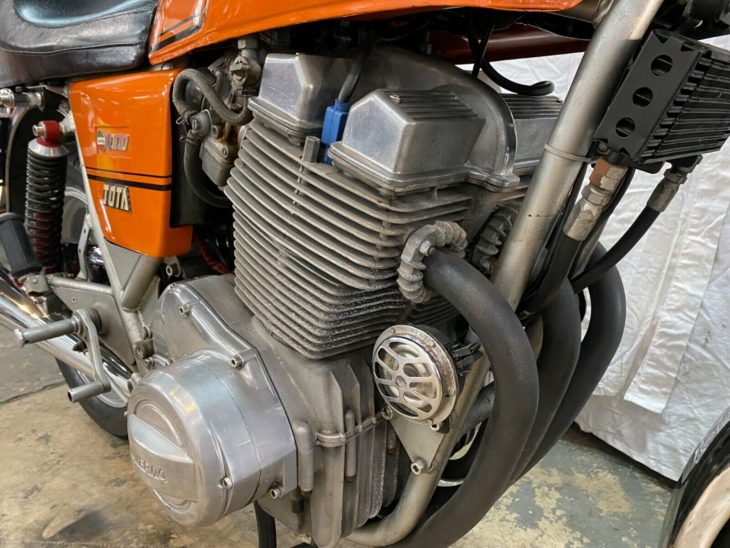 Presented by a Miami dealer, this Laverda looks like a survivor that had some quality restoration work.  Some light corrosion has crept in since then, but a quick clean-up should do wonders.  Though most ( and this one ) have been converted, Jota's originally came with left brake and right shifter.  Paint work is excellent and includes a full fairing which apparently has never been mounted.  Comments from the eBay auction:
A beautiful specimen immaculately maintained and cared for by its second owner for the last 32 years. This is a rare Slater Brothers 180 degree crank and the the 7th bike imported into the states. It was purchased in 1990 in San Diego from a retired US Navy officer who bought it new while stationed in Europe in 1979.  Slater Bros. in Tacoma Washington informed him that they had imported 6 Jota's in '79 and that this was the seventh they knew of. 
The bike was immediately taken to Lance Weil in Burbank California who was the undisputed Laverda guru And who went through the bike from ground up and restored it. Lance rated the motor at over 90hp then and it has covered small mileage since. Runs Now as it did then. The sound of these is unique and memorable to all who have heard it.  These hardly ever come up for sale. Don't miss this opportunity.
 

A "no stories" bike, this is one of the top collector bikes out there and the fastest of its time. Comes with super rare full fairing which looks amazing fitted. A few spares and another set of matte black silencers. The right brake set is not original but is fitted for better performance and safety. The original one comes with the bike. The back brake is spongy right now and might need slight attention. Books and manual too. 
The Jota got glowing reviews for power and handling, but the overall build quality vs. the premium price took some lumps.  Either way the factory was positioned more as a boutique than volume manufacturer.  At this level of ask, some further contact with the seller might be in order, not to mention verifying the advertised running condition.  Could be ready for concours season if it checks out.
-donn