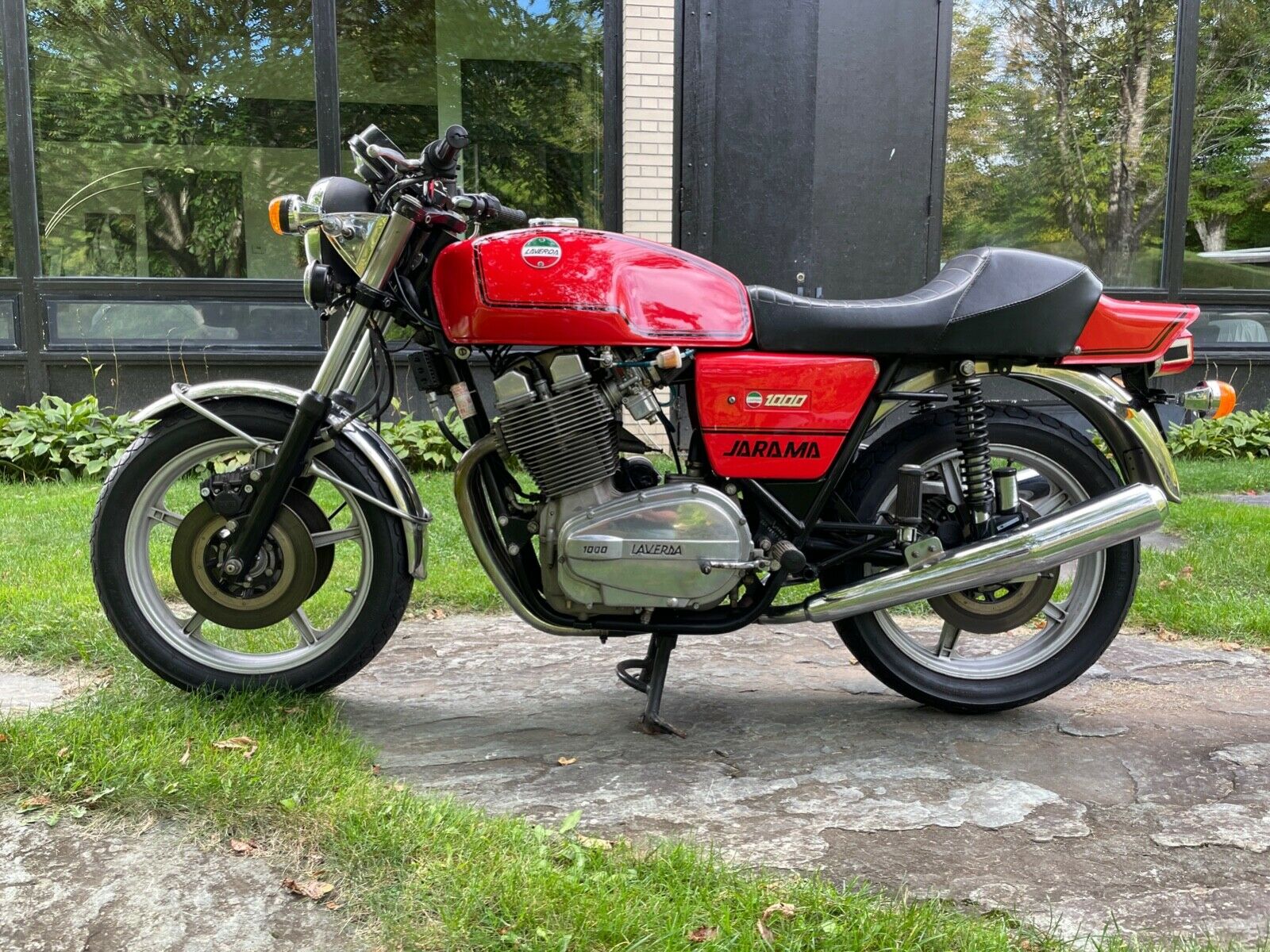 The late 1970s were an interesting time for the Laverda brand.  Competition from all angles resulted in lackluster sales numbers and a fading appeal in the market.  For the 1978 model year a new name was introduced to the North American market, Jarama.  Instead of being named after a dance as was the case with the Jota, the Jarama was named after a race track.  Production numbers are unclear, but most agree it was in the 200-300 range.  Many of these bikes were converted in period to "Jarota" specifications.  Basically combining the updates of the Jarama with the performance parts of the Jota.
Known for being reliable and easy to live with, owners are fiercely loyal to the brand, even decades latter.  It is not uncommon to find used bikes that have covered tens of thousands of miles over the years, a real testament to have usable these bikes are.
From the Seller's eBay Listing:
1977 Laverda Jarama 3CL, 1000cc triple, bike has the expensive and hard-to-find Jota 4C cams and Dellorto 36mm PHF carbs (Jarota), runs very strong, starts easily and handles well. New fork seals just installed and bike has adjustable Jota Breganze bars as shown in second photo. I may add a running video later weather permitting. Horns need a relay, as always, which I may install prior to selling, otherwise all lighting is functional. Clean fresh oil, and I've only used non-ethanol premium gas. Ready to ride but would put new tires on soon. These bikes are over-built and bulletproof and they handle really well. The 180˚ triple sound is amazing. Faint ripple in paint near left side emblem and scuff on left sidecover corner from seat but otherwise very nice. Look carefully at the photos.

For some reason "Make an Offer" does not seem to appear in the preview. I am happy to hear offers and will end the auction early, bring them on.

NY State title in previous owner's name with bill of sale and other transfer of ownership docs from him and will also be sold with additional official VT bill of sale from me on this matching numbers vehicle. Bike is titled as a 1978 and was an original US import Jarama. Check your state's requirements before bidding. Laverda Registry: http://www.laverdamania.net/registre180.htm
Bike is being offered with a Buy It Now price of $13,000 and in todays market that does not seem unreasonable for a clean, rare, interesting Italian classic bike.  Seller states that he has the original airbox not pictured, but interested buyers should confirm the current state of the title as well as your local laws before closing a deal.  Sure to stand out at your local Cars and Coffee event for a similar price to a ubiquitous SOHC CB750.