In the late 2000's, BMW was most of the way through development of the WSBK-oriented S1000RR, but the flat twin R1200S had a couple of more seasons to play out.  The R1200S was lighter and more powerful than the previous R1100S, and this one was nicely ordered and custom-painted in a Corvette red.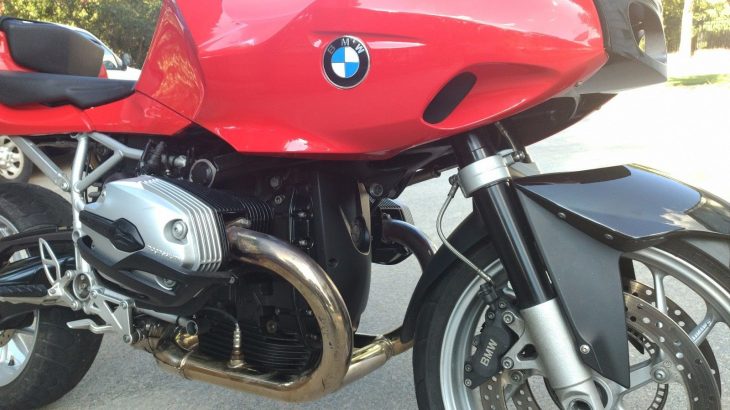 New pistons and cylinders gave the R1200S a little more displacement than it predecessor, and a substantial increase in compression helped increase power to 122 hp and torque to 83 ft.-lbs.  The cast backbone was replaced by a steel trellis, saving a good deal of the 29 lb. weight reduction.  The bike retained the BMW-centric Telelever front and Paralever rear suspension, not light but relatively dive-resistant up front and the shaft drive virtually maintenance-free.  Brakes are massive, EVO servo-assisted and have ABS, but in a nod to sport, are un-linked and the ABS has an override.  The monoposto fairing / tank / seat combo is pretty radically sculpted, the stubby nose housing the oil cooler.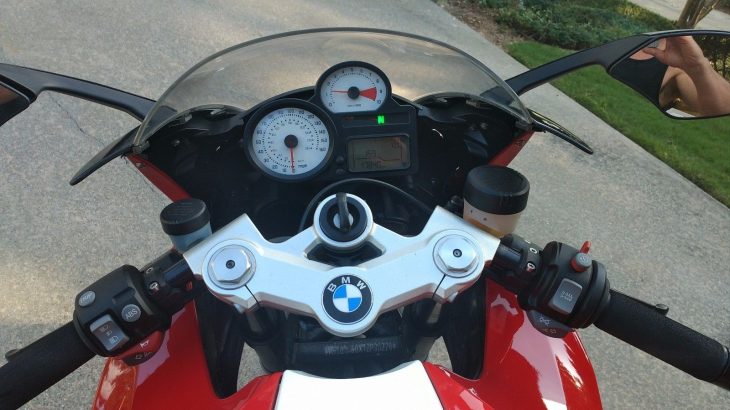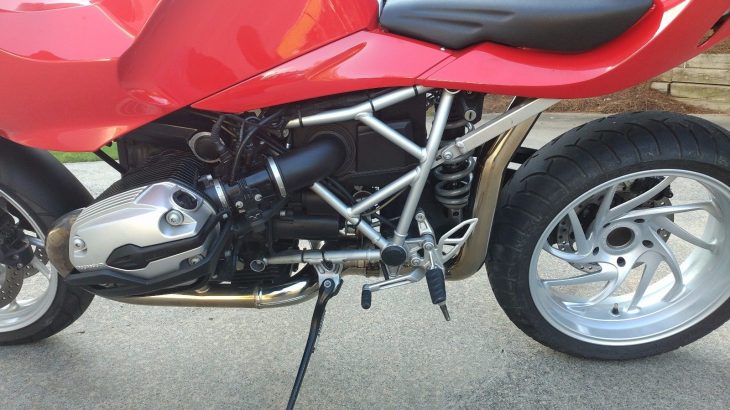 With low miles for a BMW, this is about the only red R1200S around, custom painted since the factory's red was a candy-stripe option.  The owner has somehow kept up with the exhaust polishing, and sheltered it from the accessory dealers as well as the scratch-and-dent garage elves.  The owner shows off his writing chops in the eBay auction:
Only 17,840 miles. 2007 (only year sold in US, only about 348 imported) BMW R1200S.  Just serviced.  ABS, heated grips.  Never wrecked.  Previous owner had the bike professionally painted to match his red corvette.
Looks and rides like a sport bike, but comfortable enough to do 300 miles rides.  Goes from zero to holy crap in just a few seconds.  She pulls like a freight train with all that Boxer torque and when you hit the power band at 5000 RPM and blow past… well, lets just say it brings a smile to your face and a warm feeling in your loins.
Only 410 lbs dry with 121 hp stock.  Very good condition.  Mechanically a 10 out of 10, cosmetically a 9 out of 10.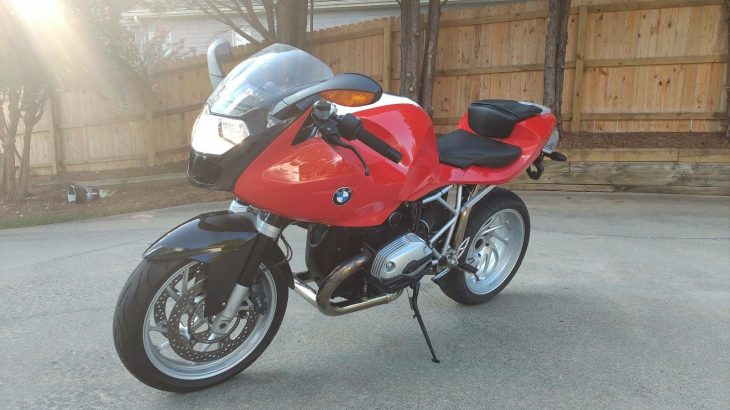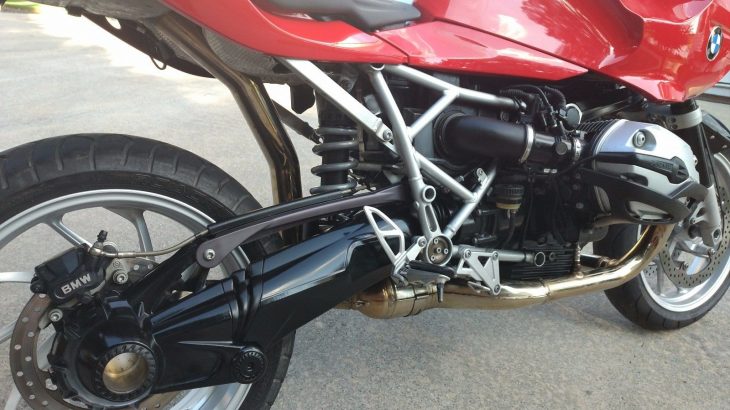 Occupying the luxe end of sport segment, the R1200S raced occasionally ( mostly in HP2 spec ) but never achieved the privateer racing successes of the R1100S.  Reviewers praised the relaxed riding position and steady handling, the Paralever and EVO brakes had the side effects worked out, and it's great for covering miles quickly.  The option Öhlins dampers would be a nice, if not cheap upgrade.  Good for three seasons with the heated grips and ABS, might be a thought as summer draws to a close…
-donn