In the 1980's, Michael Krauser was a leading manufacturer of motorcycle luggage and accessories, and ventured out on the slippery slope of motorcycle manufacture. Replacing the big-tube backbone frame of an R100RS with a Ph.D.-designed trellis saved 6 kg. and subsequently adding four-valve heads to the classic boxer liberated 12 hp. The result rode like a BMW but performed and was priced more like a Ferrari.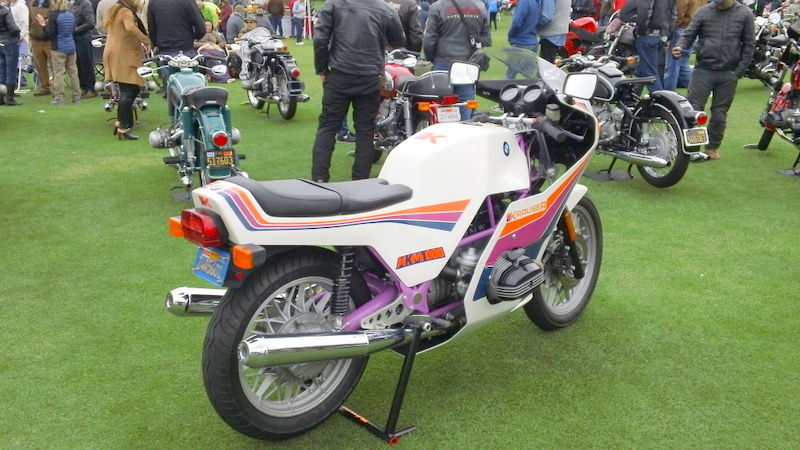 With the bomb-proof boxer, five-speed, and shaft drive, the MKM1000 can certainly cope with the engine's 70 hp.  Dual front disks and forward riding position keep the rider in the game.  The generous fairing makes a nice hole in the 138 mph breeze, and the sleek tank-seat fairing hides a metal fuel tank underneath.  Bespoke production and pricing more than double an R100RS insured exclusivity.
Coming out of California, this Krauser is recently restored and not registered in well, a while.  From the eBay auction:
Rare 1982 Krauser BMW MKM1000

Only 237 Bikes build by Race team Owner Krauser with an incredible Trellis frame.

This Bike is # 130.

No body knows how many still exist, most of bikes got exported to Japan . Only few to US.

This bike was sold new by San Jose BMW in 1982.

Completely restored to original condition with only OEM parts including Fairing decals which were pretty expensive.

Newly rebuilt motor, carbs and tranny with new clutch.

Tank reconditioned and sealed, new pet cocks.

Comes with original toolkit and little supplement OEM instruction booklet and other collected Literature.

The bike hasn't been registered since 2000 and has current Non- Op status.

Bike runs and handles fantastic. Showed at the Quail Motorcycle Gathering.
Not appearing to be a 4-valve model, the engine in this MKM1000 will last much longer than the envelope-pushing arrangement of two valves per rocker arm.  Though this machine will likely spend most of its time on the display stand, it's good to know ( and some concours require ) it's operational.  Most went to Japan, and - one - owned by a certain financial magnate even made it to RSBFS, but only a few over two hundred were ever made.  With shapes and colors pushing forty, the Krauser is a thrilling opportunity for a collector, but for more fans, a vingette into a previous era, a look at how exciting the early days could be...
-donn