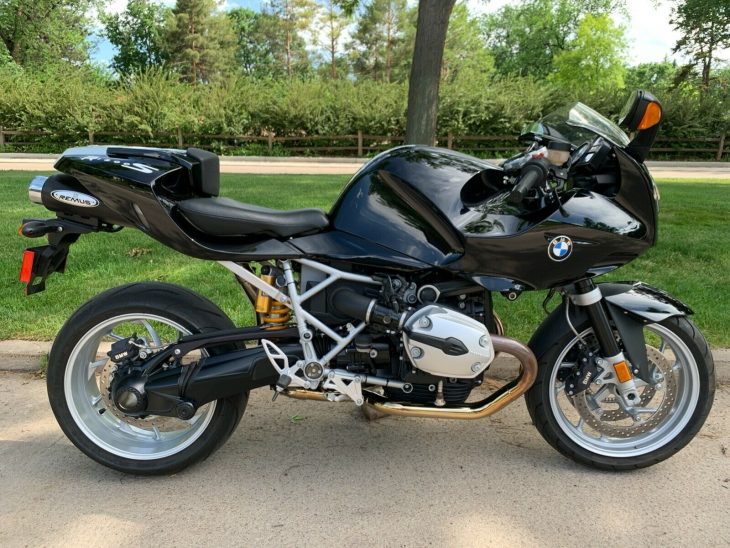 BMW's R1200S is a "sportbike" in the same way Ducati's 1000SS DS is a sportbike: it's designed for folks who love the brand and want something fun to ride in the canyons, not the type that are going to be cross-shopping the latest literbikes or ripping the lights and mirrors off to do track days. Let's be honest: that's perfectly fine for most people, since both of the aforementioned bikes can certainly cut it on track, and probably show their taped-up taillights to much faster machines when handled by a skilled pilot.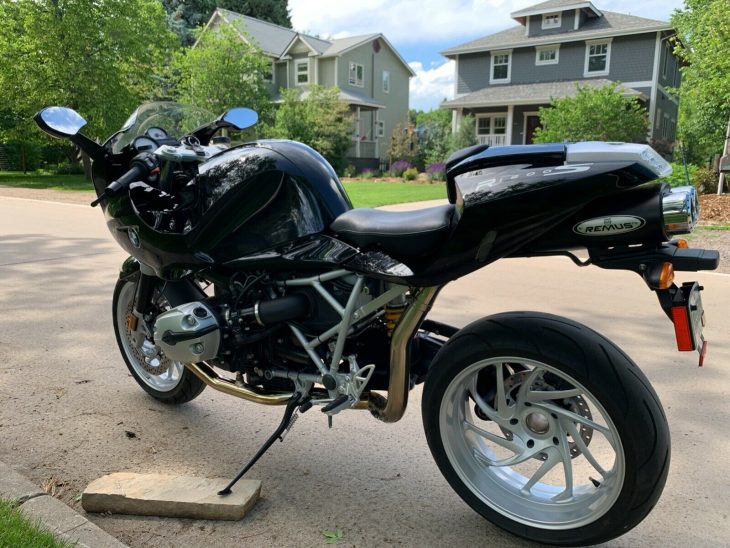 This is the second-generation of what was BMW's sportiest model, prior to the arrival of the S1000RR that turned the sportbiking world on its ear, and was introduced in 2006. Looks are similar to the earlier model, but a bit more angular and technical looking, a little more svelte. That's no bad thing, as the original was a little bit porky by sportbike standards and the new version weighed in at a claimed 488 or so wet, down from the 505 of the preceding model. The new trellis frame that replaced the aluminum beam frame of the original certainly looks like it helped to save some of that weight.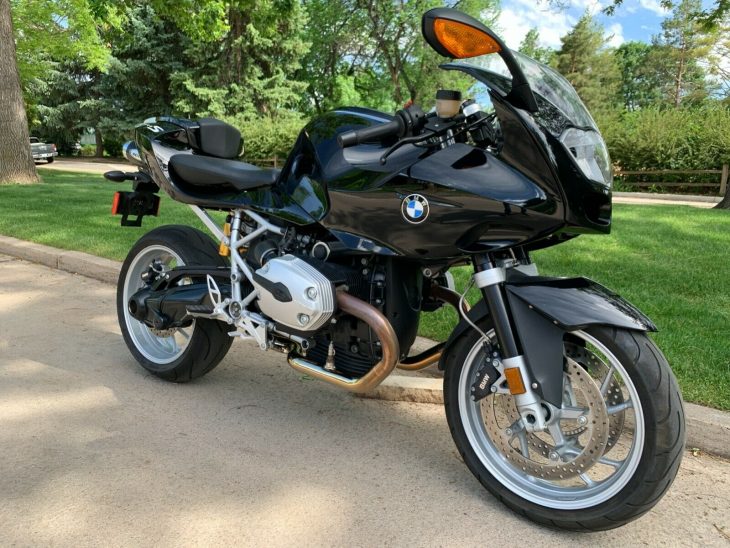 So it was a little bit heavier than a Ducati Supersport, but it also made more power and torque. Displacement was up a little less than the 100cc's advertised by the name, to 1170cc from 1085cc with twin plugs per cylinder. Power was up to 122hp from 98hp with a torque curve as flat as a tabletop. Power from the longitudinally-mounted flat twin is transferred to the rear wheel via a six-speed gearbox and the expected Paralever shaft drive system. Öhlins shocks were optional at the rear and at the front, since the bike retained BMW's Telelever system that remains one of the few mass-produced alternative front-ends available in modern times. The R12000S handled well and, unlikely as it seems, you have to work very, very hard to deck out those cylinder heads that stick out awkwardly to the sides.
Given the shaft-drive models' reputation for being able to rack up big miles with minimal trouble, this example is barely broken in by BMW standards: it's covered just 2,250 miles so far. The bike includes a nice aftermarket Remus muffler that should make the bike sound a bit sportier, and the wider 6″ rear wheel should mean a wide choice of sporty rubber.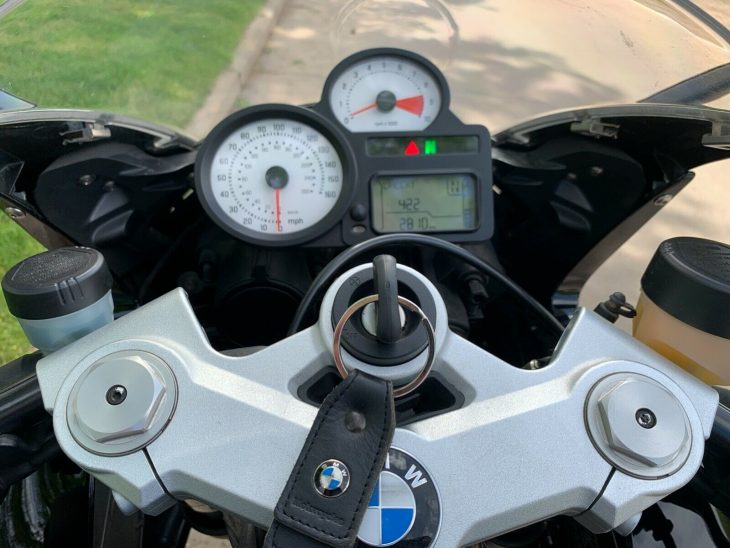 From the original eBay listing: 2007 BMW R1200S for Sale
BIKE IS IN LIKE NEW CONDITION. Oil and filter change done this past winter. 110 miles of riding have been added since. Bike was always stored indoors in a heated office. 

The owner died 2 months ago. He was a close friend of mine. I am selling this for his wife. I have ridden the bike about 15 miles to make sure of its condition. Starts and runs perfectly. He took it on a 60 mile ride the week before he died. I have owned dozens of BMW's over my 69 years and this is as close to new as you will find. No marks, dings, or scratches on the bike. Always meticulously cared for.

Options include: 

Heated grips

Ohlins shocks front and rear

Full Remus exhaust system

6″ rear wheel

Gowing custom leather seat

ABS -(it was an option)
The bike comes with ABS. I have been told there are 2 versions. I will attempt to find which version is on the bike. 

I also am adding to this auction the large tank bag that is designed for this bike. Also included that is not listed above is a bunch of knick knacks BMW gave to the original owner upon purchase of an R1200S. Send me a message and I can send you pics of the knick knacks. I can't ad pics to the add. All used up

The options on the bike include ABS so I am assuming it is the lightweight version that can be turned off for track days, tho the bike has  never been tracked. 

Apologize to all. The bike has 2810 miles on it, not 2250. Not sure how I made that mistake. 

Also – This bike has never been down in any way. The tire rubber and kickstand bottom are the only things that have ever touched ground…

I just received this note from a long time owner of a R1200S:

"Just so you know, there is only one ABS available on these bikes. Your bike with Ohlins, heated grips, ABS and probably the wider rear wheel is the Sport Option.

Standard model did not have Ohlins, ABS or heated grips. And yes, the ABS can be turned off."
The seller also includes a video of the bike starting from cold and being ridden around some country roads, showing off the nice, mellow growl of the Remus aftermarket exhaust. At the time of writing, the listing is up to $7,900, with just 24 hours left on the auction and pretty active bidding. Maybe not the sexiest bike, but a pretty cool machine if you need one bike to do it all, with a bit of Germanic quirkiness thrown in for good measure.
-tad