Unlikely as it would be to see a shaft-drive Beemer with a stretched swingarm and a stance that says "staged !", it's even more surprising that those wild Bayerischen built it themselves !  For just a few model years the R1200S made a flat out name for itself, though this Miami example looks to have been ordered with every option and then pampered for under 6,000 miles.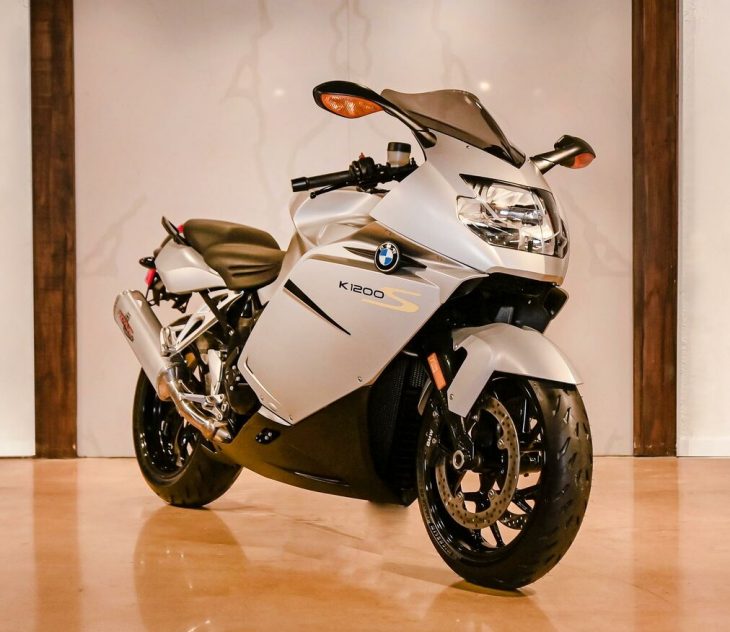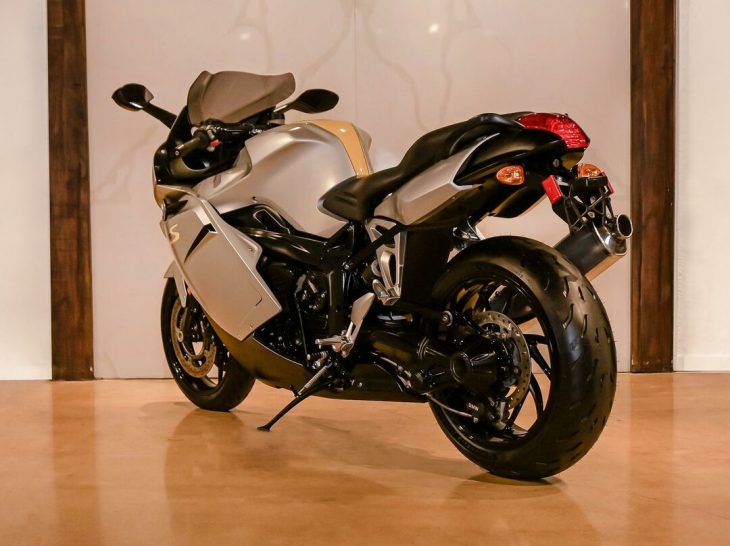 BMW had a 1200cc four in the stable for several years before the K1200S, but the new model was optimized for power – with 13-to-1 compression, electronically controlled ignition and injection, and 167 hp.  Torque was prodigious at 95 ft.-lbs. but peaked at sporty 8,250 rpm.  BMW's  new Duolever front end used a double-wishbone system to isolate steering and braking forces.  The Paralever rear was stretched to accommodate the superbike power, with a wheelbase some four inches longer than a more track-oriented sportbike.  As speed helped the K1200S feel like lighter than its 500-plus lbs., the slippery bodywork masked the land missile's velocity.
Presented by a used moto boutique, this K1200S is a premium build, with ABS and electronic suspension adjustment.  The brushed Remus exhaust plays well with the silver bodywork, and might be the only mod aboard.  Despite a liberal slathering of protectant, this -S looks great and the dealer has these comments in the eBay auction –
This K1200S is in great condition, always kept in the garage, no accidents nor major dents or scratches and a clean title.

It is a very comfortable motorcycle, with symmetrical deeply padded seat sitting positions to the handlebars and the pegs are positioned just right, to create a real all-day riding position. A design screen with full benefit of its protection from windblast, while mounted clocks show all the necessities, including a gear indicator and fuel gauge.
Bonneville regular Andy Sills was enlisted by BMW to take a new K1200S out to the salt flats, the fall before the 2006 model year would ship.  A stock class record was ratified, the average of two runs just equaling the 173,68 mph mark set by Ernst Henne's supercharged BMW streamliner in 1937.  Rather than four miles of full throttle, hoping this example will just get the occasional blast down the connector, maybe as Andy set another record – with a fearless pillion.
-donn