BMW's flying brick has only occasionally been the basis for sport bikes without a touring bent, but here's a K1 engine in a French-built chassis, organized by the German performance specialist Brune.  Even the paint on this perfect example was a moment, BMW M-Power colors as applied by Azola Cycle Colors.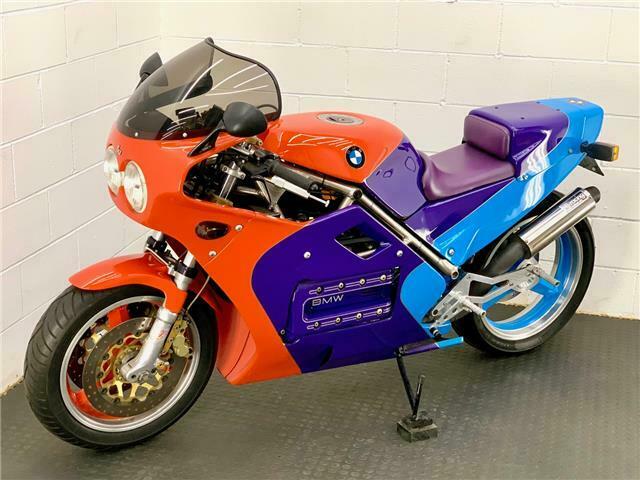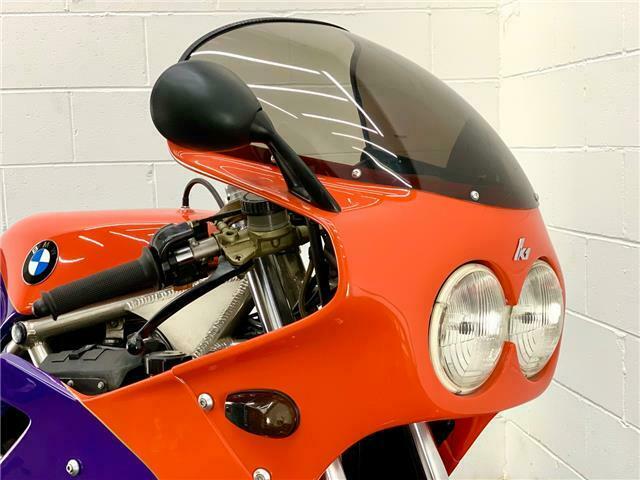 The K1 was a great choice for this build, with Bosch injection and the four-valve head it was good for 100hp and 74 ft.lbs. torque.  Georges Martin's craftmen made some magical welds on the nickel-plated chassis, with an alloy tank and streamlined pillion cover.  Motorad Brune chose Forcelle Italia forks to allow a quicker wheel change and the W-P monoshock controls the shaft drive better than the original K1 part.  The 5-speed reminds us that this is an early 1990's machine, though the Brune choice of brakes and wheels are a serious update.  Would love to get this K1 on a scale to compare with the original.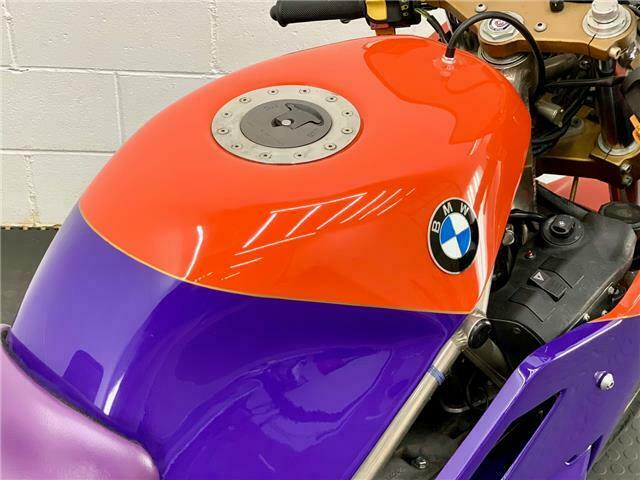 While the clocks indicate just over 25K miles, the auction states 28,000 – and neither number seems possible if the paint hasn't been re-done, as claimed.  Many auctions say they have been on display for years but appear to have been rolled out of dusty storage, this one claims to be ridden occasionally but looks museum ready.  Too much comment to share but here's a snippet from the eBay auction –
This bike has been part of the seller's collection for a while and is ridden on a regular basis, although not that much overall. It runs and rides with absolutely no issues. Again, everything on this motorcycle is original to the Brune, including the exhaust system. The seat is also in original condition and is beautiful.

The machine has had absolutely no restoration performed to any part of it. The paint on the tank, fairings, side covers, and cowl is original, and have never had any type of paintwork or touchup. The bike has never been in any type of accident or been dropped at any time. The machine has 28,000 original miles on it, and is in perfect running condition with a compression test having being recently performed. The condition of the engine finishes, is very nice, with the aluminum and cast parts being particularly beautiful for their age.

The seat is original and in perfect condition, and the rear cowl is easily removable, allowing for two up riding. The wheels are original to the Martin Brune, and are also in very nice original condition. All of the mechanical components have been checked over to ensure they work properly including the clutch and brakes, which were recently serviced and adjusted. The fuel injection system was also completely gone through this season, and there is a new battery installed.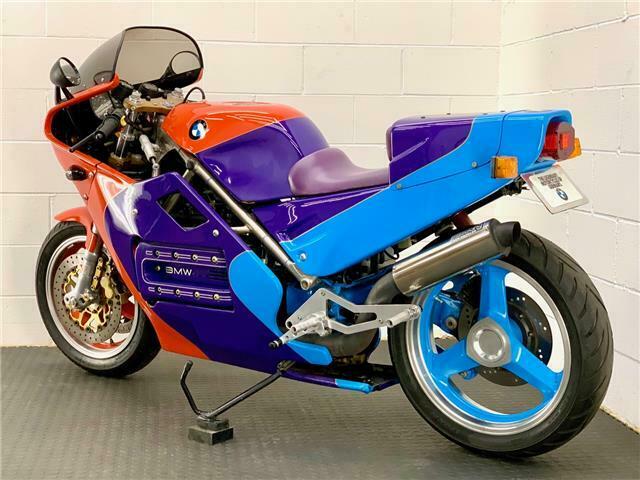 Seen on RSBFS pages ten (!) years ago – here – this build was clearly subsidized by a serious fan – the Brune kit cost about as much as a new K1 donor, and then had to be professionally built.  Not sure where the reserve will fall, but this K1 might come in below cost – if thirty years of inflation and the value of opportunity are considered.  At once a BMW performance statement and 90's period item, this is one BMW that will put the next owner in the "ride or show" dilemma.
-donn