Though succeeded by the R1250RS displacement-wise, the R1200S is still the most powerful and sportiest BMW twin, save the very special edition HP2.  Here's a nicely tended example just down the road from RSBFS world headquarters, and the fade-out silver and black wouldn't attract any attention except with a radar gun.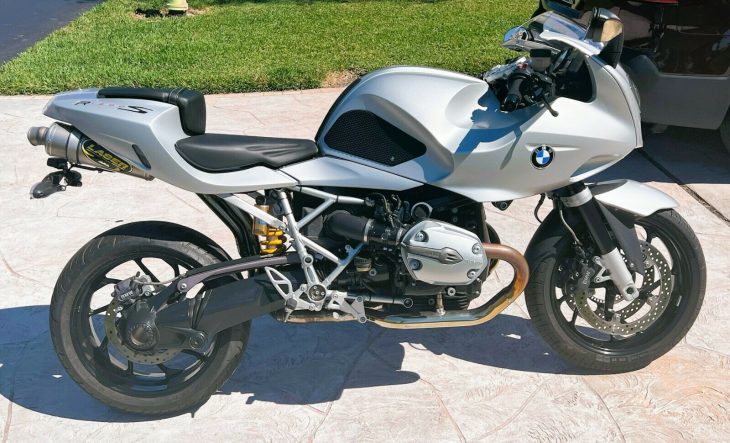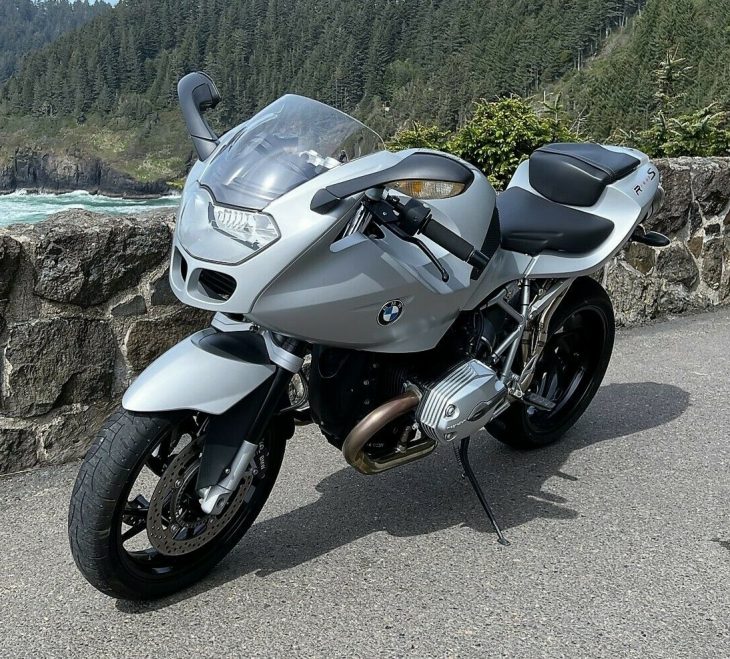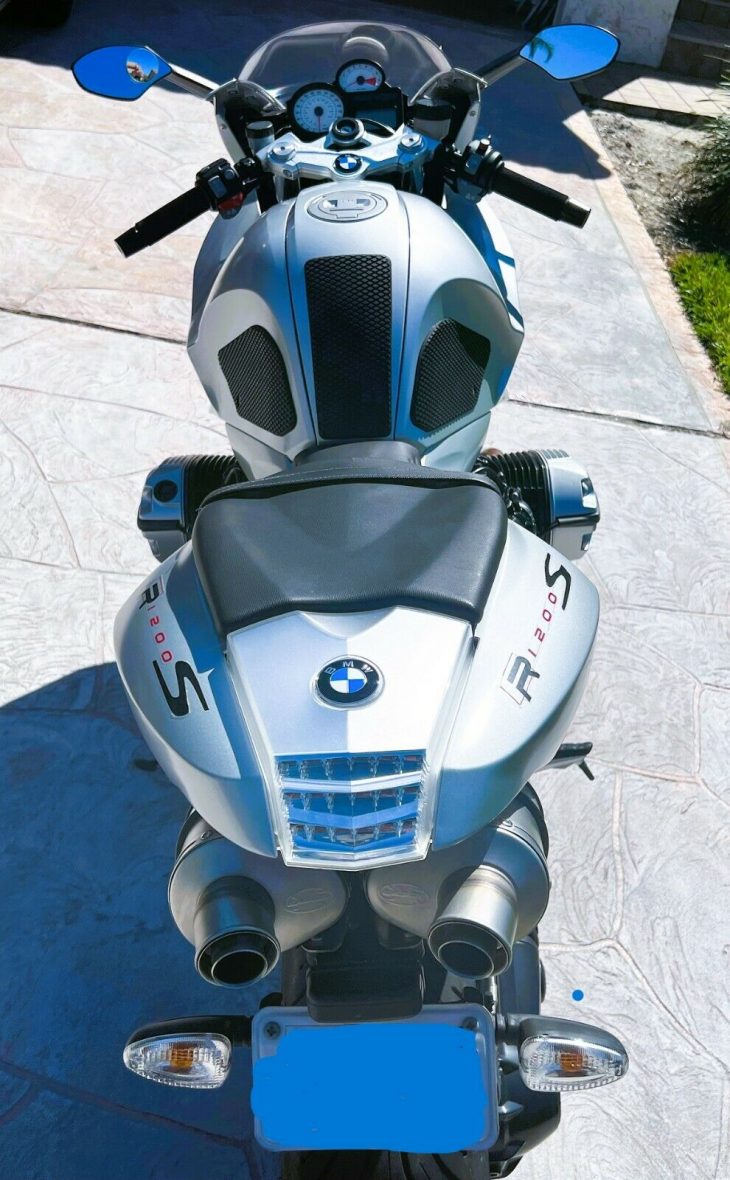 BMW wangled a pair of chain-driven cams into each head and using a nicely oversquare design with 12.5-to-1 compression, cooked up 122 hp.  A six-speed and Paralever shaft drive transmitted those ponies to the 180mm wide rear tire.  With the Telelever front end, the front damper looks a lot like the rear, a prototypical shock absorber.  320mm brakes could be had with ABS, and the diet designers put the R1200S on made them that much more effective.  The upper-only fairing flows into the tank as on the R1100S, and cuts an adequate but efficient hole in the airstream.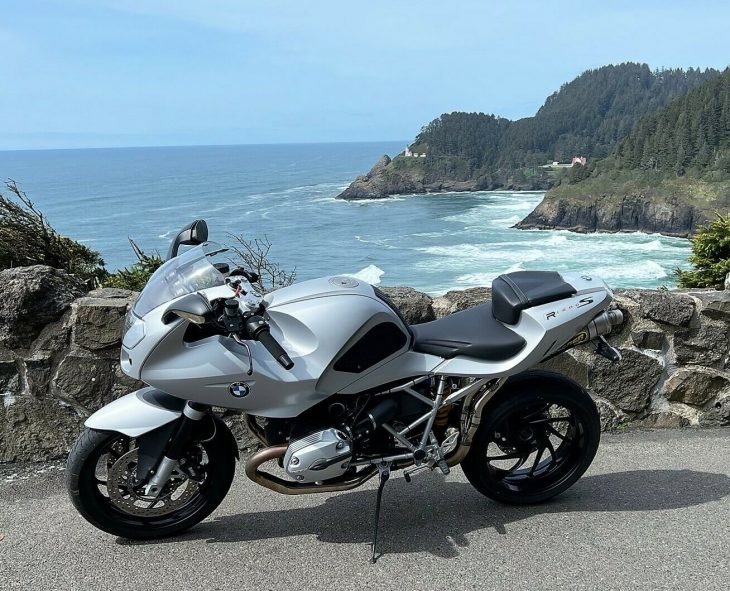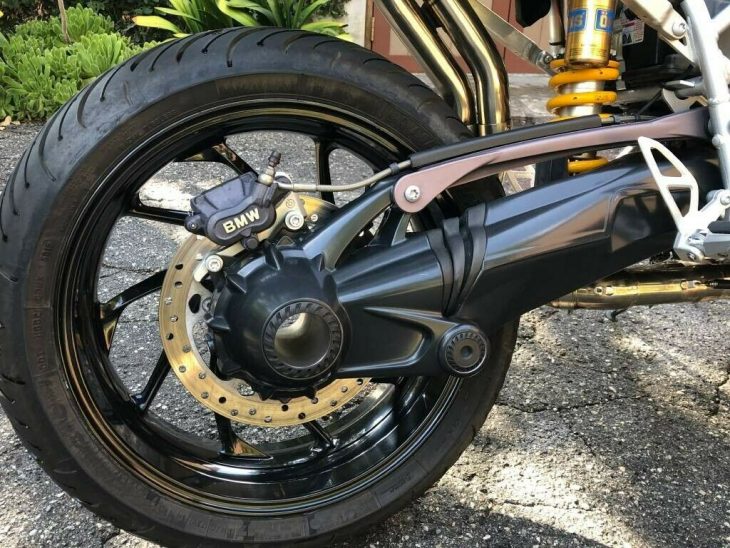 This seems to be a one-owner bike, and was ordered with all the good stuff – Öhlins, ABS, and 6-inch rear wheel.  Thinking the Remus / Laser exhaust was a later addition, along with the Power Commander to make it worth the while.  With newer tires and battery the next owner will be ready to rumble.  Comments from the eBay auction:
Extremely rare and desirable 2007 BMW R1200S, only imported to the US in 2006 and 2007, this silver one is 1 of 100 in the US. And NONE of those have these black wheels. If you are looking at this ad you know exactly what you are viewing! I've had a couple of the R1100S bikes, and while good, cannot match the lighter weight and increased power of this thoroughbred.This incredible bike has only 14,100 miles, this one has the optional and desirable Ohlins suspension front and rear, and 6″ rear wheel. This impeccable bike has been garaged and on a battery tender since day 1, and has never been dropped.

Thousands in extras, including FULL aftermarket exhaust – Remus header pipes and Laser mufflers ($2,000 total), plus Power Commander V (professionally tuned and dyno'ed) to suit the exhaust modifications. 122HP / 83 ft. lbs. of torque. At 480 pounds wet, this bike flies and will surprise you. Yet may be setup for sport touring with BMW's optional side cases. Recent Michelin tires and battery – this needs nothing to go NOW. The only cosmetic issue is one of the decals on the tail section is peeling. Easily replaced. There's not a scratch on this bike anywhere. Yes I have the factory passenger pegs.

I just installed the useful and attractive TechSpec Snakeskin tank pads for grip and looks.I have a 3-ring binder of information and receipts of all options and work performed on this bike. I have brand NEW uninstalled Heli-bars available for an extra $150. I'm 64 and a life-long BMW motorcycle enthusiast, having owned nearly 50. I am only selling to 'thin the herd' and getting down to one bike, my 2017 BMW R1200R, which is more comfortable for my aging body.
The R1200S was a high water mark for oil cooling, but BMW was just about to hatch the S1000RR so it was never expected to be a long term affair.  Long-lived when well maintained, which is a good thing since they are practically a cult classic at this point.  With a nice combination of build and updates, sharp condition, and make offer button, this R1200S could the next owner's ride into the sunset.
-donn