Just in time for the long weekend is an R1200S in stars and bars.  The biggest S had a just a three-year run but provided plenty of fireworks.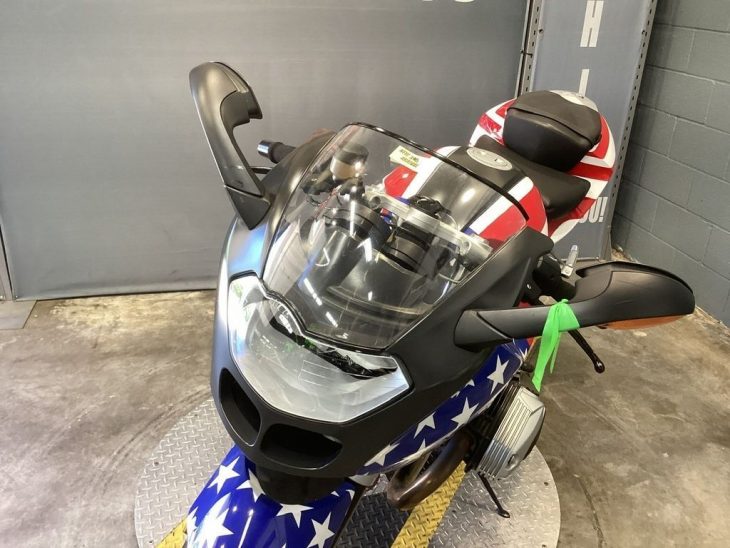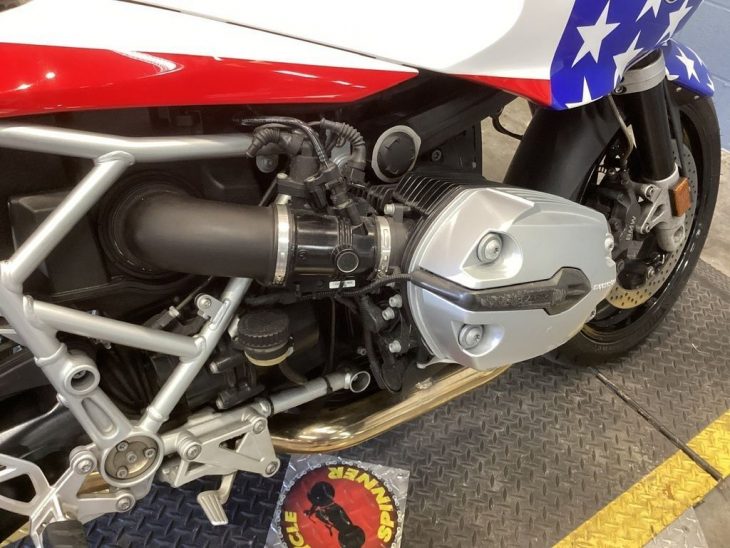 Though engineers on the R-side knew the S1000RR was in final production engineering, they made one last set of tweaks to the flat twin superbike.  The cast backbone chassis was replaced by a front and rear trellis, each locating a Telelever front and Paralever rear suspension.  Less weight was good and more power was had with the 1170cc hex-head engine, with four valves per cylinder and 12.5-to-1 compression resulting in 122 hp.  320mm brakes and 17-inch wheels were sportbike norms, along with BMW standard shaft drive, with available ABS and heated grips.
Presented by a pre-loved specialist in suburban Milwaukee, this R1200S looks good and has low miles for the ask.  Often a custom re-paint gets started with a mishap, so it's good to see the title marked clean.  Tires look recent and this bike has ABS and heated grips.  Likely related to the scuffed right cylinder, that damaged seat fairing could be replaced and the usual black or silver might not even require matching stripes.  Notes in the eBay auction –
ONLY 8,491 MILES, CUSTOM AMERICAN FLAG FAIRINGS, REMUS EXHAUST, OHLINS SUSPENSION, ABS, HEATED GRIPS, NEWER TIRES, AND MORE! COOL SPORT BIKE! THE RIGHT SIDE OF THE REAR TAIL HAS SOME SCRATCHES AND CRACKED PAINT.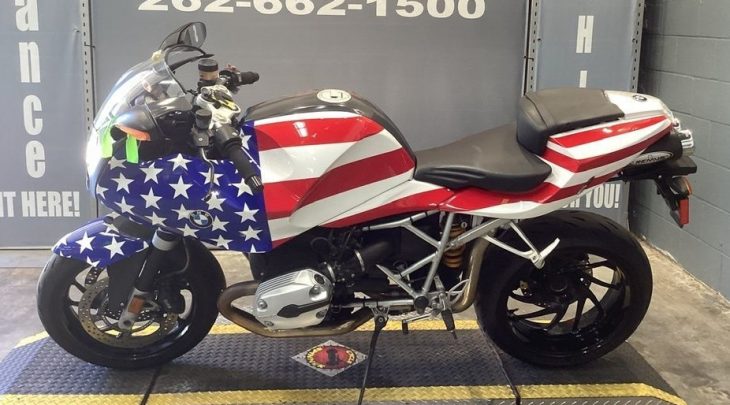 Light and powerful as Beemers get, the R1200S would still be top in-house dawg but for the HP2.  With its focus on stability and longevity, it didn't worry about liter bikes from other shores.  If ridden as intended, this example will be in many pictures with strangers, who probably won't know of its particular claim to fame.  Enjoy the Independence Day holiday as safely as possible !
-donn