BMW's R65 was introduced as a junior model to the R90 and an update to the R60.  Hans Muth was enlisted to style the LS, with his signature triangular fairing and orangey-red bodywork with enigmatic white alloys.  This one has been hidden away and revived a couple of times, with an extraordinary 4,629 miles and show-bike condition.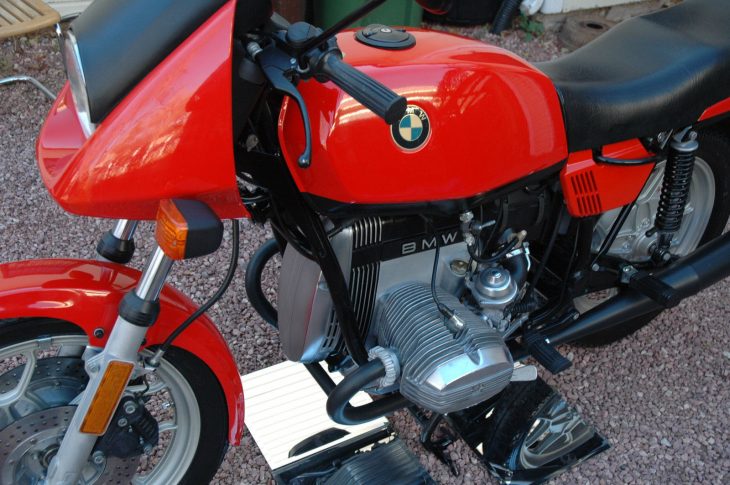 Not really much new mechanically, with the moderately oversquare two-valve twin pushing just 50 hp through the automotive dry clutch, 5-speed, and of course shaft drive.  Conventional forks and dual rear shocks are traditional, though black exhausts and dual front disks note a sporting intention.  Fairing, tank and side covers are trim, accented with black details and bare aluminum castings.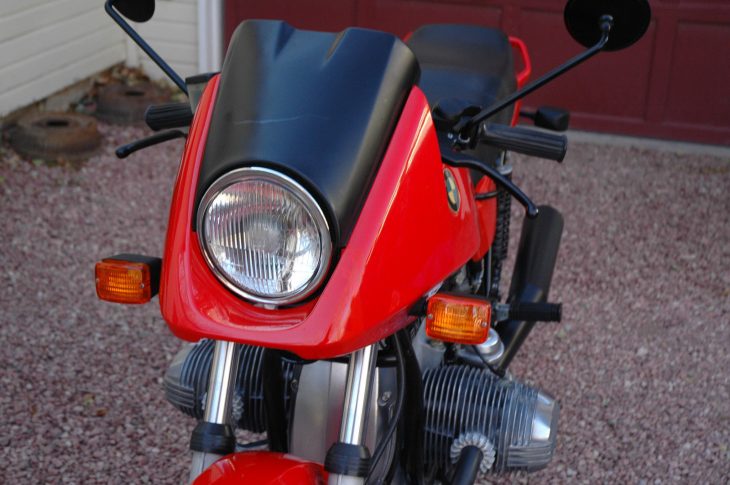 Every bike of this age will have some stories to tell, and for this example, most involve long periods in the garage and an occasional return to service.  Expected white wheels are unpainted on this one, perhaps an update to the color scheme as the model was halfway through its life-span in 1983.  So clean it's displayed with mirrors underneath, the deep sump sparkling.  Sacrilegious though it would be to replace them, the faded rondelles are a distraction.  From the eBay auction:
The bike has given 45-55 mpg for the last year's fuel economy at altitude.  The finish on the original paint that draws eyes and comments wherever I go.  The paint …THE PAINT… this Hennarot Red is so perfect you'll have to put on sunglasses from the shine , just never exposed to the elements or left in the sun !  This bike has only 4627 original miles on it and is in a perfect state of tune.  In the last 100 miles I've adjusted the valves, balanced the carbs , this puppy just purrs like a sewing machine, not a wisp of oil leakage anywhere !  The original Continental tires still have great tread left on them and can probably go another 3000 miles before replacement , or leave it in it's Concours shape and bring it to Pebble Beach now !  This LS has great handling with a glassy ride in the 60's and 70's mph , a 5.5 gallon tank gives plenty of range.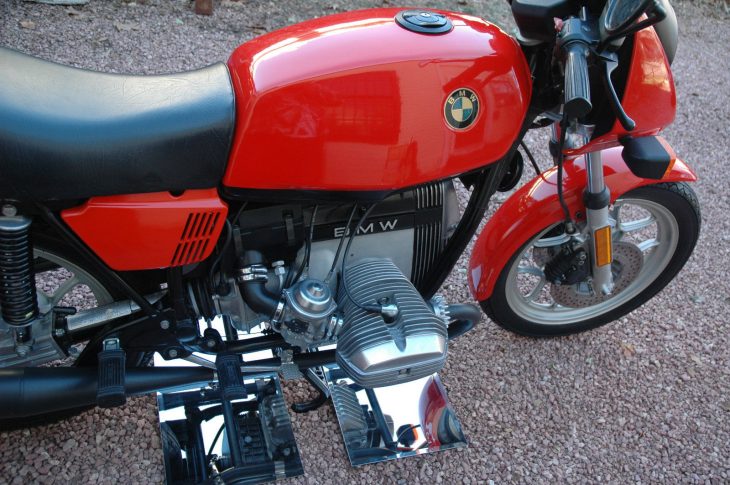 Never really compared to leading supersports of the day, R65LS was a nice handling gentle-person's machine.  The scale of the R65LS suited smaller riders, and the weight was less than other Beemers.  Engineering and build quality was of course for the long haul.  Muth's design was a flash in the pan for BMW but has held up well.  Even for a gorgeous example, the owner has named a serious starting bid and it will be interesting to see how it goes…
-donn