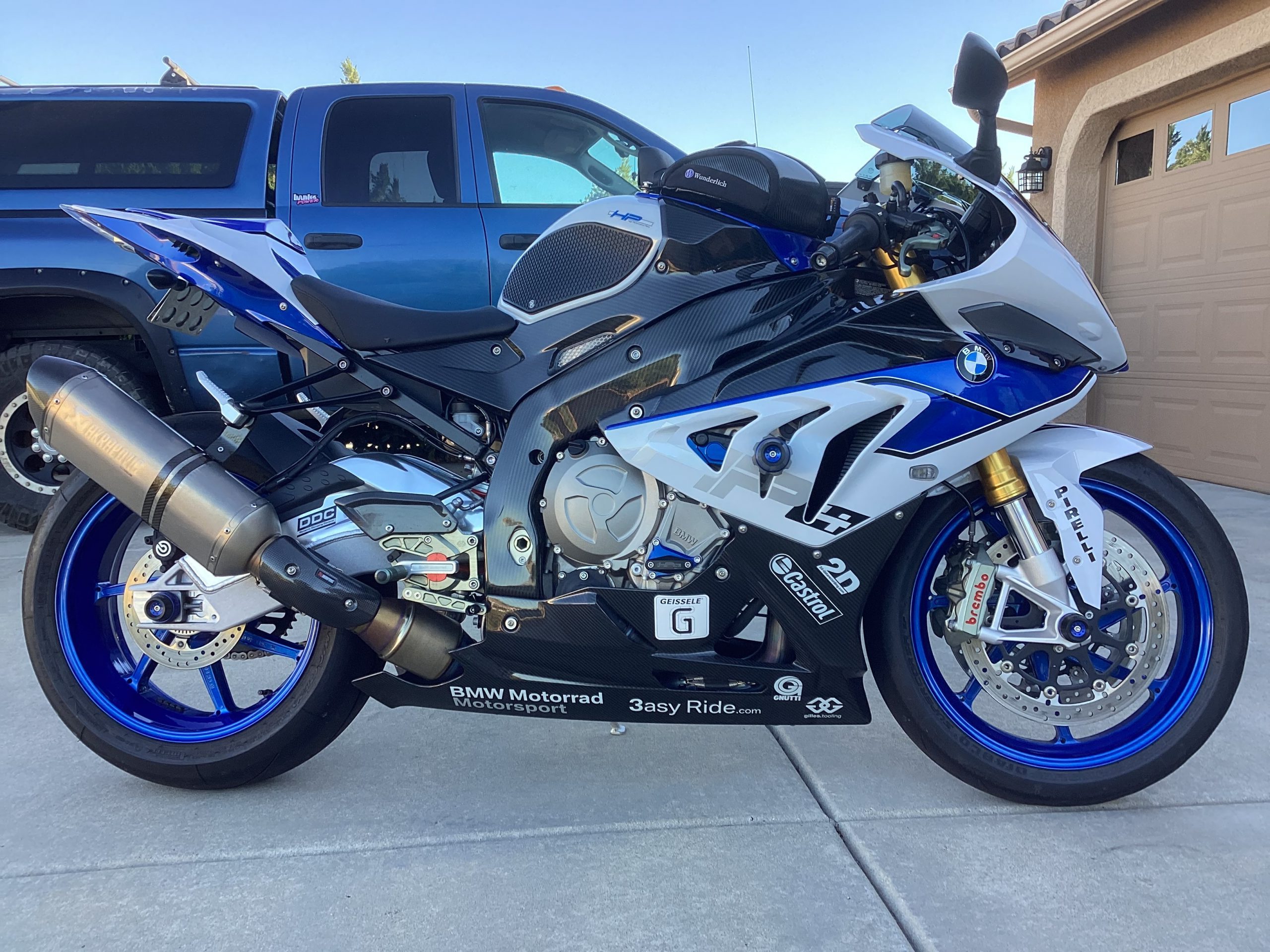 BMW knew the writing was on the wall. The iconic boxer motor – more powerful and efficient than ever – had evolved from air cooled to air/oil cooled, the chassis was on the cutting edge of suspension with the Paralever and Telelever designs, and a successful promo campaign concluded with the Boxer Cup one-make race series. The wildly popular – and expensive – HP2 Sport took the boxer ideal to new heights (as did the stillborn MotoGP project with Nico Bakker). But if BMW wanted to go racing against other companies in the fierce battleground of WSBK and beyond, they needed something more. Enter 2009 and the mighty BMW S1000RR. This homologation machine was continually massaged and updated, including a rare, optional offering specifically for track days and racing – the Competition Package. Today's 2014 BMW HP4 Competition is one fantastic example of that rare combo.
Featured Listing – 2014 BMW HP4 #5503
To call the S1000RR a successful racer is an understatement. WSBK involvement included riders such as Troy Coarser, Rueben Xaus, Leon Haslam and a win by Marco Melandri (BMW continues to compete in WSBK to this day with riders Scott Redding & Michael van der Mark). The S1000RR was also in MotoGP competition during the era of the CRT class, with Colin Edwards competing on a Suter chassis powered by the BMW engine. Legendary Michael Dunlop competed – and won – at the Isle of Man TT in two different classes on a S1000RR. To say that BMW introduced a competitive machine would be to state the obvious. And for mere mortals like the rest of us riders, the BMW S1000RR makes for a sublime street bike; there is lots of racing DNA built in, but amenities and assistance to keep commuters safe and happy. Win. Win. Win.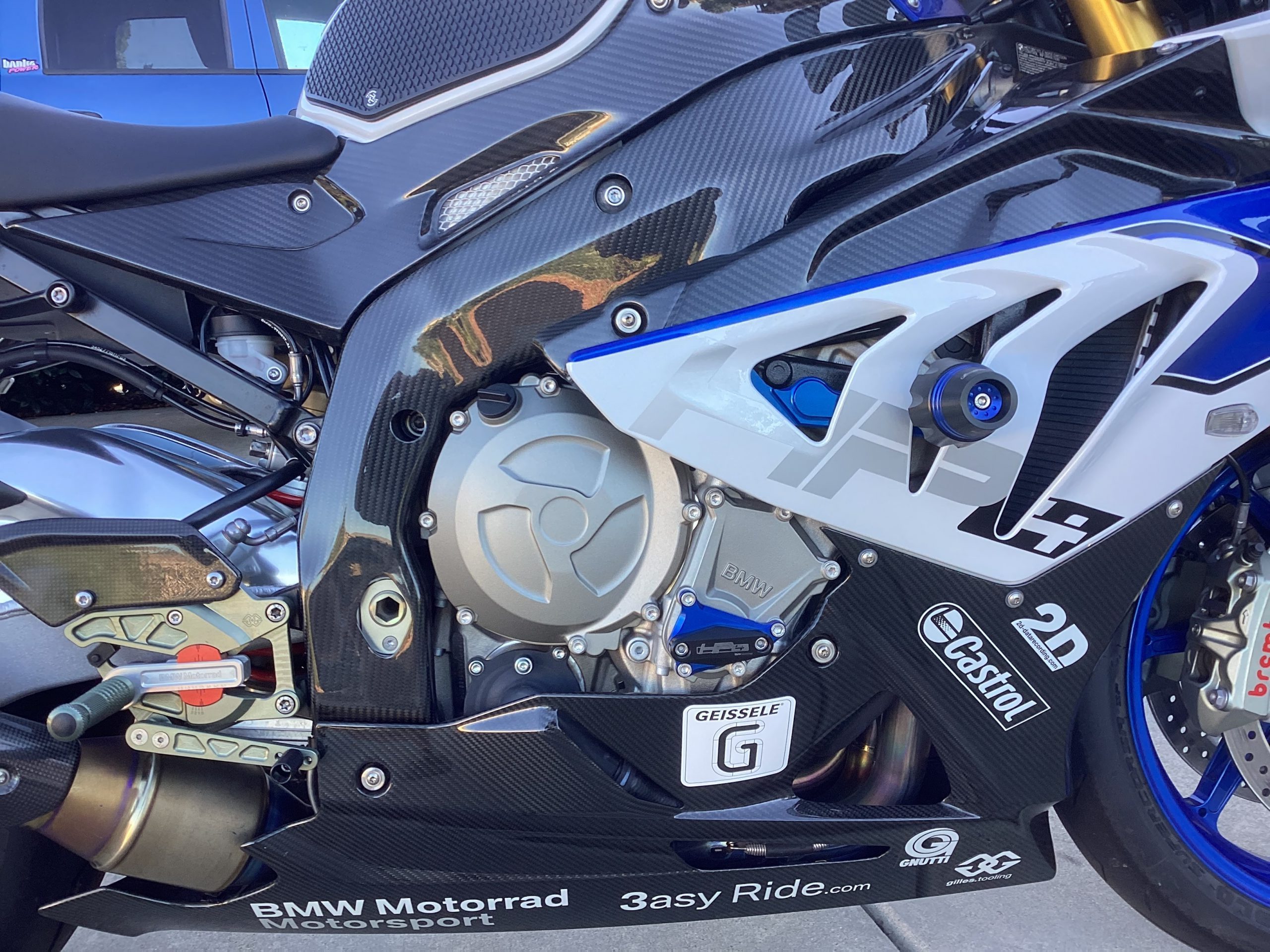 From the seller:
2014 BMW HP4 Limited edition bike number 5503. It has 3935 miles on it and in mint condition, all stock except rear fender delete.

The bike is a 2014 HP4 with the competition package, so it has real carbon fiber and aluminum forged wheels. I am the third owner and the bike has been serviced by the owners. Last owner installed a new rear tire on it and changed the oil. I have installed a new lithium battery. Bike runs like new and is in new condition as you can see from the pics. Bike is always stored indoors and has never been down or tipped over. Bike has never been ridden in the rain or the race track. It has a nice tank bag and you can charge your phone inside. The original owner hurt his back and sold it to his nephew, I purchased it from him. Most miles were put on the bike by the original owner, I purchased the bike with 3500 or so miles on it. I am selling because I have other sportbikes and I am planning to build a race car in the spring. Bike is located in Prescott AZ.

For more info, contact Jim Demonte (jimdemonte@gmail.com) 609-932-6898

Asking Price: $18,500
According to BMW, the Competition Package – known as ordering code 197 – included HP carbon engine spoiler and trim, HP folding clutch and brake levers, HP adjustable rider footrests, standard forged wheels finished in Racing Blue Metallic, decal kit and added approximately $4,500 to the MSRP. This was over and above the $20k+ cost of a new HP4 in 2014, which already included 193 HP, weighed in at 373 pounds (dry), offered race-tuned ABS braking with Brembo monoblock calipers, ride by wire throttle and an impressive array of tunable, electronic traction controls, Dynamic Dampening Control (DDC) to allow the suspension to automatically adjust to conditions, launch control, a "shift assist" feature to allow for full throttle, clutch-less upshifts as well as a slipper clutch for smooth downshifts at speed. The HP4 in any guise is a limited and impressive machine – the optional Competition Package takes that up a few notches further.
This beautiful 2014 BMW HP4 with Competition Package is located in Prescott Arizona. The seller is the 3rd owner, but all told this wicked machine has traversed fewer than 4,000 miles. The pictures tell the tale; crisp and clean with no hint of damage. The seller notes a rear fender delete is the only adjustment from stock. If you are in the market for one of the truly great bikes of the current century there are few offerings that combine the power, performance and civility of the BMW S1000RR. This rare HP4 with the optional Competition Package is priced at $18,500, and interested viewers can contact Jim for more information and details. Good Luck!!
MI