Not every exotic needs to try and tear your arms out as soon as you twist the throttle, and not every rare motorcycle needs to cost a packet to buy or run: sometimes our need to be just a little bit different clashes with life's practical considerations. For riders in that particular situation, may I present the MZ Skorpion Sport Cup, a big, thumping single wrapped in sports bodywork and featuring a name virtually forgotten here in the Decadent West.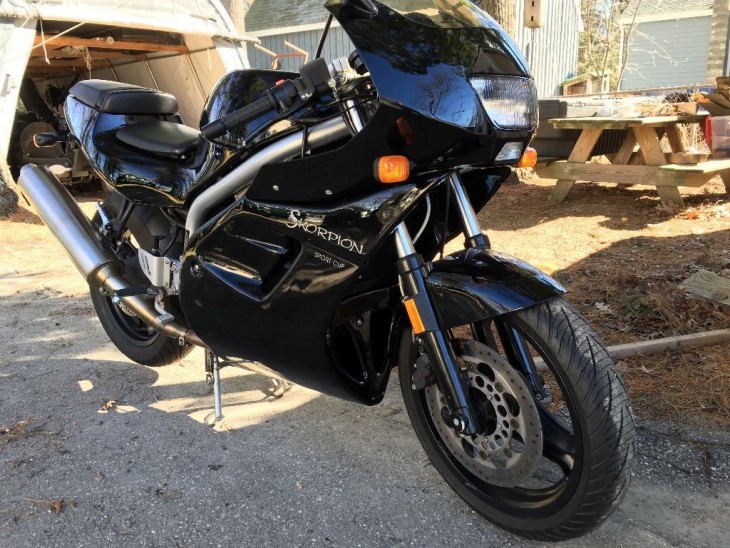 MZ was originally an East German manufacturer of two-stroke motorcycles back when East Germany was actually a place. All you fans of sporting Japanese two-strokes should be familiar with them: they absolutely dominated two-stroke racing in the late 1950s until MuZ rider Ernst Degner defected and brought their Walter Kaaden-developed expansion-chamber tuning techniques to Suzuki where he helped develop their bikes and continued his racing career.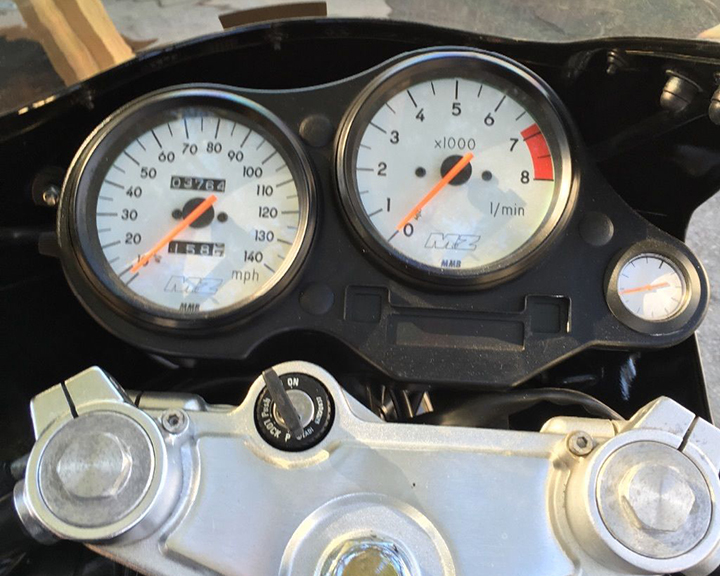 But then in the mid-1990s, seemingly out of nowhere, an entire range of new machines sprouted up, all badged as MZs. The modular design recalls Triumphs of the same era, and the line of bikes included the dual-purpose Baghira, the supermoto Mastiff, sport-touring Traveller, and the various Skorpion variants. All were built around Yamaha's 660cc five-valve single backed by a five-speed gearbox. 48hp and a weight not much over 400lbs with a tank of fuel means that the lightweight Skorpion was capable 110mph with excellent handling and good reliability.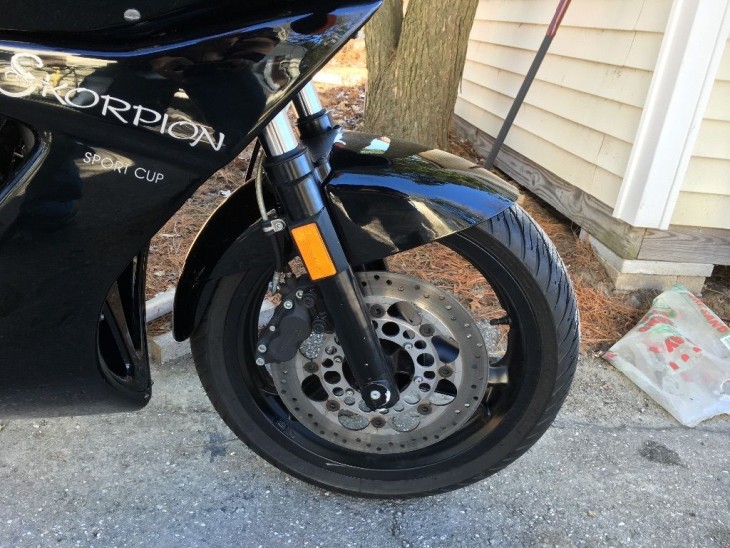 From the original eBay listing: 1997 MZ Skorpion Sport Cup for Sale
Conceived by the acclaimed UK design firm SeymourPowell, the MZ Skorpion represents a motorcycle design perfect storm of sorts. The elegantly simple, yet rigid chassis inspired by (some might say stolen from) the work of Tigcraft's Dave Pierce contains an ultra simple and reliable XT660cc engine as well as electrics from Yamaha. The world class Grimeca and Paoli suspension and braking components come from Italy. All of this was designed and assembled by the German engineers at MZ – one of the oldest, most venerable marques in the history of  motorcycling.

The Skorpion didn't sell in large numbers, but had a solid following in the racer community. It's exceptional handling and simplicity spawned single model MZ Cup series all over Europe and the United States in the 90s and the beginning of the 21st century. This particular variant – the Sport Cup – came with a full fairing, and was made to compete in the US and UK MZ cup series as stock, with no modifications allowed. Because of the popularity of the class, few unraced, clean Sport Cups exist today.

The Skorp also appeals to every day riders. It is refreshingly small in size, light weight and has the broad power and bulletproof reliability inherent in the Yamaha dirtbike inspired power plant that is still being built today. Simple and reliable, it is an easy bike to maintain and, unlike many exotics, most of the wearing components interchange with various Yamahas of the period and are therefore quite available. Motorcycle News calls it "light, lithe, generally reliable, and reassuringly practical" and "one of the best singles of modern time".

This particular bike is in truly excellent condition. It was garaged all of its 3,500 mile life and has been kept clean and well maintained. The only non-stock component is a center stand from its sister model, the Traveller. While not the norm on the club racer, it makes for easy wheel and chain maintenance, and is easily removed. It also comes with the full original toolkit, the factory solo seat cover to replace the rear seat, and the original owners manual.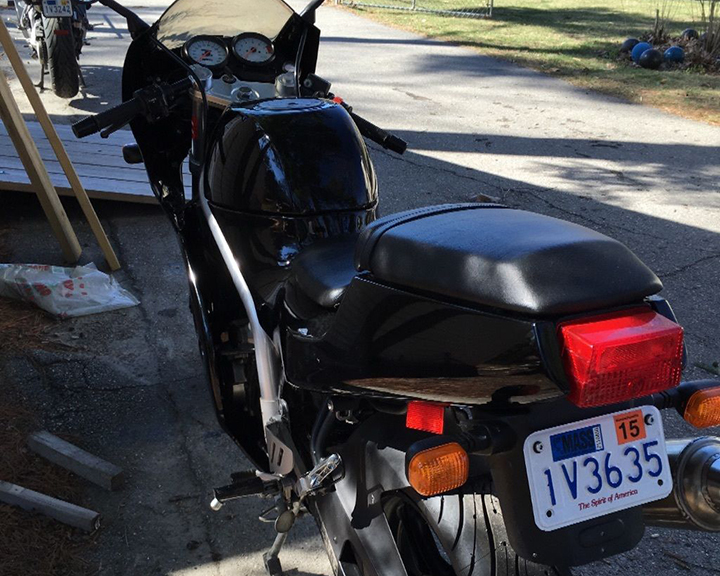 These bikes are virtually forgotten now, and can be had for very small sums on the rare occasion you can actually find one. This example has almost insanely low mileage, considering the bike's nature, and appears to be in very good condition. The Buy It Now is just $3,000 with very little interest so far. A one-make racing series was available for the bikes at the time, and they are very popular for use in single-cylinder racing classes today, but it'd be a shame to see one this nice get chopped into a track bike.
-tad