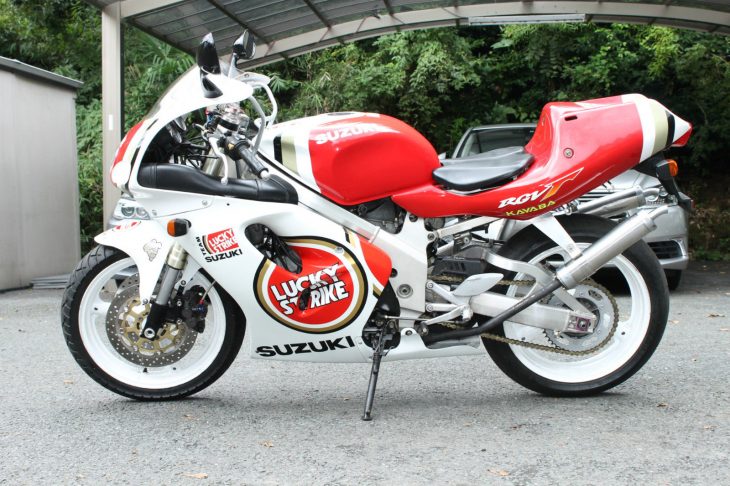 I once saw Penn & Teller perform and, after their last illusion was complete, the pair appeared onstage, illuminated by a single, overhead spot. They were both casually smoking cigarettes and Penn [obviously] talked a bit about how they both like to indulge in a cigarette after a show. However, he acknowledged that smoking is really bad for you and that kids should obviously not follow their example… Unless they want to look really, really cool. Which pretty much sums up this little smoker: tobacco use may be incredibly unhealthy, but years of tobacco sponsorship resulted in some of the most iconic race cars and bikes of all time. Rothmans, John Player, Marlboro, and today's Lucky Strike Suzuki RGV250SP all have a terrific style, in spite of the product being advertised. Somehow, an RGV in garish period graphics will never look as sharp as one in red-and white with that logo on the side.
Built between 1997 and 1998, the last generation of RGV used an unusual 70° two-stroke v-twin that Suzuki claimed made 70hp in de-restricted, SP form. As an original Japanese-market machine, this bike likely makes the government-mandated 40hp, so there's obviously plenty of untapped potential here if you know how to find it. In an era where 180hp road-missiles continue to proliferate, kept on the road and out of the trees only by virtue of their state-of-the-art electronics, 70hp doesn't sound like much, but the highly-strung Gamma's lightswitch power and nimble handling mean big rewards for committed riders.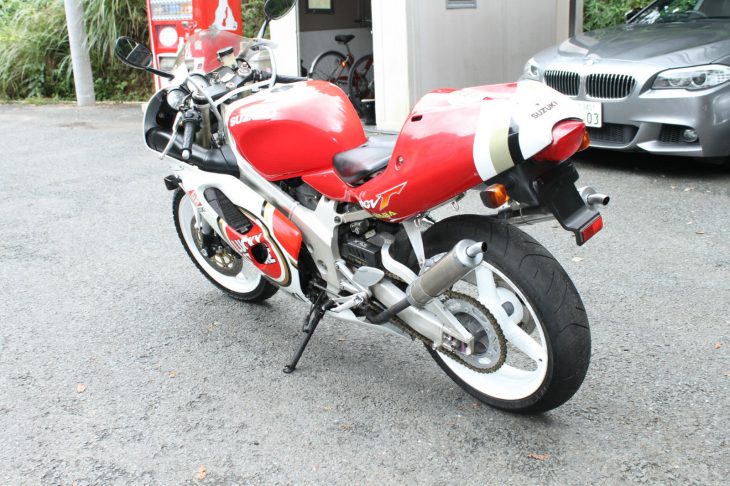 As trick as they look, the asymmetrical "banana" swingarms of the later VJ22 and VJ23 versions add weight, so the later bikes are actually heavier than the earlier examples, but collectors don't seem to care. Especially since you're still looking at a dry weight in the neighborhood of 300lbs. Personally, I prefer the look of the earlier VJ21 bikes overall, but in Lucky Strike colors, this VJ23 still pretty striking.
From the original eBay listing: 1997 Suzuki RGV250SP VJ23A for Sale in Japan
Very rare 2 stroke bike from Japan to you!!
RGV250SP VJ23A  Japan domestic model
VIN: VJ23A-1010**
Year: 1997
Mileage: 29,624km
Condition: Running very well. Both side of side panels are aftermarket but another part is original.
Body work has some deep scratches.
Silencers are for TZR250R 3XV of original.
We'll attach Japanese original title, Sales certificate in English, Bill of sale in English.
Shipping: Price is including the shipping cost from Japan to port near your place. We'll put in the wooden crate and ship by sea.
Obviously, as a Japanese import, you'll have to be prepared to put this on display or deal with the usual DMV chicanery. But this bike is basically the end of the line for two-stroke performance, and those Lucky Strike graphics really flatter the bike. It appears clean and well-maintained, but does have a few superficial scrapes, scuffs, and cracks, as described by the seller. The Buy It Now price is a pretty steep $7,000 but RGV250s are currently in demand, so I wouldn't be too surprised if the seller gets that much.
-tad