Update 1.6.2022: This bike has SOLD to an RSBFS reader! Congratulations to buyer and seller!
If you have a bike for sale that would benefit from this kind of exposure, contact us for a Featured Listing. -dc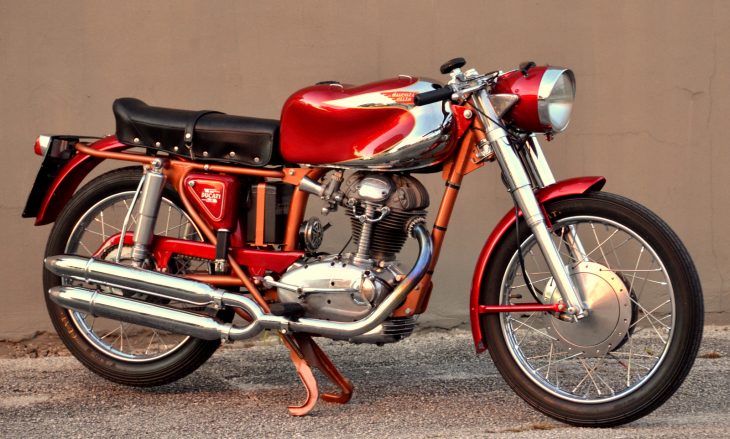 If you've already got Ducati fatigue from the past couple weeks, scroll right on past today's Featured Listing, this Ducati Elite 200. Or, if you didn't realize that Ducati had a life before their big, booming superbike line existed, go ahead and read on. In fact, they didn't even make a regular production multi until the introduction of the v-twin 750 in the early 1970s: their Cucciolo, the original Ducati, was actually a small, four-stroke engine designed to motorize a bicycle. Humble beginnings for a company whose name is synonymous with Italian exotica today.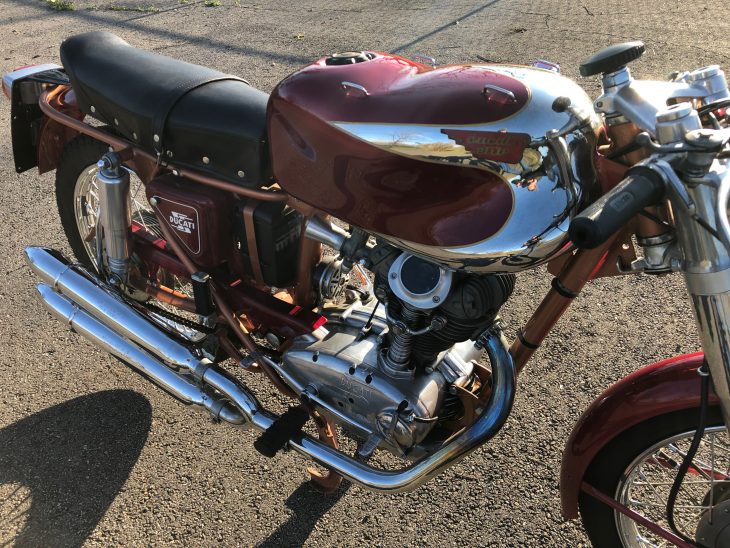 Later machines used their light weight and handling to win victories in smaller racing classes. Fabio Taglioni designed their first overhead-cam engine, which eventually developed into the machine seen here that was introduced in 1958. The Elite displaced 204cc and used a four-speed gearbox with the heel-toe shifter that was characteristic of the era. The 18 horses and light weight meant a top speed of nearly 90mph, an impressive velocity for such a small motorcycle.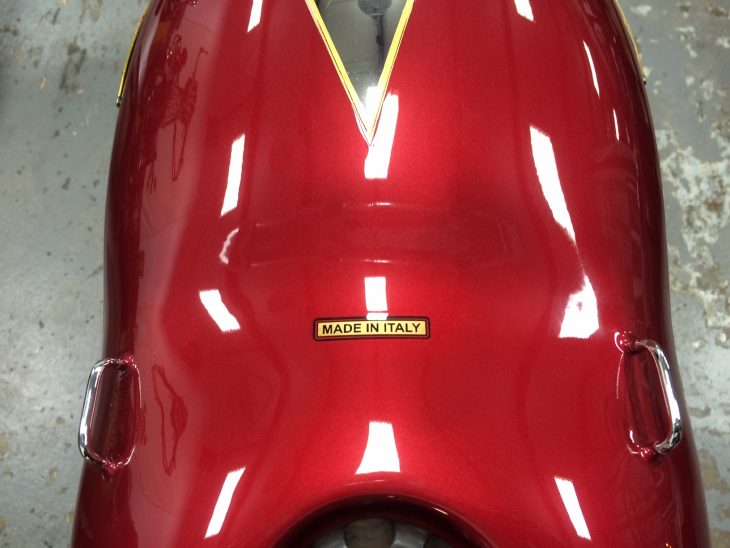 The distinctive candy-red "jelly mould" tank with mirror-like chrome details and Ducati wing logo, complete with mounting loops, to the copper-colored frame and amazing details like the "DUCATI" molded into the peg rubbers, headlight bucket-mounted speedometer, and tapered shotgun exhaust, it's a surprise to me that they haven't built a retro-styled model that references this bike yet. Even a Scrambler variant painted to match this might work, combining modern performance with classic style and colors…
From the Seller: 1959 Ducati Elite 200 for Sale
This is a rare, award winning piece of Motorcycle art. This bike was previously in a museum and is also an Antique Automobile Club of America winner "National First Prize". The bike was purchased from Vicki Smith in 2013 who is well know among Ducatista. Apparently the bike was first purchased in Italy. I probably never rode the bike more than 20 miles and it was then properly put back into Museum mode by Revival Cycles in Austin and has complimented the other bikes in my house. I have all the receipts that came with the bikes and everyone since. The key in the headlight is one of my favorite things and the bike also comes with a Ducati tire pump. The one into two exhaust is rare and motorcycle art. This is the price I paid in 2013 and is more valuable and rare today.
The seller is asking $18,500 for this very nice example of an appreciating classic. The bike isn't perfect, but the paint looks amazing, it has great patina, and it comes with documentation and should certainly continue to appreciate. It's a shame that most of these end up sitting in collections, since they're apparently great to ride and would be lots of fun on a casual Sunday morning ride, or a great choice for a classic rally like the Motogiro.
-tad