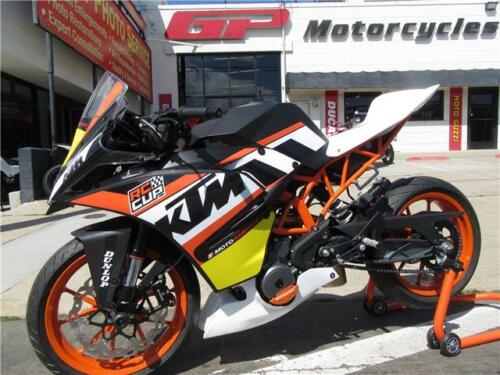 Right here we have an interesting dilemma. Race bikes are definitely cool, but used machines really need to have some star power and proven history to have value. Track day bikes – also known as hacked street bikes – are relatively cheap but usually thrashed pretty hard. Brand new race-spec bikes are rare, and nearly always very, very expensive. But what if you could find a new and competitive race bike built for a current race series – but reliable and valid for use on practically any track day you might have in mind? And what if it was reasonably priced? Enter today's cool 2016 KTM RC390 Cup Bike, advertised as NEW.
The little KTM shares a lot of DNA with its bigger brother, the RC8. Sure, it's a smaller displacement bike – often mistakenly identified as "entry level" here in the US – but that does not mean that technology has passed it by. With a short, straight tube frame chassis in trademark orange, the RC390 features WP suspension including upside down forks. Motivation is provided by a liquid cooled, single cylinder four stroke with double overhead cams and four valves per cylinder. Figure approximately 44 HP nearing the neighborhood of 10,000 RPM (although the sealed race bikes may have slightly less), and more torque down lower on the rev range than any of the small bike twins. A slipper clutch is standard, as is the Brembo designed brakes and fly by wire throttle with fuel injection – certainly not entry level equipment. Dry weight for the standard machine is just about 300 lbs even.
From the seller:
2016 KTM RC 390 Cup Bike. Bike has never been titled and sells as a new bike.

Was $10,000 $ave over $4,000! The KTM RC Cup racebike, it is a track-only (NOT STREET-LEGAL) version of the RC 390. The race-prepared motorcycle is sold ready for competition, with over 40 KTM PowerParts and other improvements to enhance its racing performance. The engine of the bike comes sealed for use in the MotoAmerica series and it gets a performance exhaust by Akrapovic The racebike features fully adjustable WP inverted forks fork and WP racing monoshock with high-/low-speed compression and rebound damping, adjustable preload and adjustable shock length. It also gets a taller windshield with race style tail fairing and belly pan. Throttle response is a very important factor in racing, so the KTM RC Cup racebike receives RC8 R-like throttle assembly. Moreover, there are also CNC-machined race-spec rearsets and foldable levers on the bike, along with many other PowerParts, including front and rear trackstands.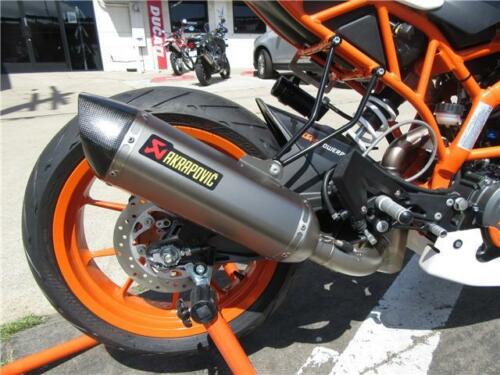 The RC390 Cup machine is likely one of only a handful of turn key racers you could buy new in the past decade, fully set up out of the crate (the Moriwaki 250 and Aprilia 250 Cup are the others). Yes, it fits smaller riders better. Yes, to be fully qualified for MotoAmerica you need to be younger than 22. But adults can hoon on this all day long during track days, thanks to the proven reliability of these tough and quick thumpers. And isn't that what you want in a track day bike? A ready supply of spares, minimal parts that can be damaged in a crash, and reliability to ensure that you maximize your track time – all in an affordable package that is light weight and easy to handle. For those less selfish, you may even have an aspiring young racer in the house that is looking for a sponsored ride. Either way, the price of entry is a mere $5,995 Buy It Now – super cheap for a racer! Check it out here. I know it does not have three trillion horsepower, but this can carve a line far better than any GX Busja mega displacement streetbike. If a MotoGP bike is out of your price range, this MotoAmerica eligible racer might be a better fit. The only problem you will have is trying to wipe the smile off of your face. Good Luck!!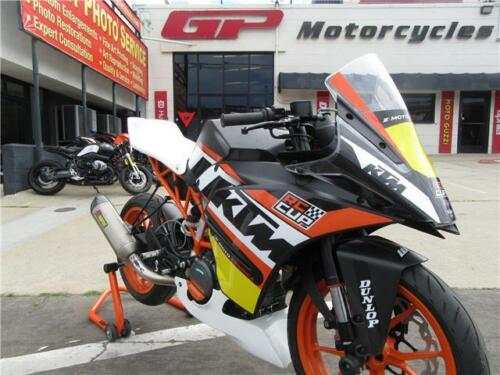 MI