Warning!
This post is in our archives. Links in this post have been updated to point to similar bikes available to bid on eBay.
Sadly overlooked now, the MZ 1000S is a seriously versatile bit of German exotica. The Motorrad und Zweiradwerk name may not be familiar to most, but the marque has plenty of racing history and pedigree. Unfortunately, most of it is in the distant past, and that fact likely hurt sales of the expensive motorcycle from a brand largely unknown by modern sportbike enthusiasts. Brief background lesson: MZ [then "MuZ"] two-stroke racebikes using pioneering expansion-chamber technology developed by Walter Kaaden dominated the smaller racing classes between 1955-1976, a streak that was really only broken when MuZ Ernst Denger defected and took the company's racing secrets with him to Suzuki…
By the 1990s, the company was largely forgotten by modern riders, except as a producer of outdated, smoky machines really only suitable for sale in countries behind the Iron Curtain. A reborn company with a line of motorcycles built around a common platform and powered by Yamaha's 660cc 5-valve single and 5-speed gearbox got good reviews and soldiered on for a few years, but the MZ 1000S was the company's first real foray into big four-stroke motorcycles.
Conceived as a sport-touring machine, it looks far more exotic than most bikes that typically fit that job description. Chunky and very angular, the design doesn't come across as overly busy or contrived. It just looks classy and confident, a little mature. It was well received by the motoring press, but the 1000S was expensive and maybe a bit too conservative for its price tag. Power came from a 998cc parallel twin that meant character and a meaty powerband, as well as compact dimensions. The expected vibration was quashed by modern balance shafts, and a six-speed cassette gearbox seems to have been included for bragging rights, since quick trackside gearing changes don't otherwise seem to fit into the design brief.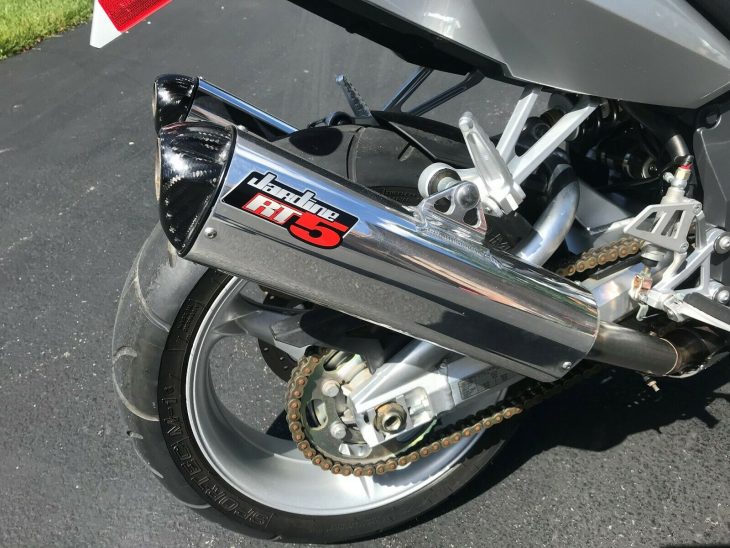 The MZ 1000S, along with a pretty wild-looking naked version, were sold for just a few years before production ceased. Many have been well-maintained and are available for a fraction of what they cost new. This one has a shade under 2,400 miles and is fitted with some good quality if slightly gauche aftermarket exhausts, but includes the originals if these aren't to your your taste.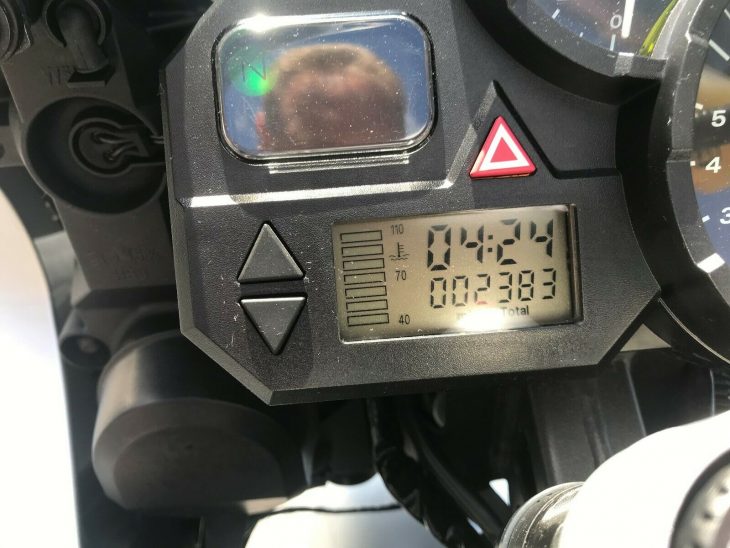 From the original eBay listing: 2005 MZ 1000S for Sale
You are bidding on a 2005 MZ 1000S sportbike with extremely low miles, in great condition, and ready to ride. I have owned a couple of these in the past, and got this one back from a gentleman that owns 4 of them, whom I sold this one to about 4 years ago. The bike has only 2383 miles on her and is ready for the road. Here are the details.

As I mentioned, I sold this bike to a friend that has 4 others,and recently got it back from him. Unfortunately, I am trying to "thin the herd", and need to concentrate on my other projects.

The bike has a new battery, all brake & clutch fluids were just changed, along with new synthetic motor oil & filter. Bike fires right up, and runs great though the 6-speed cassette transmission. These bikes are rated at 100HP, but really designed as a "sport tourer", as opposed to a full on sport bike. Fully adjustable suspension both front & rear, as well as dual Nissin front disc brakes which makes for great handling & stopping. The previous owner installed the Jardine muffler set and they sound great! Have the original mufflers that will go with the bike.

Some minor nick ,and minor scratches in the paintwork here & there, but nothing major. Looks great all around. All lights,gauges work as they should.

There is a cult following for these worldwide, and a lot of the consumable parts are readily available (brake pads, oil filters, chains, etc.), and any model specific parts are available from Grahams Motorcycles in the UK. Over the years,anything I have needed to order for various other MZs, I have received from Grahams within 7-10 days. Fantastic German build quality, and craftsmanship for a reasonable price. There are a lot of Chinese bikes that cost more than this bike, and can't hold a candle to it!

The bike has a clear title, original owner's manual, and a copy of the factory workshop manual.

Overall, a really nice bike that needs to be ridden, as opposed to sitting in my garage while I work on other projects. Offered at a very fair "Buy It Now" price,or feel free to shoot me a serious offer.
Don't be scared off by servicing or parts availability: these are supposed to be easy enough to work on, assuming you have a mechanic willing to deal with a bike they've never even heard of, and many components are still available from overseas. Look, you obviously won't get a warranty with this bike, but miles are very low and At $4,350 you honestly should take a chance on this one if you're a fan of practical sportbikes with rarity and tons of character.
-tad