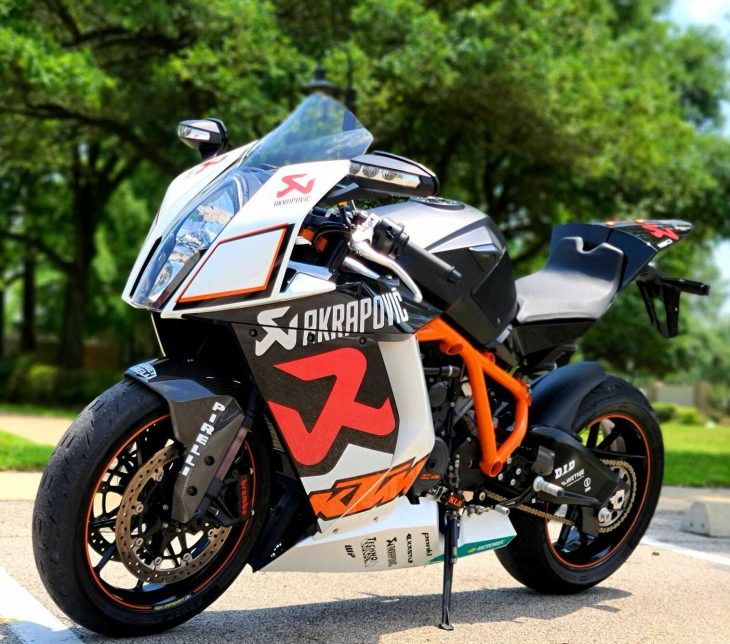 First sold in 2008, KTM's RC8R superbike came at the tail-end of the analog superbike era, just as things like ride-by-wire, traction-control, and cornering ABS were becoming the norm. After some initial issues with a crunchy gearbox that were quickly resolved, the RC8's four-valve, twin-plug 75° v-twin was increased from the initial 1148cc to 1195 and gained the "R" designation. It didn't have the electronic bells and whistles of the contemporary Ducati or BMW, nor did it have much in the way of [road]race-winning heritage, but the Katoom's 175hp and 90 ft-lbs of torque meant it could easily keep up with other superbikes of the era.
It's much more user-friendly than any Ducati, with adjustable ergonomics and a general layout that seems to favor taller riders. Handling is excellent and the bike was well-reviewed when new, although the high price and KTM's inexperience in the world of big-bore sportbikes meant it never sold well. And the styling, although far from subtle, looks as fresh now as the day it was introduced. For better or for worse, depending on your point of view. Buying one now, it's a good idea to find one with any significant upgrades you might want already installed. The RC8 is pretty rare and have been out of production for a while, so quality components like aftermarket exhausts can be hard to source new. Luckily, this one has that all sorted out already.
Unhappy with the prices of high-performance motorcycle exhaust systems from western countries and with the low-quality of ones available from Eastern Europe, motorcycle racer Igor Akrapovič founded Skorpion to build them himself. If you remember Skorpion from back in the 1990s, you probably had no idea that they would eventually grow to become a juggernaut of aftermarket and official factory accessory exhausts for both cars and motorcycles. The original Skorpion brand Igor founded evolved into the one bearing the Akrapovič name, and awful mispronunciations began.
For the record, it's pronounced /ah-KRA-po-vich/. Try not to maul it too badly.
From the original eBay listing: 2010 KTM RC8R Akrapovič Edition for Sale
This a very rare special bike. This is not a typical RC8R. It is a genuine Factory Akrapovic Edition. They only made this bike for 1 year and only 25 made for the United States. This bike was imported from Austria. Over $26,000.00 new.

Has Full Akrapovic Exhaust.
Marchesini Forged wheels
Factory Akrapovic Paint/Decals
Annodized forks
Several other factory extras

Bike is mostly stock with slipper clutch and quick shift added. Also has Akrapovic sets and a few other bolt ons.

Excellent Condition. No damages. Recently Serviced. No issues

Only 2500 miles. You won't find another bike like this. It is a beast ready for the track, collector or hooligan street bike enthusiast. Super condition.

Watch "2010 RC8R Akrapovic Edition" on YouTube

Clean TX Title in Hand

281-415-2646
The seller is asking $12,900 for this very clean, very rare machine and includes a YouTube link to a walk-around of the bike here. Akrapovič makes high-quality stuff although, perhaps owing to their close working relationships with a number of major manufacturers, they do tend toward the quieter end of the aftermarket spectrum. That being said, you can hear the nice, mellow tone the system produces in the video and the exhaust should be up to their usual high standards of quality. The aftermarket quickshifter helps drag the old-school machine into the modern age. You'll have to manage your own downshifts, although the addition of a slipper-clutch should help there.
-tad