Location: Steilacoom, WA
Miles: 28,100
Price: $2,800 with No Reserve
Prior to the "V", Suzuki had the RG250 which featured a parallel twin two-stroke and some anti-dive forks, which were pretty advanced for a street bike at the time. Meanwhile, Canadian oil tycoon Walter Wolf was in the business of F1 racing and seeing some success. And apparently it was only a matter of time before Suzuki decided to plaster a bunch of Gamma's in WW livery, why not?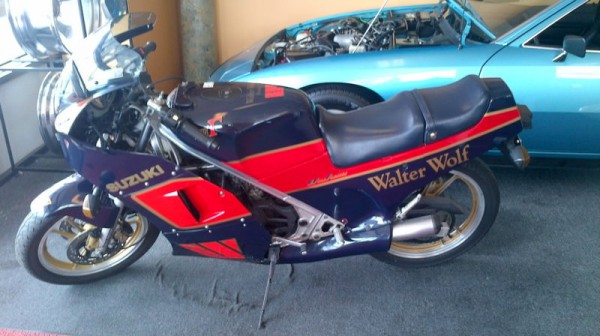 The particular RG250 for sale here kind of has me confused. The seller states that it is a 1983. However, the full fairing and design of the bike would lead me to believe that it is an '85-'87 model. Also, most of the WW RG250's I have seen are the red seat/wheels versions with a different graphics configuration. I can only assume that this might be a JDM version since it has the blue gauges. Anyone have any ideas?
From the seller:
THIS IS A VERY RARE AND HARD TO FIND SUZUKI RG250 WALTER WOLF RACING BIKE. BIKE RUNS EXCELLENT AND CAN BE A DAILY DRIVER. SOME EXTRA PARTS ARE AVAILABLE. THE FRONT FEARING HAS SOME NORMAL CRACKS BUT THE BIKE DOES NOT HAVE ANY MAJOR DAMAGE AT ALL. YOU WILL NOT FIND A ANOTHER ONE LET ALONE ONE THIS NICE! THIS BIKE WONT LAST AT THIS PRICE. ADD IT TO YOUR CURRENT VINTAGE COLLECTION!
The bike doesn't look pristine, but it does look good for a 25-year-old bike with almost 30k on the clock. There is a pretty visible crack in the upper cowl that has been slightly repaired and some oxidation on the aluminum bits (clip-ons and frames). I think this would be a cool project to bring back to its original glory. With an opening bid of $2,800 and no Reserve on the auction, it can be scored relatively cheap. If you're interested in this little Wolf, then check out the auction here!
-JS