Location: New York
Miles: 22,695
Price: $3,400 with No Reserve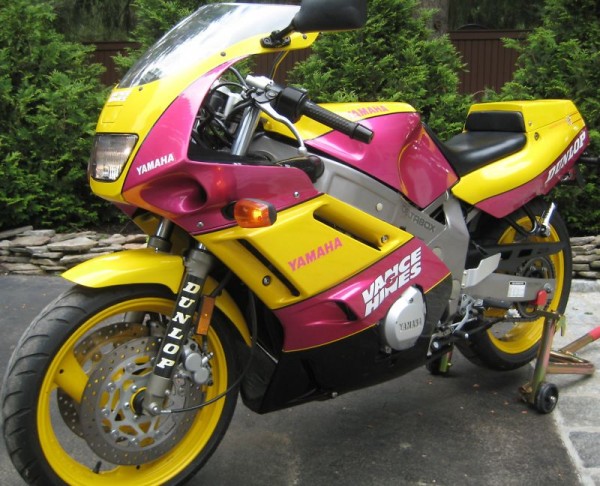 You definitely don't see these every day. The Vance & Hines edition of the FZR600 wasn't much different than the standard FZR of the time other than the V&H exhaust. However, the paint scheme was custom and a post-factory job. With only 636 of these specials produced, they don't come about too often.
The bike up for grabs here looks to be in very good condition considering its age and mileage. I don't see any damage to the fairings other than some small chipping near the seat on the solo tail. The auction does include a host of extras like Original V&H paperwork and care instruction for the bike, a signed Eddie Lawson Daytona200 poster and several other items.
From the seller:
UP FOR AUCTION IS A 1992 YAMAHA FZR 600 VANCE & HINES EDITION. IT IS #376 OF 636 LIMITED EDITION BIKES . I PURCHASED THIS SURVIVIOR A FEW YEARS BACK & HAS BEEN IN MY COLLECTION ON ABATTERYTENDER & UNDER A COVER.
IT HAS 22695 MILES ON IT, IT IS IN GREAT SHAPE FOR A 1992 MOTORCYCLE, I JUST REMOVED THE COVER, PUT THE CHOKE ON & SHE FIRED UP. IT HAS BEEN SITTING SO IT COULD USE A CARB CLEANING, & FRESH FLUIDS.

INCLUDED IN THE AUCTION & TRULLY HARD TO COME BY, ARE THE FACTORY LETTERS, FROM YAMAHA & VANCE & HINES, ALL THE INFO ON THE LIMITED EDITION MOTORCYCLE. ALSO A LG POSTER OF EDDIE LAWSON ON THE TRACK AT DAYTONA, A DAYTONA 200 RACE PROGRAM WITH A RACING PATCH, A VANCE & HINES PERIOD CORRECT PERFORMANCE CATALOG, A FULL YAMAHA SERVICE MANUAL, THE OWNERS MANUALS & PERIOD CORRECT RACING MAGAZINES, I WILL ALSO INCLUDE THE REAR STAND.

THIS TRULLY IS A PEICE OF RACING HISTORY , MOST OF THESE BIKES ARE LONG GONE. EVEN WITH THE HIGH MILAGE, IT WILL BE A NICE ADDITION TO SOMEONES COLLECTION, ESPECIALLY WITH ALL OF THE PAPER WORK & EXTRAS INCLUDED WITH THE AUCTION.

SHIPPING OF THE MOTORCYCLE AS WELL AS THE EXTRAS ARE AT THE WINNING BIDDERS EXPENSE.
Now some of you might not be super into the paint scheme, unless you are a huge Kareem Abdul-Jabbar fan. But if you are a huge Yamaha fan or collector, then this bike offers a chance to own a replica bike for a very reasonable cost. Miles are on the higher end, but the condition of the bike does not show it at all. You can check out the auction here and decide for yourself!
-JS