Location: Albany, NY
Miles: 5,852
Price: $6,800 BIN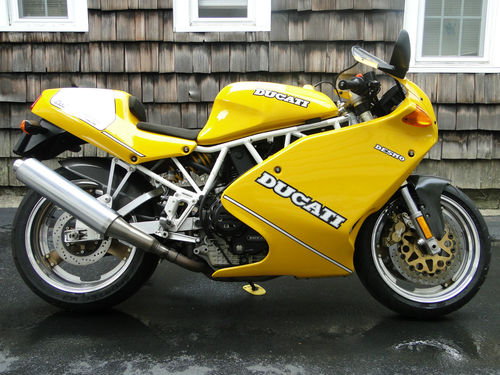 There is something refreshing about seeing a yellow Ducati, especially one with a white frame. Most of the Duc's I see are your standard red units. Not that this is a bad thing, but this color combo set's it self apart from the crowd. What else sets this bike apart from the rest is the SuperLight designation. The SL's featured more carbon fiber bits, and Marvic aluminum/magnesium wheels to help bring the bikes weight down. They were also one of the first Ducati's to be given the numbered plaque on the triple clamp.
The particular bike up for grabs is a now-stock unit, except for the exhaust. Don't worry, the original is included. The seller states that some slight cracking has occurred on a couple parts of the fairing, but repairs and some painting have taken place to prevent further damage. There also looks to me some slight rust (spots) on part of the frame. Other than those issues, this bike sure looks clean and has only had two owners in it life.
From the seller:
1993 Ducati Superlight
#810 out of 1000 imported to theUSA

5951 miles

Although not perfect, this 1993 Superlight is in excellent shape. This bike was purchased as a collectable and has been rode very sparingly.

I purchase this bike in 1996 and I am the second owner. The original owner had modified the engine…if I can remember that far back I believe he had racing carbs on and moved the battery to a different area of the bike. He also had removed the choke.

I brought it to the dealer soon after purchasing it and had everything put back to its' original condition.

No modifications have been made since I've owned it. F1's exhaust pipes are on it now. The original pipes will be included in the sale.

Some cracking can be found on the right tail section and the front fairing. Fiberglass was placed on the inside of the tail piece to prevent

it from cracking more. The front fairing was repainted due to cracking.

There is some rust on the front of the frame.

The cylinder studs have been replaced. I had the bike completely overhauled in 2006. Fluids have been changed.Battery(always on battery tender) and tires are fairly new.

I have the maintenance records for the work that has been done. The bike needs nothing other than someone to ride it.

I will do my best to answer any questions you may have.
I will say that I think this 900SL is a pretty good deal with a $6,800 BIN. We have seen slightly cleaner ones with higher miles start out at $7k+ and go up from there. I wouldn't suspect this to last too long with a $6,800 price tag as it is still a killer bike and would make a great addition to any collection, especially if someone is collecting on somewhat of a budget. It would also make a solid daily rider for someone who wants something a little less common in the world of Ducati's. You can check out the auction here and make it yours today!
-JS