Location: Marysville, OH
Miles: 11,433
Price: Currently $5,034 with Reserve ($7,500 BIN)
This bike had me seriously fooled when I first saw the photo. I though RC30 for a half second until I read this description. I was close, but this however is a VFR400R (NC30) and not its famous big brother. Having said that, I still think this thing is AWEOSME! RC30 styling, the cool factor that comes from a grey-market bike and Honda's V4 design in the 400cc version are killer things which equal to about a quarter the price of the RC. I wouldn't feel bad about taking this thing out all the time as I would with a real RC30.
Now, this bike isn't a bone stock example, and the paint scheme has been modified to mirror that of the RC30. But this isn't a Faux-rarri with a Fiero engine underneath, this thing is all Honda. There are a few modifications done to the bike, but it seems to me that they are all tastefully and purposefully done. Someone spent some time building this and it shows.
Here is a photo of a stock VFR400R of the same year.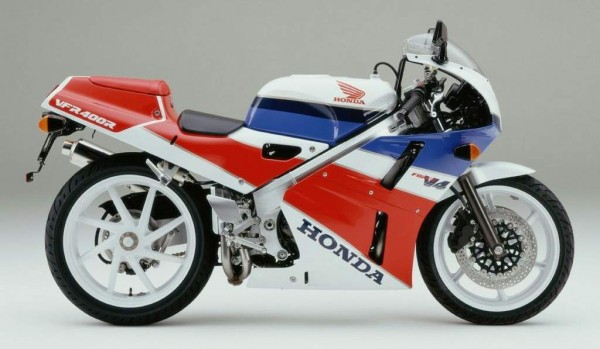 From the Seller:
I have owned this bike for the past 8+ years, it starts and runs great.
Engine is stock. I have not done any modifications internally. It has had very regular oil and
filter changes and has a low mileage (maybe a few 1000) air filter and plugs. I have never tracked this bike. It has been adult owned and ridden since it came to the states. I have a clear Ohio title for it.

18400 Kilometers (11433 miles), gauge face changed to MPH
CBR600RR Front forks, brakes, fender, triples w/ custom adapters
Stainless brake hoses
Aftermarket alum clipons
CBR600 Front wheel
Aluminum screen brace and fairing / headlight / gauge mount
CRG brake & clutch levers
Silicone coolant hoses
Aprilia RS250 rear shock
Rick Oliver rearsets w/ Gilles pegs
Aluminum rear sub frame
NC35 Rear wheel (17″)
Wave rear rotor
Lots of Alum, Ti & stainless fasteners
RC30 replica paintwork on stock fairings
Custom RC30 solo seat tail section w/ custom tail light brackets & plate bracket RC30 Back pad
Fresh powder coat on wheels (this spring)
1 month old gel battery
Less than 1000 miles on Michelin Pilot tires, chain & both sprockets
Custom shorty muffler on Ethos exhaust
Sealed swingarm w/ through arm rear brake hose
YZF regulator / rectifier
Custom made Stainless side stand
SSR threaded fuel tank cap
Other small stuff I have forgotten.

There are a few blemishes in the body work and a small dent in the tank. Everything is repairable but would require re paint which is why I have not gotten to it. I could go on and on about good condition etc. If you have specific questions do not hesitate to contact me.

I am listing the bike with a buy it now option. That option includes a excellent condition full stock exhaust and muffler bracket. My reserve is lower than the BIN price and does not include the exhaust.
Sure this isn't a bone stock garage queen, but that's perfect. If you wanted something to stare at and always worry about riding, then save up about $25-$30k and buy the RC30. This baby VFR is meant to be ridden and enjoyed, and you can bet people heads will turn when cruising on this thing. I only wish I had the cash to score it.  Bidding is already active and the seller states the Reserve is lower than the BIN, but the BIN does include a clean stock exhaust. If you dig this thing as much as I do, then take a look at the auction here and place your bid!
-JS