Among the elite of RSBFS bikes this 1986 Suzuki GSX-R 750 R LE sits right on top. The exact number of LE models produced remains a mystery (some say 500, some say 1000…). What is sure is that it was produced in 1986 only, it featured a unique color scheme, a glass fiber hand made tail unit (yes like the RC30 of 2 years later), stronger brakes than its brothers, a more efficient chain, electrically actuated anti-dive front fork system,a single seat and those expensive and impossible to find dry clutch plates (apparently exactly the same as used on two stroke 500cc GP bike). Despite the exhaust of this bike is dead quite, the sound of the 4 cylinder oil-air mix cooled motor coupled with that beautiful open clutch cover is unique. I remember visiting once a Japanese website of a true passionate Limited owner that had a black background and the mechanical dry clutch in display that only the connoisseurs would recognise as being a website dedicated to 1) a motorbike model and 2) the Suzuki GSX-R 750 R LE: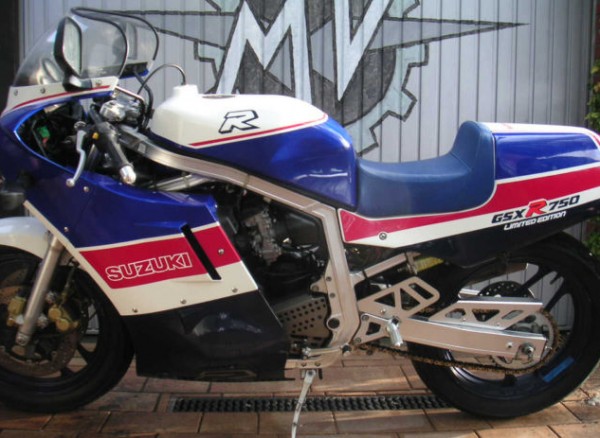 Despite the rarity of this bike, it is not uncommon to find almost new models perfectly maintained. These don't come cheap but well below RC 30 territory. I wonder if the first buyers of these models well aware of the rarity and costly bodywork and clutch spare parts well thought not to risk ruining their precious unique bike and simply stored them in warm and dry living rooms. The sample here is found in Germany. It had 2 owners and seems in good conditions. The price is on the higher side of the market but what prices LEs will reach in the future is all to be worked out…and I reckon won't go down…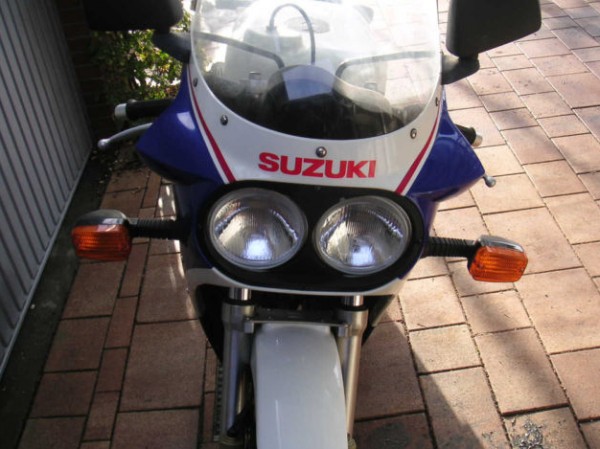 I personally have one of these in my garage and consider it more precious than other commonly sought after models. With its old style "seat in the bike and stretch your arms" riding position as opposed to "seat on top and hold yourself up" of modern bikes (try sitting on the tall and short RSV4) the feeling of riding it is a unique mix of time travel and riding involvement.
Any 1986 Limited is well worth it and that's valid for Gixxer and non Gixxer enthusiast. If you are interested you can check the link below:
Suzuki GSX-R 750R LE in Germany for 11950 EUR
Now if the "standard" Limited Edition is not fancy enough for you, you can opt for the über rare Yoshimura Limited Edition as the one found in Italy (this has been on the market for a while now…). For this you'll need to part with 9000 EUR…that' right this is cheaper:
And it gets even more interesting as the same dealer is selling a "standard" white and blue colour LE for 15000 EUR…Confused ? Me too. I tell you what, if I had 9000 EUR to spare, I'll rent a van and drive straight to Milan…
Suzuki GSX-R 750R LE Yoshimura in Italy for 9000 EUR
The discussion is open, what would be your choice ?
Claudio