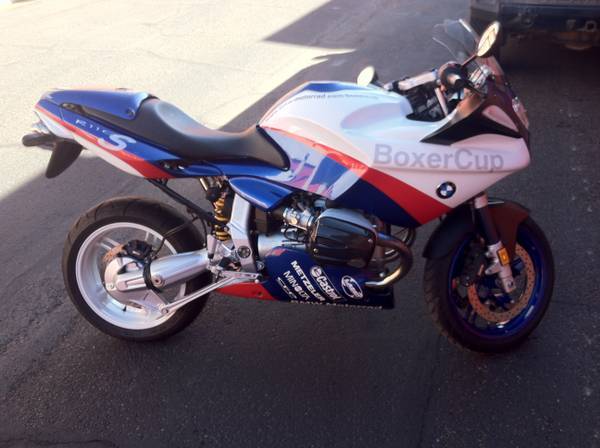 In the spirit of Sunday drives, here's an R1100S BoxerCup for sale in Arizona. It has covered just 4280 miles. Current bid is just over $7k reserve not met and the buy-it-now is $8k. The seller sounds like a true enthusiast and does a great job describing the bike. Good luck to buyers and seller, and hat tip to Patrick for the spot!
dc
2005 BMW R1100S BoxerCup For Sale on eBay
quote from the seller:
Limited Edition and has to be one of the best condition, lowest mileage BoxerCups in the USA, perhaps the world. Once in a lifetime opportunity to get your twin on. MY 2005 Red, White and Blue BoxerCup with only 4,280 miles. Expertly maintained and cared for, never down, raced or abused. As you can see from the pics I've included some with its body work removed just to give you an inside look at this street legal race bike. Has a new battery, recent service but needs a new rear tire soon, (will include with BIN). You really have to read-up on the race series to learn about their special race performance parts, (ecu, laser exhaust, carbon fiber and carbon fiber plastic parts, etc). Full race livery. Also, to take things to the next level the bike has a set (not installed) of paint-to-match Corbin sport-touring luggage. So for all you diehard BMW sport touring fans, now a proper boxer twin with real luggage that works for week-long getaways. Save serious money on the best sport touring twin BMW has ever made. A Limited Edition, individually numbered unit, ultra-low mileage motorbike. Does it get any better? Yes, I am a BMW MOA, RA and AMA member and I can guarantee a true BMW enthusiast. Will of course help with delivery, storage and a fly and ride. Please email with any questions. Thanks for looking.