Warning!
This post is in our archives. Links in this post have been updated to point to similar bikes available to bid on eBay.
Every post will be sent right to your inbox every morning when new posts are made. We will never sell our list or spam you. Plus you can click links to bid or buy right from the email and skip the site entirely. Subscribe to Rare SportBikes For Sale today!
Update 3.18.2013: If you were thinking last year that you should've bid on this one, it's back and a thousand off at $9500 buy-it-now. Hat tip to Matt for the spot. Links updated. -dc
Update 12.31.2012: Back on eBay for the new year and now with a slightly lower buy-it-know of $10,500. Links updated. -dc
Update 10.31.2012: Back on eBay after less than 30 days. No change in buy-it-now, links updated. -dc
This one has to be tempting for anyone interested in purchasing a VJ23. If you have a checklist, toss it out because this one looks to have it all. An avid RSBFS reader though, might recognize the bike as it has made two previous appearances here. They were both Cragislist listings. I believe the bike sold very quickly the first time but the new owner has moved the bike on to Ebay.
It really does meet all the requirements: CA title, low mileage (4611 miles), close to stock condition and derestricted. What could possibly keep it from selling? It can only be one of two things in my mind, the price or the color. The pink/purple scheme has never been a fan favorite but I've been told pictures don't do the color justice (I've never seen this color in person). The seller is asking $11,000 BIN on the bike. While seemingly high I don't think he out of the ballpark considering what you are getting. The CA title is the most valuable item but also consider the items to derestrict the bike. Prices on CDI's and chambers have skyrocketed in Japan and the weak dollar has only made it worse. You could easily spend $2,000 on just those two components right now.
If you want to go all the way to complete the transformation into a derestricted "V" model you'll need to track down a 240KPH speedo.
A few details from the auction:
This is a rare bird titled in CA.
1996 Suzuki RGV250SP
free of corrosion. 7422km ~ 4611 original miles.
Fully de-restricted with the OEM Suzuki 42E10 CDI along with the proper jetting, chambers and airbox mods.
Bike runs strong and hard.
And audio and visual treat from the seller
Maybe a boring picture but a good indication of the stock condition. Not even the OEM brake lines have been replaced.
The pipes look to be Sugaya's road going version. They use a different cans and fit better with the belly pan than their "track" versions. I imagine any performance difference would not be noticed by 99% of us.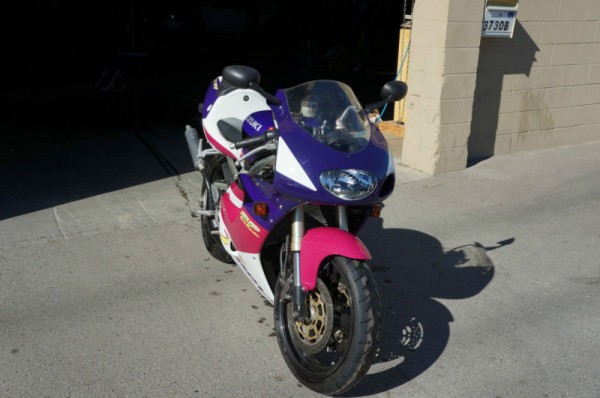 I really think if you can get over the sticker shock of $11,000, down the road you'd be very happy with what you got for your money.
Ian