2002 Ducati 998s Bostrom #59 of 155
Mileage: 4720
Price: $12899
Location: Reading, PA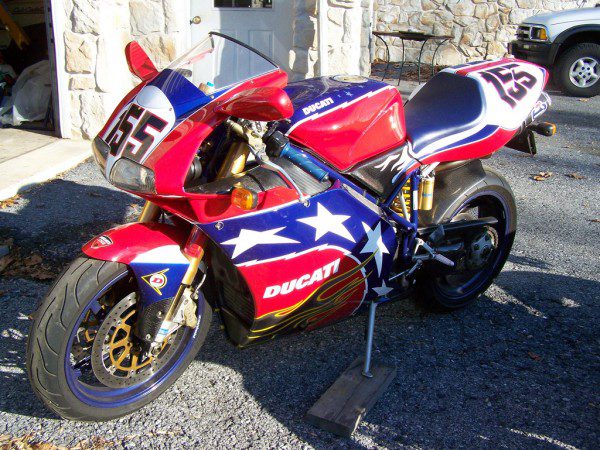 Submitted to RSBFS.com by it's owner is this fine piece of Ducati exotica. Oozing with Carbon Fiber, Ducati mystique, racing heritage and Ben Bostroms signature on the tank.
It looks to be in great shape and well cared for. The Bostrom 998s is on my short list of bikes to own and I'll be searching for one of these right after I own a 2 stroke for a year or two. So, if you've already owned a few of your dream bikes and the Bostrom 998s is the next one on your list now is your chance. Jami has it priced fair at $12,899.00 (why not make it 12,998? 🙂 ).
The seller also has a few other Ducati's for sale and has made a nice video on youtube.
No, I didn't forget to embed a Youtube video of Ben working his magic on board the L&M Ducati during his glory days..
And for the fun of it…. Here is were old Ducati's go after they've been retired and their racers go back to AMA..
Cheers!
dd