1991 Suzuki GSX-R 750 in exceptional original condition for sale.
SOLD! 8.24.2011
Location: Dover, DE
Mileage:
Price: $4,500.00 OR best offer!!!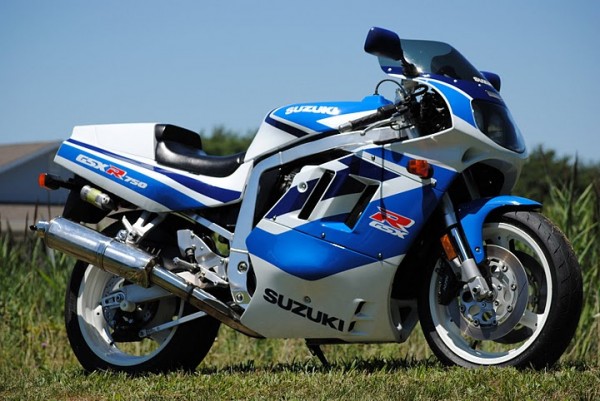 This is one bad ass machine with low miles, all original fairings, stock exhausts and a set of brand new NOS Dunlop 208's that help keep it period correct.
I totally dig this bike and for me this is the best paint scheme for any year GSX-R 750- Period!
The 91 model year represented the end of an iconic era for Suzuki in that it was the last year for the Air Cooled GSX-R's and it was, for most, the last year before the goofy pink splash graphics became in vogue.
The history on this one is pretty simple- It was purchased by a parts manager of a Suzuki dealership in 1993 and as you can see, it was kept bone stock. Most of the mileage was put on it early because when it was acquired by Steve it had a set of OEM period tires on it that were in bad shape. Steve tells me it sat in a climate controlled environment, until about a month ago, when it was purchased and brought back to life via a thorough cleaning and inspection.
Our friends at SpeedWerks Sport Bike Services own and brought it back from long term storage. I've looked at (aka: Drooled over) the pictures several times and I also solicited the opinion of our resident Suzuki expert and we both came to the same conclusion in that this is one FREAKING NICE machine! I'd happily roll on this one and would welcome all of the looks and stares I'd get. Hmmmm, I wonder if Steve would trade for a NSR….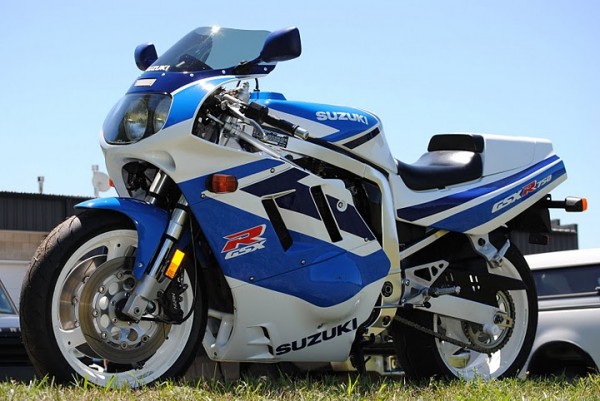 If you're a fan of oil cooled Suzuki's and in the market I wouldn't wait too long before hitting the boys up. I can't imagine this one sitting around too long.
You can contact Steve at (302) 672-7223 or steve@speedwerks.com
Make sure you tell Steve that we sent you.
Good luck with the sale-
Cheers!
dd