Today we have a reader who has contacted us with his beautiful RZ350 for sale in Salt Lake City. Amazingly low miles with just 5366 showing! Brandon is offering his bike on RSBFS before it goes to eBay hoping to find it a suitable enthusiast home here first.
Update: This great looking bike sold in only 12 hours! Featured listings work! Contact me if you have an exceptional bike for sale that deserves a feature. Just $25/mo (though we may have to start charging by the hour if this trend keeps up!)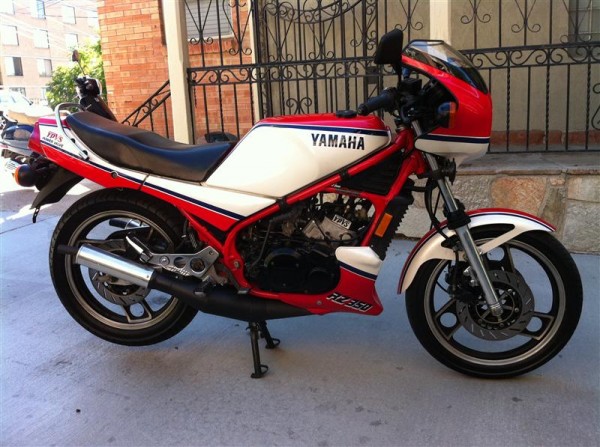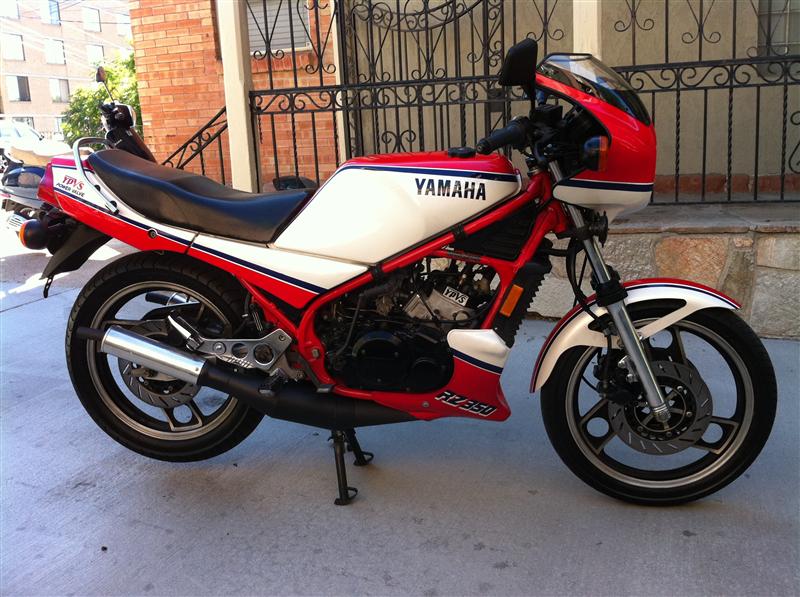 The very detailed description from the seller:

Extremely clean, ultra low mile and 90% all original '84 Yamaha RZ 350. I'm the proud 3rd owner of the bike and I purchased it from a Yamaha 2 stroke collector who, in the 6+ years he owned it, put a grand total of 301 miles on it. As of this writing it has 5366 miles but is still ridden at least a few times a week so actual millage may vary at completion of sale.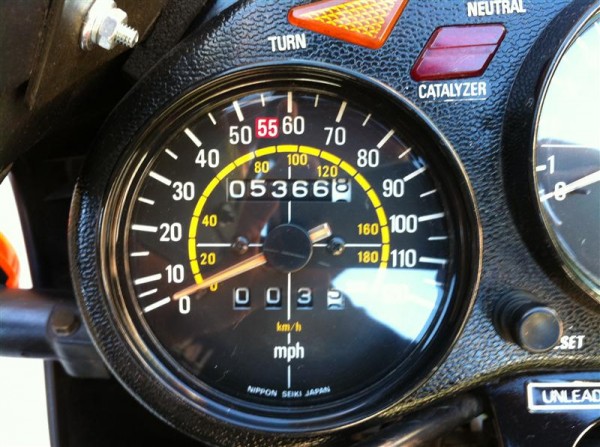 As far as how it performs during those rides? Flawlessly. And I mean that, everything works as it should. Even with the battery eliminator it is a one to two kick bike always. Beyond the battery eliminator, other tasteful period modifications include: Spec II chambers (the very good condition and rare factory exhaust is included with the sale), K&N pod style air filters, reed block spacers, period fork brace and steering damper. The engine pulls crisply and cleanly through all gears and has never had so much as a hiccup in the time i've owned it. Within the last 500 miles the engine oil has been changed with Motul Transoil Expert (best 2-Stroke engine oil, IMO), fork seals and fluid changed with Motul Fork Oil and the oil injection has always received Motul 800 2t in the time I've owned it. New Bridgestone Battlax BT-45's were mounted within the last month as well and still show outer "whiskers".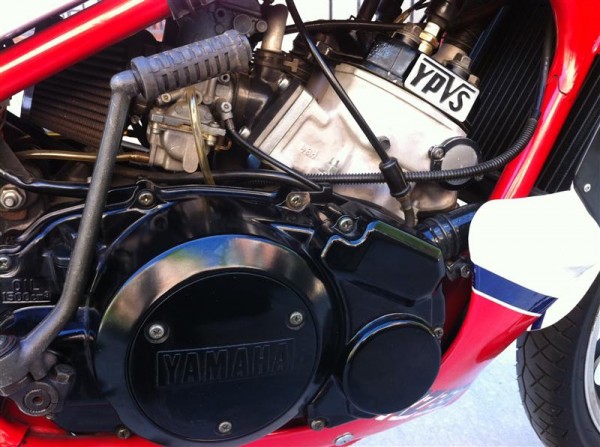 The body is in very good condition and I would rate it a 8/10 and that may be a tad harsh depending on who's looking at it. All original bodywork and paint as far as myself and the previous owner know and has never been down or so much as rubbed wrong since I've had it in my collection. There are some blemishes though when I got it: there is a small mark by the clutch side blinker on the headlight cowl that the original owner tried to touch up (hard to see at first until pointed out but is there in one of the pictures), the brake side chamber caused heat bubbling and a crack under the very bottom of the chin cowl on that side (hard to notice unless you get low, but again, its there), this also happened on the other side but much smaller, also on the brake side there is a small (fingernail fragment size) amount of paint missing where the chin cowl was overtightened in the recessed mounting hole. On the clutch side, the rear seat cowl/fairing's YPVS sticker has ULTRA minor cracking (you'd have to look close to even see it). I want to be very up front about these issues as I want that when I'm adding to my collection. Those are the issues as far as I can recollect.
The fuel tank might be the star of the "ultra clean" show. It is basically flawless. The paint is perfect, no scratches or blemishes of note and even the area around the fuel cap is perfect. The wheels look almost factory new with no oxidation present and this holds true for the brake calipers and rotors. I have high expectations and I was pleasantly surprised when I first saw it, its that clean. The bike needs nothing right now to be ridden the way it was intended. It is 100% complete and ready to go with zero issues. Included with the sale will be a factory service manual.
To sum it up, it's not a museum piece but I'd confidently say its one of the cleanest, low mile, "ridden" RZ 350's in the country.
Asking price: $5250
Please don't hesitate to ask more detailed questions as I may have forgotten an item you'd like to know about.
Please contact me at Brandon at Iconoreps dot com

Good luck with the sale Brandon!
dc