Suzuki returned to the liter-bike spectrum with the K1, an expanded and powerful upgrade to the GSX-R750R.  Released from the back of the garage, washed, and photographed, this Maryland example would like to help you spring forth.
An evolution of the long-developed GSX-R750R, the 2001 liter borrowed the 750's engine cases, slightly bored and very stroked to 988cc and 160 ( ! ) hp.  The stroki-ness of the motor meant good torque could be expected, and it delivered 81 ft.-lbs. at 8,500 rpm.  The alloy twin spar chassis was lengthened a hair and extrusions thickened .5 mm, which for test engineers resulted in a 10% stiffer frame.  Kayaba provided some of their finest street bits, the upside-down fork sliders with titanium nitriding and the monoshock with a piggyback reservoir.  Tokico's six-piston calipers ride 320mm floating disks providing plenty of stoppage, and area to mount DOT reflectors.  Riding position is aggressive but reviewed as do-able for a long day's ride.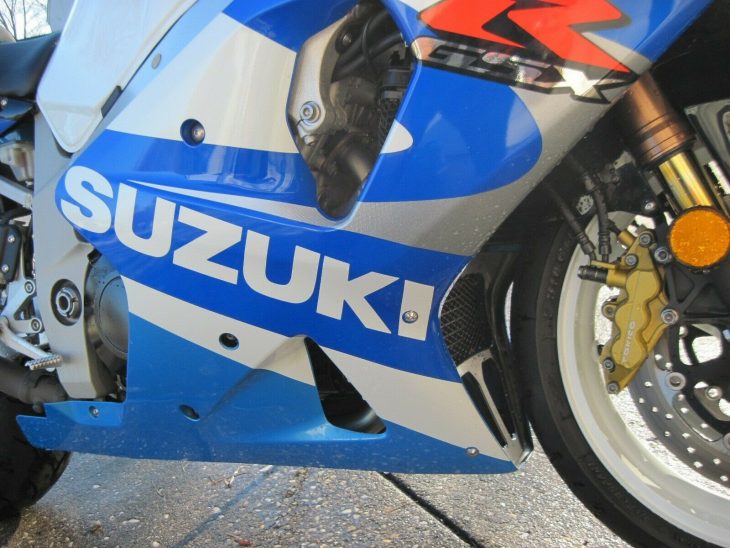 Sounds like this owner is the third, with not all that many miles for any of them at under 11,000 total.  As much as the roll-it-out-and-wash-it photo shoot bugs me, the bike looks excellent.  From the eBay auction:
Just under 11k miles, completely stock, no modifications, it has a Yoshi Slip on, but I do have the original exhaust, in mint condition, to go with bike.  Garage kept since birth.  Only 2 owners, both professionals.  Never raced, never abused.  Bike runs, drives, idles, like new.  I Have both keys and complete tool kit.  I do not have owner's manual.  Bike needs nothing but fresh fluid changes for the season.

Suzuki's big success in the -R1000 was weight control, with a ride-away weight more in line with a 750 than other flagships.  Handling reviewed as a nice balance, not quite up to Honda's 929RR standard, and the torque took Yamaha's R1 to task.  Suzuki and Mat Madlin were in the middle of running the AMA Superbike table, and the GSX-R1000 was in the showrooms on Monday, bigger and more comfortable than the 750, but every bit a Superbike.
-donn