Looks like the buy-it-now on eBay was used to purchase this one quickly! Be sure to check out Bob's other Featured Listing: 2001 Ducati MH900e!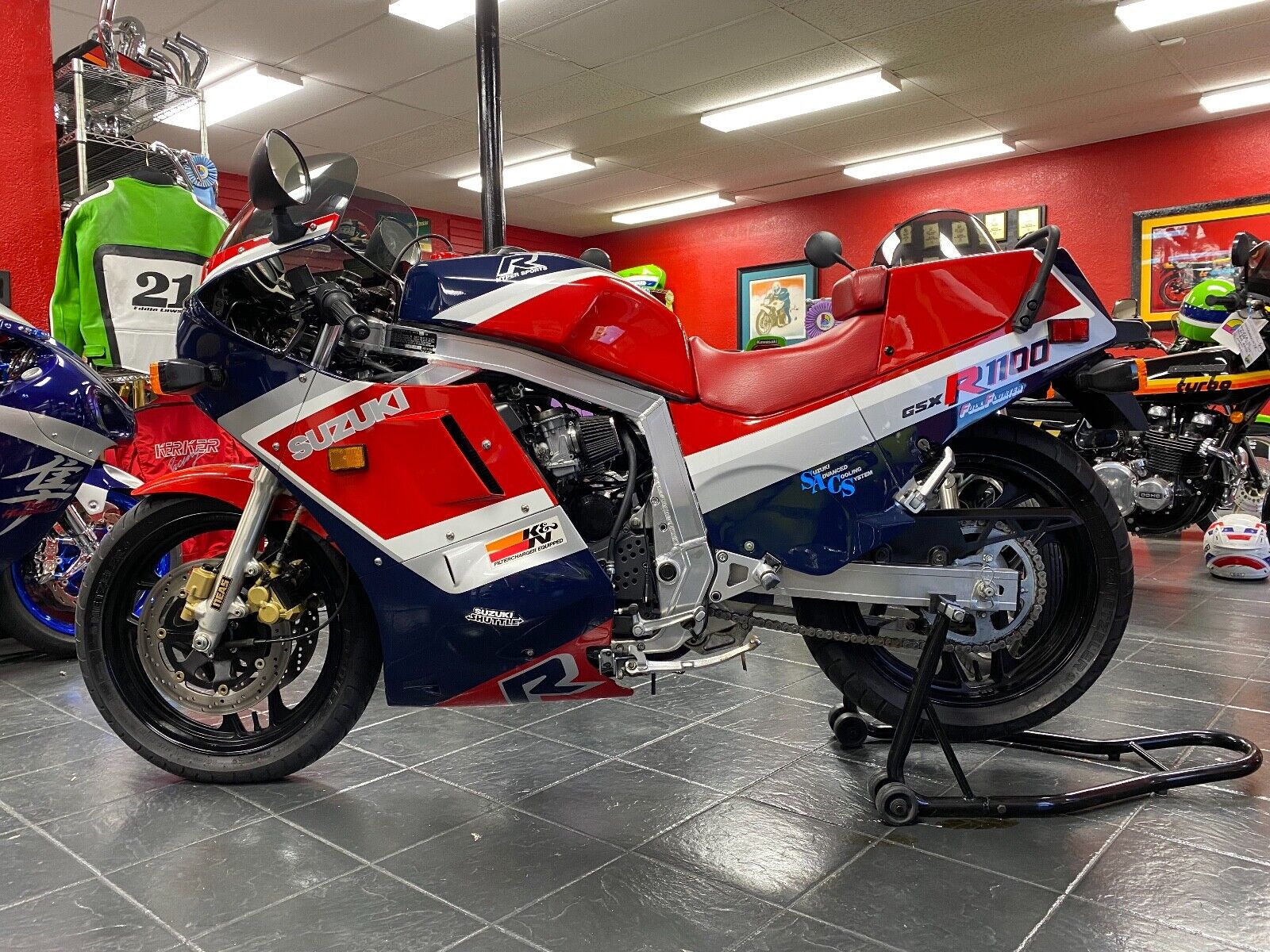 In the social world it may be cool to be fashionably late to a party, but in the high stakes game of sport bikes being first is key.  It allows you to define the field, cement bragging rights for marketing purposes a keep everyone else playing catchup.  Suzuki's GSX-R1100 was, and has remained the definitive sport bike of the mid 80s.  One would struggle to find anyone that was around sport bikes in the 80s that did not lust after the oil cooled four cylinder monster.  Even today if you bring up the GSXR you will be sure to hear some amazing stories about how much of a game changer the bike was when new.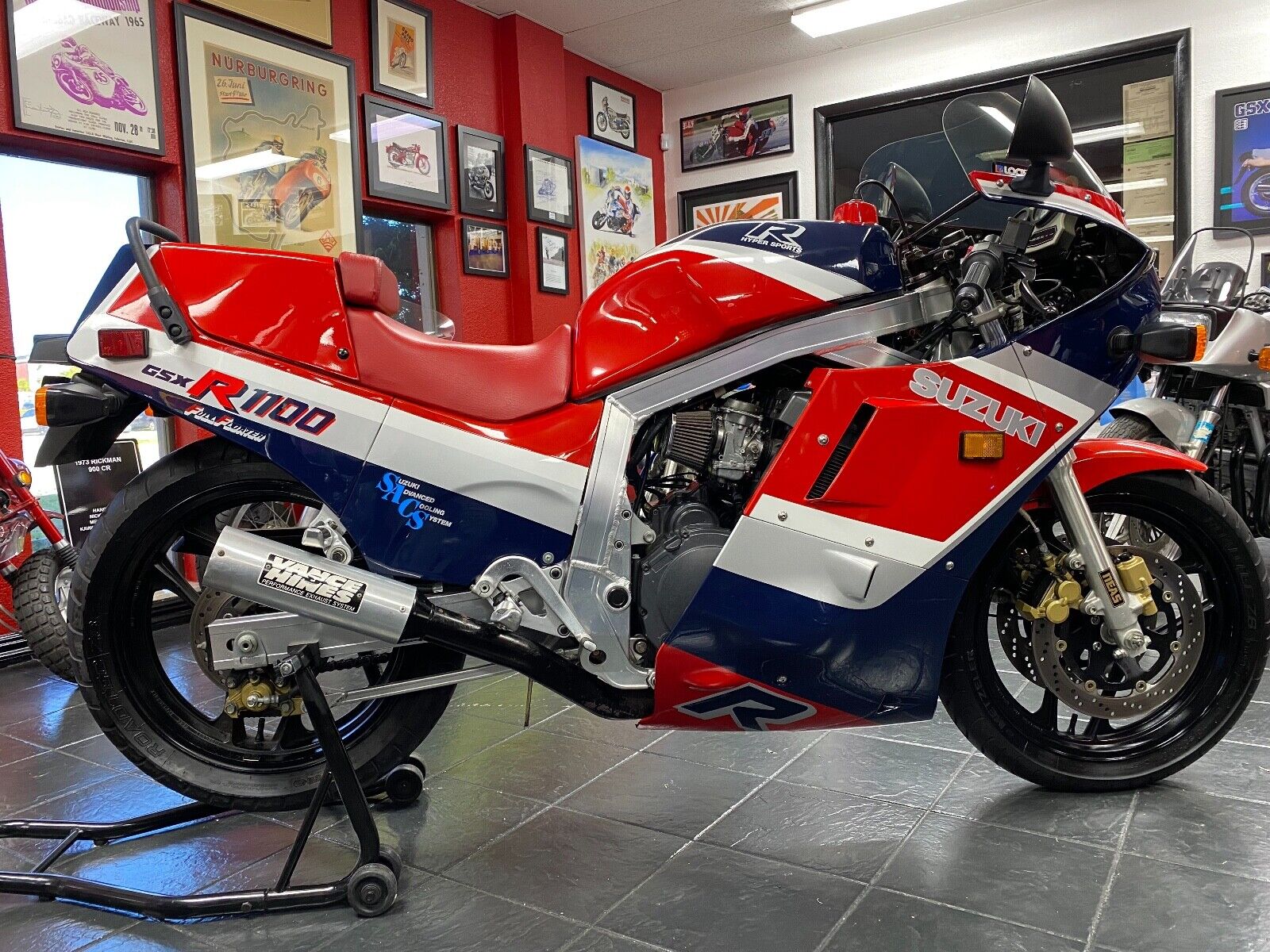 It is not hard to see why these were an instant hit.  The market was ripe for a break out star.  At the time Suzuki was enjoying success with the Katana.  While the Katana was fast and desirable, the GSX-R was the better part of 100 pounds lighter, and made more power.  Some that only looked at power numbers might have been disappointed, but none that rode it shared that opinion.  Shorter wheelbase, better brakes, suspension and wind protection meant the GSX-R was a serious performance machine.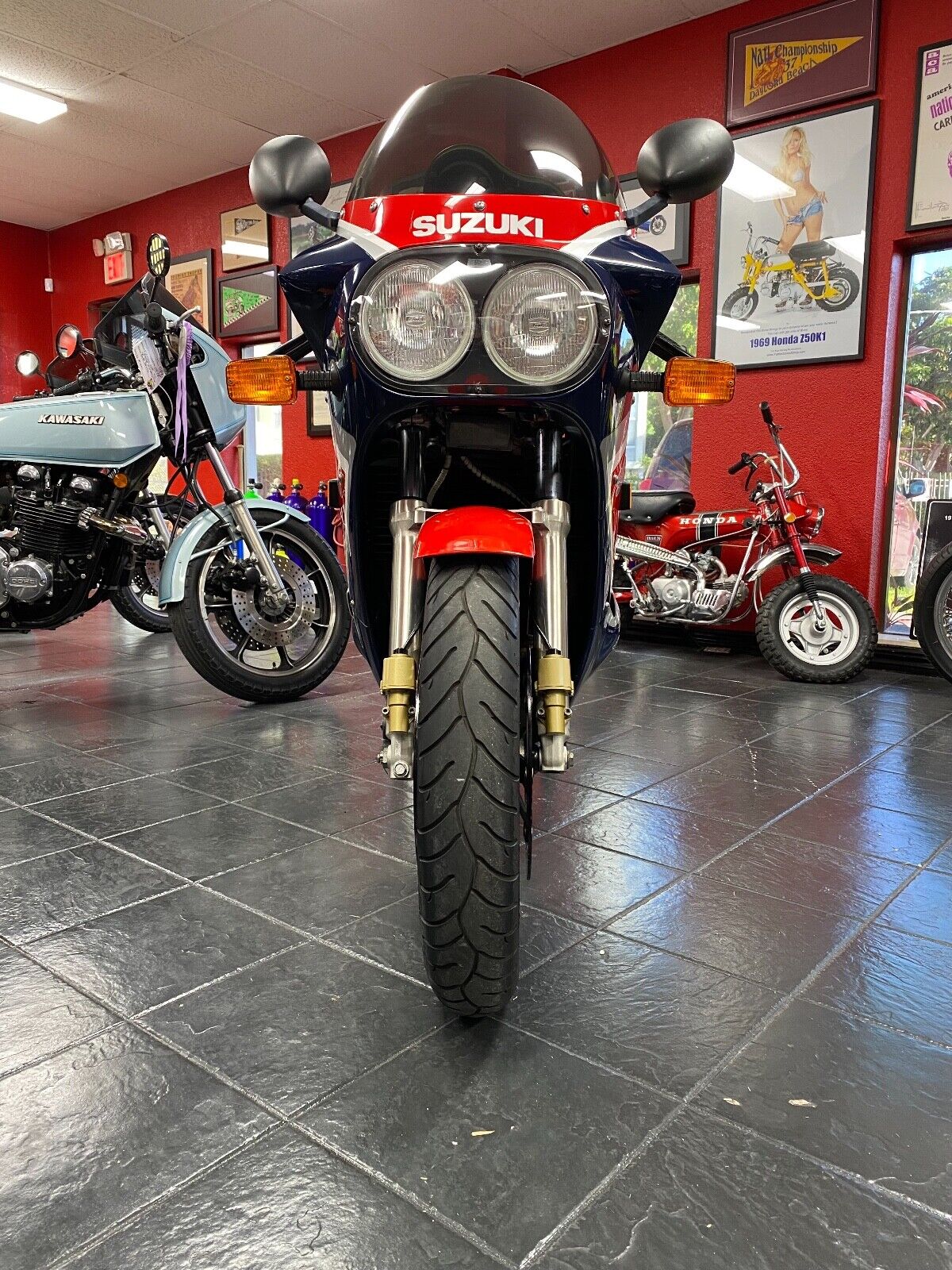 As with any machine with such a large performance envelop few remain in good condition long term.  Some are raced and live hard lives.  Many are modified.  The GSXR might go down in history as the most modified motorcycle ever.  From track riders, club racers, drag racers and people just looking for a blank canvas to express themselves, the GSXR has been loved by all.  The example today has not suffered any of those fates.  Not shocking because this beautiful bike shows just over 1500 original miles.  Bodywork shines wonderfully and this would surely be a great addition to any collection or enthusiast garage.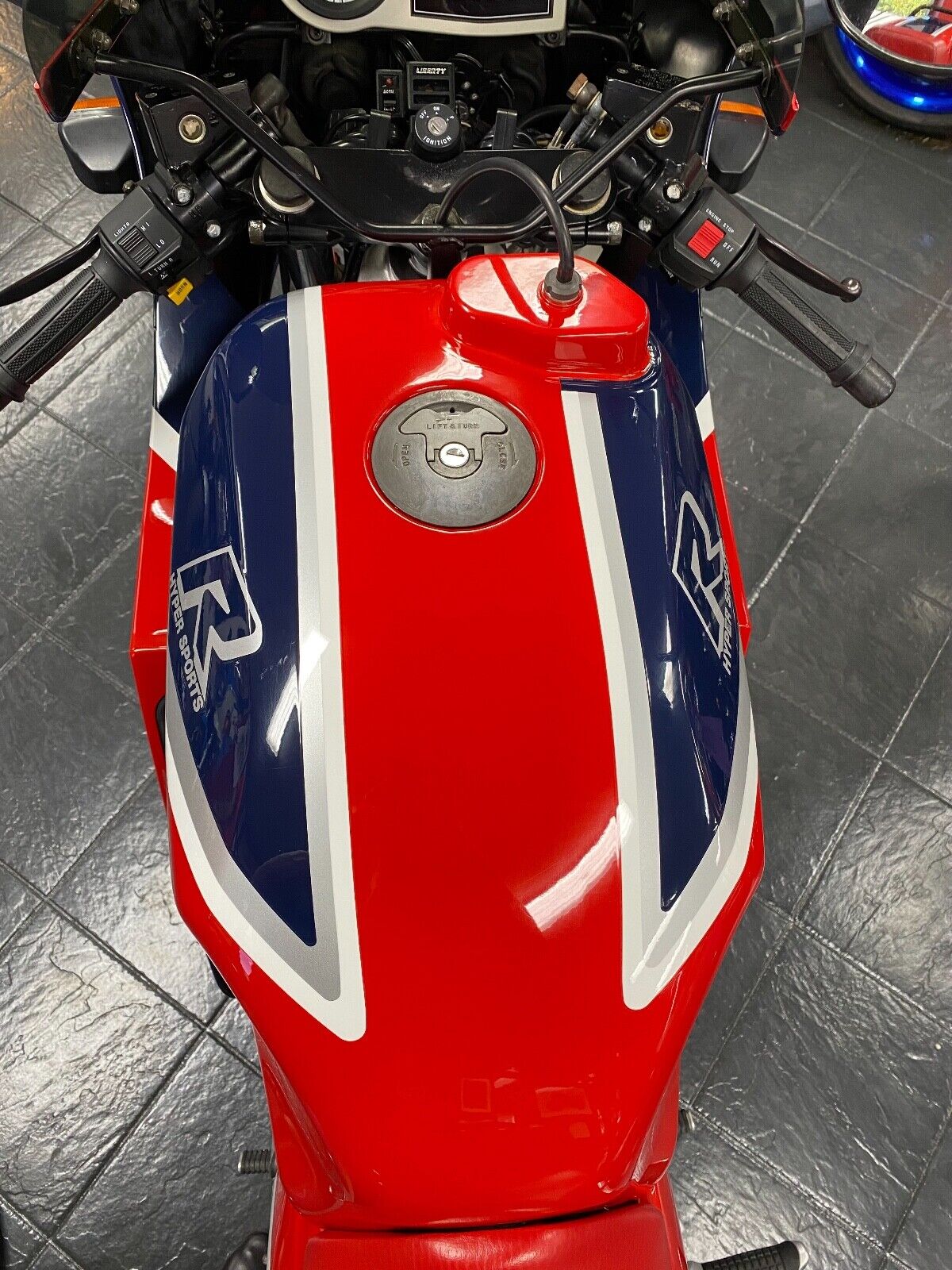 COMING OUT OF MY PERSONAL COLLECTION GLOBEMOTORCYCLES.COM OF OVER 150 VINTAGE MOTORCYCLES 🙂 GLOBE MOTORCYCLES

THIS IS AN AWARD WINNING, ALL ORIGINAL CONDITION 1986 SUZUKI GSX-R 1100 WITH ONLY 1500 ORIGINAL DOCUMENTED MILES!!

THE BIKE: 
MY ALMOST FLAWLESS GSX-R 1100 COMES WITH EXTRAS:
THE ORIGINAL FACTORY ORIGINAL 4 INTO ONE EXHAUST, FACTORY ORIGINAL WINDSCREEN, FACTORY ORIGINAL FLAWLESS SOLO SEAT COVER (IMPOSSIBLE TO FIND A PERFECT ONE), AND THE FACTORY ORIGINAL CARBURETOR JETS/PARTS.

THE ENGINE:
THE ENGINE IS ALL ORIGINAL AND HAS NEVER BEEN REMOVED FROM THE FRAME. SHE IS SET UP WITH A PERIOD CORRECT VANCE & HINES 4 INTO ONE EXHAUST. I WILL HAVE MY BOYS RESTORE THE EXHAUST TO ITS ORIGINAL BLACK HIGH HEAT COATING AND POLISH THE ALUMINUM CANISTER BEFORE SHE LEAVES MY SHOP. A DYNO JET STAGE 3 JET KIT IS INSTALLED ON FRESH ULTRA SONICALLY CLEANED AND OVERHAULED CARBURETORS, K&N POD FILTERS.

THE FRAME:
THE FRAME HAS ALL THE ORIGINAL LABLES AND HAS NOT BEEN TAMPERED WITH AT ALL. ORIGINAL CHAIN AND SPROCKETS, CHAIN GUARD, TURN SIGNALS AND MIRRORS, GRIPS, ECT. LOCKHART BRAKE LINES AND SMOKED WINDSHIELD ARE INSTALLED. NEW METZLER Z6 RADIALS MOUNTED AND BALANCED

THIS BIKE HAS BEEN IN THE CLIMATE CONTROLLED CARE OF 2 COLLECTORS SINCE NEW. HERE IS YOUR CHANCE TO HAVE A HUGE PART OF MOTORCYCLING HISTORY IN THE HARD TO FIND RED WHITE AND BLUE COLORS.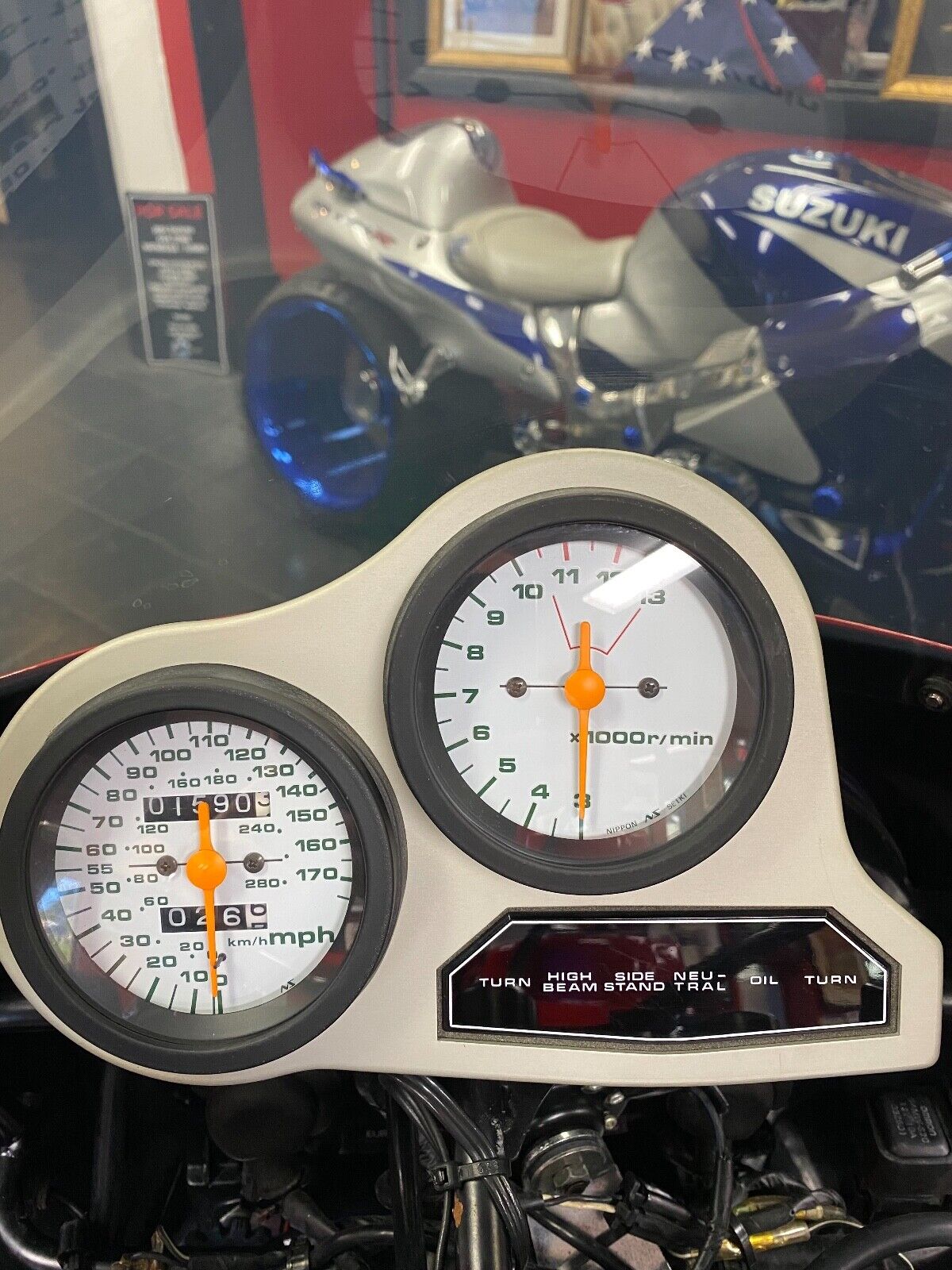 Strong bidding right out of the gate mean that the $14,000 BIN might be clicked at any moment.  If one has ever looked for a clean, low mileage and largely stock early GSX-R they know how hard that search can be.  Here we have a first, and in some people's opinion the most desirable year, in great condition.  The listing states to have the OEM parts to revert the few departures from original shown in the images.  This is particularly nice because the next owner can choose to keep the bike as is and show it as period correct and fantastic sound from the Vance and Hines pipe or to go back to 100% factory.