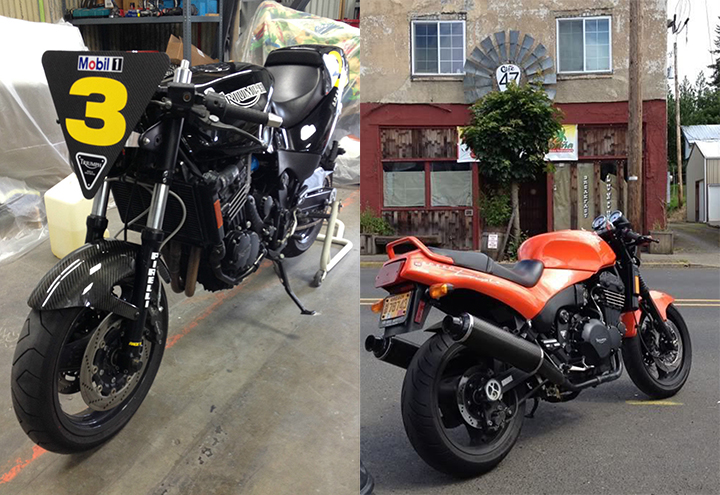 A plucky spirit and old-world charm were ultimately no match for the industrial might of the Japanese and Triumph was gone by the early 1980's. The motorcycle landscape was changing rapidly, and they simply couldn't keep up with the pace. So when construction magnate John Bloor changed his plans to raze the Triumph factory to build housing tracts and instead decided to resurrect the famed company, he knew something new was needed. In order to give the reborn company the versatility to create new models and respond to market trends, as well as create interesting, niche motorcycles with minimal risk, a new philosophy was needed.
The modular design resulted in a pair of engines mated to a versatile spine-frame that lent itself to a variety of configurations and eventually included supersports, adventure-touring, sport-touring, cruiser, standard, and café-racer styles. That café racer was the very first Speed Triple, and I just happened to find two prime examples this week: a very rare and very nicely prepared track bike and one of the best street examples I've seen in a very long time.
While the bikes that resulted from the modular design weren't as refined as Japanese alternatives, they were successful, setting the stage for the company's current line-up. Trading on character and heritage instead of outright performance, it's no surprise that the 1200cc four-cylinder models were less successful, and the entertaining 900cc [actually 885cc] triple came to take center stage, a formula that's worked so well for them since.
To promote the Speed Triple, the new bike was campaigned in a one-make race series name, originally enough, the "Speed Triple Challenge."  The first bike is a replica of those track-only bikes, and features many difficult-to-obtain parts.
From the original eBay listing: 1995 Speed Triple Challenge Replica Track Bike for Sale
 I believe it has been said that these are fastest in Black.  It was and orange bike converted to all black just for color choice and not due to damage.  I have had this for a couple of years and have been converting to represent the Speed Triple Challenge series bikes. It has a serious amour of love, attention and $ put towards it. First of was finding all the black panels.  Bike has the Sebring/ factory race header with an Arrow titanium exhaust can, front end was ton through and re springer by Race Tech. Penske, $$$$, remote resivor rear shock. Keihin fcr39 race carbs installed and add a great intake sound. Specially sourced Sprint Steering Damper with proper brackets sourced new from UK.  Front and rear fenders are Carbon Fiber from the factory special Super III. The carbon has been professionally re surfaced and clear coated, will not fade in the sun like all the others. Six piston front calipers are also from a Super III and are an incredible performance option. Custom made carbon numberplate and tank pad. Wheels have been restored and painted in a grey metallic that just set off just right. Bike is set up for the strew with lights and bilkers. I have only used it 300 miles in two track days in the past two years. Tires are Pirelli Super Corsas and are still good – only 300 miles on them.  So, this is not your run of the mill early Speed Triple, it has thousands of dollars of rare and unobtainable rare parts, just try and find them.
But according to most of what I've read about the early Hinkley bikes, trying to build one for the track is really like teaching a pig to rollerskate so, unless you like tilting at proverbial windmills, perhaps it's best to look at an example that's for use on the street.
Like this very, very clean and very, very orange example: 1995 Triumph Speed Triple for Sale
Never restored, never repainted, never crashed first generation Speed Triple. I hunted for 2 years to get this one and secured it from a collector in Tucson AZ. Being dry climate and hardly used, it was cosmetically perfect, but had a bikini fairing and bar risers added. I had Cascade Classics of Portland OR completely go through it to get it back to stock, then started from there to refine it more. I have enjoyed riding her around Oregon backroads, sometimes taking my kids for rides, but now it doesn't get used. When I have time for riding I use the Ducati or Aprilia sport bikes. My policy is: if I don't ride it she has to go; hence selling the one bike I said I will never sell!

Features

Beautiful condition original Speed Triple that made the Hinckley bikes famous

Period 1995 Super III exhaust system. Tuned for this exhaust (much time/money here). Runs better than new (dyno charts prove it)

Invested $2,000-$3000 per year whether it needed it or not e.g. new rubber hoses on engine, flushed/cleaned radiator overflow tank, fitted new front brake pads with modern Triumph safety pins.

At oil/filter changes, oil comes out looking new. Uses no oil whatsoever. No rattles or noises. Silky smooth power

Never had engine apart, never crashed, never restored, never repainted, seat never recovered. Cam covers removed at 9,000 miles to check valve clearance; didn't need adjustment.

What comes with bike: Woodcraft clip-ons, Triumph brand period bikini fairing, OEM mirrors, unpainted cowl, spare orange grab rail, race 3-1 headers, workshop plus owners manual, all original documents: DMV docs, service receipts, original 1996 bill of sale etc.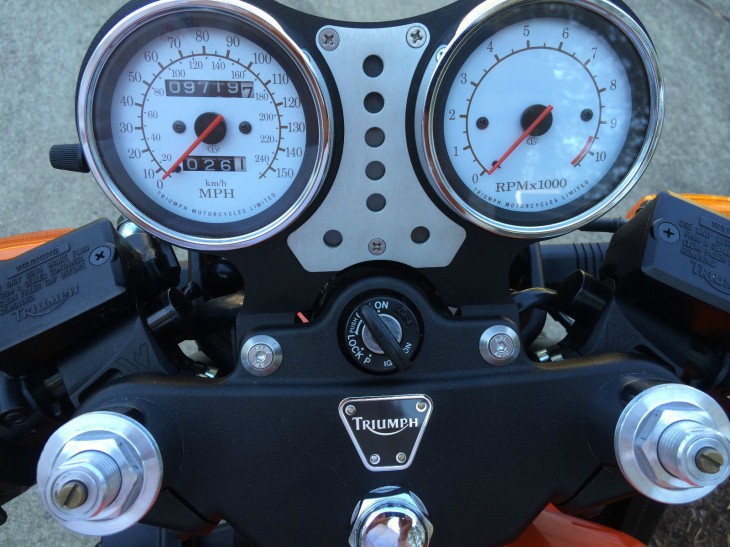 The original Speed Triple can, along with the Ducati Monster, be credited with popularizing the naked sports machine trend. Other manufacturers may have gotten there first, but those bikes [CB1, Hawk GT, Bandit400, etc…] are relative footnotes. It's easy to see the Speed's charm: a powerful, throbby engine with just enough handling for a sporty morning blast through the twisties, and enough individuality and sex-appeal to make the rider feel special.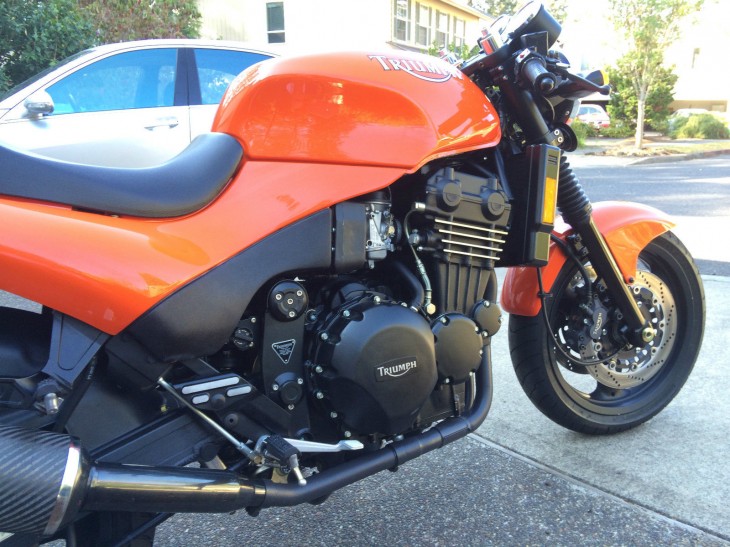 All the different era Speed Triple bikes have their charms, but the first of the line always has some extra bit of excitement about it. I really like these, especially their generally rock-bottom prices. It's the kind of bike I'd never own as my only bike, but I'd love to have space in my garage so I could have one as a slick daily hack. That means neither of these are really the right bike for me. But if you're looking for a collectible early Speed3, you are very unlikely to find one in better physical shape that hasn't been sitting in a crate since the 90's. Honestly, I am always trolling for these and they're never this nice and only rarely this orange. It's pricey, but you probably won't find a better one.
And if you're looking for a seriously one-of-a-kind track-day or race bike, your search is definitely over. Just don't buy it if you don't like answering questions about your ride: any time that thing is parked up, people are likely to wander over and ask about it.
-tad