The 2002 Triumph Daytona 955i Centennial Edition is a sneaky beast, as at first blush it's just Triumph's big, hairy-chested early 2000s bruiser in a smart shade of green. It takes a real Triumph aficionado to see and feel the differences between this one-of-200 special and its less exotic counterpart.
This bike has seen very little use, showing just 3,923 miles. The original owner apparently took it on some longish trips around Idaho, before moving it on to the seller. The dormant periods have served it well, as the fairings appear to be blemish free and immaculately clean. A generous handful of tasteful mods — including ECU work, an under-tail kit and an exhaust — add to the aura.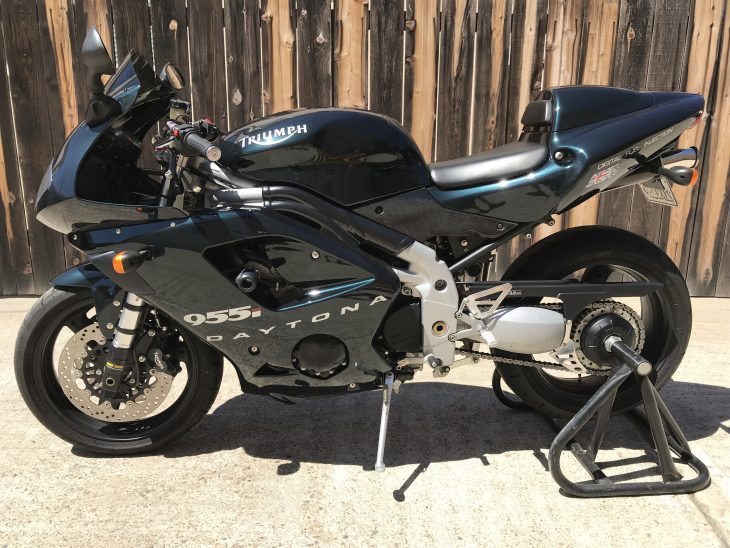 Hidden under the Aston Green paintwork — a metallic hue a couple shades darker than British Racing Green — Triumph hid a set of carbon fiber fairings. The gauges also got a smattering of the black stuff to keep the high-tech materials brief going and make sure nobody would mistake the CE for a cheaper ride.
Triumph saved the real party pieces for the chassis, where they threw on the single-sided swingarm from the previous generation Dayona, which added style at a nearly four-pound weight penalty. They also lengthened the wheelbase, but snipped off .3 of a degree of rake and nearly 2.5 mm of trail. Doesn't sound like much, but it sharpened the CE over the standard model.
From the seller:
Mostly original, with the only changes being a pipe/K&N with an under-tail kit and some handlebar/control changes to make the bike more comfortable.
I am the second owner. 49 state bike, was originally from Idaho where the owner only did a few long rides in good weather and then sold it to me in Apr 2013 with about 1900 miles, where I took the bike back to San Diego where it is at presently. Car-fax report will likely show 0 for mileage since reporting mileage on a bike over 10 years old was not required here in CA. -Please inquire for details on this. Since then I've ridden the bike only occasionally and never abused it. I had a 2009 Speed Triple but sold it after a couple years, I just wasn't much of a fan of the way it rode but always wanted to try one of these Daytonas. I was surprised by how different the bikes were. The 02 despite being older and a very similar bike to start with was quite a bit stronger running. Torquier, and the transmission shifted like a swiss watch compared to the S3. I just don't ride much anymore and would just like to see it go to someone else to enjoy. All maintenance was performed at San Diego Triumph (Rocket Cycles), and there is really nothing that needs done at this time except maybe for the tires. I put fresh ones on when I got it and the date stamp is oct 2012 so they are just reaching their in-service time even though they show hardly any wear. Brakes/chain/clutch are original and good condition. Bike has the solo tail cover and comes with the pillion saddle. Pics do not show the passenger footrests but they are available as are most of the stock parts and I've kept all receipts. Original toolkit available. General shape of the bike is excellent, with the only flaws being small scuffs that come more from just sitting in the garage than being on the road embarrassingly.

Wolf/Trident Unter-tail Kit (Original available and comes with the bike)
Wolf/Trident Carbon fiber exhaust (Original available and comes with the bike)
Aftermarket tinted windscreen (Original available and comes with the bike)
LSL Tour Match clip-ons, which I had titanium anodized (Original available and comes with the bike)
Polished, then titanium colored anodized top clamp to match the LSL parts (Original available and comes with the bike)
Titanium bar-ends (Original available and comes with the bike)
675 Daytona Clutch perch to fit the LSL bars (Original available and comes with the bike)
CRG levers in titanium (Original available and comes with the bike)
Shorai Lithium Ion Battery With Shorai charger
TuneECU programmed ECU with Julian tune. Engine idle/over-run is good. o2 sensor is used. Engine pulls clean with no flat spots.
Bridgestone Battleax BT016 Pro (Oct 2012 MFR Date)
Racetech front fork rebuild with new springs and gold valves for a 150lb rider.
Skyking fairing savers
Trimmed length gear shift lever (New OEM unit comes with the bike

I also have a spare fuel tank that is still new, in the box that comes with the bike. Original owner had chipped the paint on the original tank and bought a replacement but never installed it and I didn't think the chip looked bad so I left it. The chip is touched up and you don't see it unless your looking for it. I also have 2 extra front sprockets in the smaller, 17 and 18 tooth sizes in case you want a lower gear. Original owner bought them but didn't need them, and I didn't either with the torque the bike's got. It always did fine off the line and a shorter sprocket would probably have made it more of a handful. During my ownership, I've had problems with charging. Common on these bikes, so I installed a shunt wire with fuze to improve the charging and the bike now puts out about 14-14.4V at idle so no issues now. Also had trouble with the low-fuel warning light and an associated EML light which is a design flaw with these bikes. So a new fuel sender went in with a float stopper modification that fixes the issue. Bike now just needs a new rider.
The Daytona 955i Centennial Edition has yet to reach the upper echelons of collectability, but with so few produced and with as special as the machines are, they're likely to stay valuable to the right seller. If you're looking for a rare, special, brute-in-a-suit British sport tourer, this is your steed. Seller Joseph can be reached here and asks $5,800.