First of all, we hope you enjoyed our April Fools fun last week. We had a blast putting it together and I think everyone enjoyed it for the most part. Anyone pick up one of those beauts?
While here in the Pacific Northwest spring has yet to really make an appearance, I know proper riding weather is returning to most of the country as we speak. The guys have already posted some fantastic examples in the past couple of weeks to fill empty garage space and we look forward to seeing what else pops up in April and May — which are historically the most active months on our website. Here are some updates that haven't made it to this site and we think you'll enjoy.
---
Rare Sport Bikes
It's been a while since we've updated the action over at our companion site RareSportBikes.com. Check out what you've been missing:
Mike recaps the 2011 Mid America Auction in Las Vegas earlier this year
The latest with the Ariane2 Moto2 exclusive updates
An OW-01 build thread I spotted on PistonHeads
And numerous cool finds from around the web (click images above for details)
---
Classic Sport Bikes For Sale
Doug, Mike, Brian and myself have also started to revive ClassicSportBikesForSale.com Here are some of our first picks to kickstart the site back into action:
Triumph/BSA X75: A Beginning and An End
What come around goes around: 1975 Suzuki RE5 Rotary
We are eager to reach out to potential partners that would be interested in very attractive advertising rates on this site. Join the excitement as we really get this site cranking in the next few months. Email me for details.
---
Featured Listings
We currently have two featured listings that we'd like to point out. Please check out these beautiful bikes:
Ducati 748R with 587 miles for $10k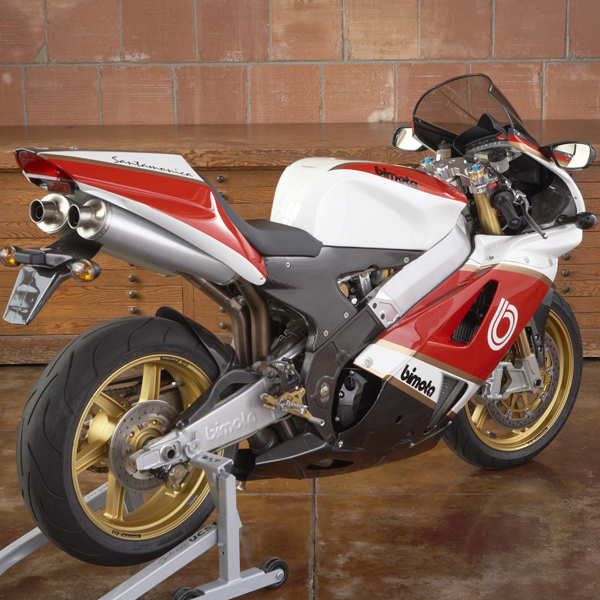 Bimota SB8K Santa Monica with 350 miles for $13k
Do you have a bike for sale that needs special attention on our site? Email me for details on how to get your motorcycle featured on RareSportBikesForSale.com.
---
Meet-up at West Coast Moto Jam AMA Pro Races in Sonoma this May?
In May the AMA road racing series comes to Sonoma at the West Coast Moto Jam, and RSBFS is going to be in attendance! A group of us are actually riding down the west coast on our bikes and I'm hoping to organize a brief ride from the track to Lagunitas Brewing in Sonoma on Saturday afternoon. I'm buying the first round, so if you're in the area please join us! RSVP ahead so I can estimate if we need a reserved area. If anyone would like one of our shirts hand delivered that day I'll discount to just $10 at the event! S/L/XL still available.
---
We'd like to reintroduce two of our primary sponsors on Rare Sport Bikes For Sale, SpeedyMoto and Tyga USA. SpeedyMoto produces top shelf aftermarket parts for late model Ducati's, and Tyga USA is a recent entry to our shores providing many brand new upgrade products for all modern sport bikes and many older two strokes as well. We thank our sponsors for their continued support and welcome new partnership opportunities. Please email me for our latest media guide and pricing if interested.
---
And no update would be complete without a heartfelt Thank You to our readers. All of us at RSBFS, RSB, and CSBFS sincerely appreciate you reading our sites, commenting on our picks, and submissions to our sites. We love what we do and without you our work would not be possible. Thank you!
Dan Crouch