Warning!
This post is in our archives. Links in this post have been updated to point to similar bikes available to bid on eBay.
Motorcycling history is littered with storied nameplates undone by economic changes, and many have tried and failed to resurrect those brands, but one of the enduring success stories continues to be Triumph. Sunk by a changing economy, a changing market, and an inability to compete with the reliable, affordable, high-performance bikes from Japan, Triumph's long, slow slide into irrelevance was over by 1983. John Bloor originally purchased the defunct Triumph facility with an eye to razing it and building residences, but somewhere along the line, a bit of nationalistic inspiration struck him and he instead decided to revive the brand. Attempts to compete head-on with sportbikes from Japan a second time were always going to end in failure, so Triumph wisely chose to focus on quality and heritage instead of outright performance. That's not to say that bikes like today's Triumph Daytona 1200SE didn't have brawn to match their good looks, but that performance was never going be as focused or as inexpensive as it would be with something like a GSX-R1100. Instead, Triumph went for a different customer, one more concerned with quality and class than top-speed numbers or lap times.
The biggest limitation to ultimate performance was Triumph's decision to go with modular design based around a spine frame. That same basic frame and two engines, a triple or an inline four, could be wrapped in different bodywork to create an entire range of motorcycles and quickly add models to react to market changes, which gave versatility for a fairly low cost. Unfortunately, it meant a bit of a jack-of-all-trades quality, with too much weight carried too high for optimal handling. Nothing wrong in the engine room however: 147 horsepower may not sound all that impressive, considering the 1180cc engine, but it was one of the most powerful motorcycles available at the time and a claimed 85 lbs-ft of torque is BMW S1000RR territory. So the big Daytona can move out smartly and, most importantly, can sustain that 159mph top speed seemingly all day long, with plenty of wind protection from the big fairing and all-day ergonomics.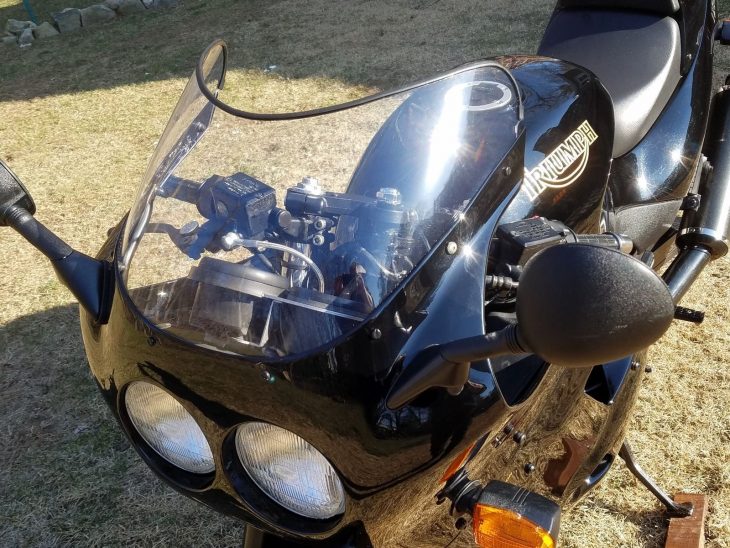 Styling is always subjective, but I think these look pretty cool, with that dual-round headlamp endurance racing style, but without the aggression or wild graphics of a 90s Japanese sportbike. The monochromatic color treatment, especially the black seen here, makes it look classy and elegant. I think they've aged well and prices mean you can have a classic road-burner with all-day comfort for relative peanuts. Personally, I'd prefer one of the hot-rod three-cylinder Super III models, but in either guise you're looking at a deceptively fast motorcycle.
From the original eBay listing: 1999 Triumph Daytona 1200SE for Sale
I purchased this bike three years ago to add it to the other two Daytona's I already have. The reason for the sale is that I have my hands full with my other D-12's and the other bikes we have. So… In the three years I have owned the bike I have put less than 400 miles on the it. I replaced the left and right fairings as well as the front fairing, windshield, with trim, clip-ons, fork seals, tires, and battery. I am the third owner, from what I was told. I have the bike stored in my climate controlled basement since I brought it home. The bike is completely stock. All parts used are Triumph parts. There is a very small ding on the tank. On the right side from previous owner. Also a small scratch/rub on the left side rear body work. The only thing missing is the Union Jack that gets mounted on the side fairing underneath "Special Edition". I have not located one yet. The last thing the bike needs is a carb tune. I have not done this because I wasn't riding it. I have a shop that has tuned my other D-12's that has the bikes producing 120hp and 80ft.lbs. at the rear wheel. I can have them do the work for around, $400.00, or we can discuss other options.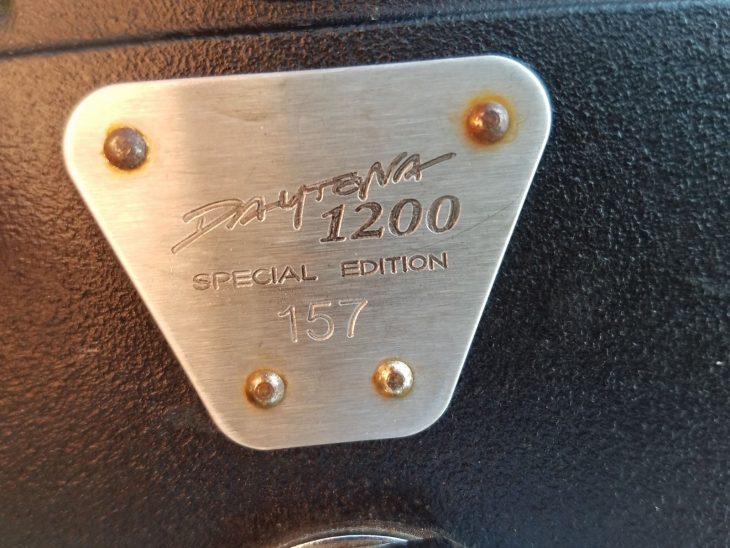 Full disclosure is something we all appreciate when shopping for a bike. When obvious stuff is wrong but not mentioned, we bike folks think, "Hmmm… if he's not being up front with that, what else isn't he telling us?" Being upfront about minor flaws suggests that, not only is the seller honest, but that they are a bit obsessive themselves. I'm not obsessive about minor flaws like the ones present here, but I sure want to buy a bike from someone who is. For a bike meant to cover big miles at big speeds, this one shows remarkably little wear and tear, although mileage is pretty low and the seller is asking $5,199.00 for what appears to be a very nice motorcycle. This is another bike like yesterday's VF1000R where most examples that show up for sale seem to have held up very well, considering the fact that they're 20 years old devices that go belting along highways and back roads at speed, which speaks not only to build quality, but to attentive ownership. But then again, that's exactly the kind of customer Triumph was shooting for in the first place.
-tad