For Sale: 1978 YAMAHA TZ250-E PRODUCTION ROAD RACER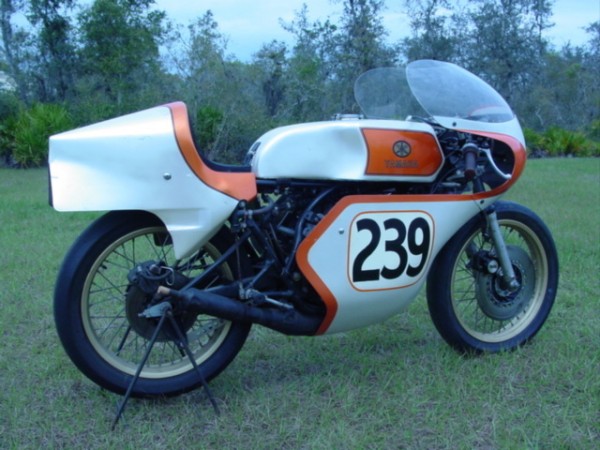 Up for grabs today is a historic Yamaha TZ250 race bike. These TZs cleaned up the class for many years in AMA racing, and this 1978 bike is what is known as an "E" model. First introduced in 1973, the TZ250 was the mainstay of privateer racers everywhere. With the right credentials and finances, anyone could order up a factory race bike – and many did. Each season Yamaha incrementally modified the bike, building upon past success. With each evolution the bike became faster, making more horsepower and handling better. It was a continual recipe for winning.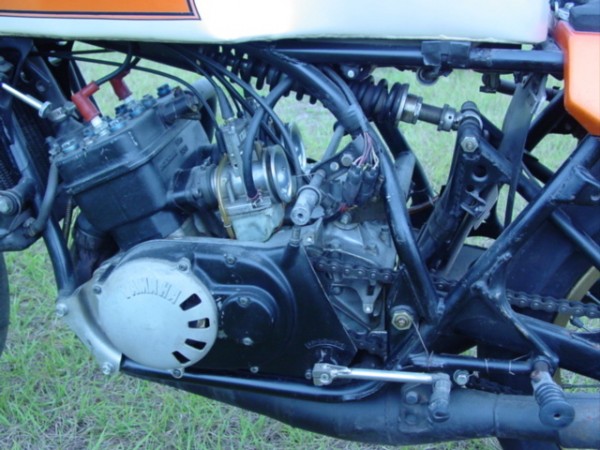 While the TZ250 changed in varying amounts each year, Yamaha kept several items stable throughout most of the model's long life. For example, the same 54mm bore x 54mm stroke was retained from the inception of the bike until the 1980s, when gradually the bore was widened at the expense of stroke. Rated at 53 horsepower at 10,500 RPM, the TZ250 was the mainstay of many a racing career. Legendary tuner Kel Carruthers prepped an E model for none other than King Kenny Roberts; together they won many races in the 1978 season.
From the seller:
1978 YAMAHA PRODUCTION ROAD RACER

VERY NICE, ORIGINAL CONDITION; ENGINE TURNS OVER AND HAS SPARK, THOUGH IT'S NOT BEEN RUN SINCE I BOUGHT IT OVER 10 YEARS AGO, IN "AS RACED" CONDITION…

THE FAIRINING, BODY PANELS, AND TAIL SECTION ARE IN "AS PURCHASED" CONDITON, AND ARE IN GOOD CONDITION…

THE CARBURETORS ARE LECTRONS (NOT ORIGINAL)…APPARENTLY, KEL CARRUTHERS USED 38MM LECTRON CARBURETTORS, ALONG WITH OTHER MODS, TO PRODUCE MORE TORQUE ON THE "E" MODEL…

ALL OTHER PARTS ARE IN VERY GOOD CONDITION, AND APPEAR ORIGINAL, THOUGH THE ENGINE CASE DOES NOT HAVE A VIN STAMPED, THUS WAS SURELY CHANGED AT SOME TIME…

I'M SURE THAT THE BRAKES WILL REQUIRE CLEANING OR REBUILDING DUE TO THE AMOUNT OF TIME THEY HAVE NOT BEEN IN USE…

THE TIRES ARE THOSE THAT CAME ON THE MACHINE, SO ARE OK FOR A MODEST TEST RIDE, BUT NOT SERIOUS USE…

IF THE BUYER PLANS TO RACE IT, I'M SURE THAT A GENERAL "GOING OVER" WOULD BE REASONABLE, AND ANTICIPATED WEAR AND "SITTING" PARTS LIKE BEARINGS AND SEALS APPEAR READILY AVAILABLE VIA AFTERMARKET AND NOS PARTS SUPPLIERS, IF THEY ARE NEEDED…

THE DRY CLUTCH PROTECTIVE COVER HAS A SMALL SECTION BROKEN OFF THE UPPER-RIGHT (ABOUT 2 O'CLOCK) AREA…

THE BIKE WAS STORED INSIDE, IN A CLIMATE CONTROLLED ENVIRONMENT UNTIL I MOVED JUST RECENTLY…

THIS IS A VERY NICE CLASSIC RACER OR COLLECTOR MACHINE THAT I HAD IN MY "SHOWROOM," BUT WOULD BE EQUALLY AT HOME AS A CLASSIC RACER…AND MUCH MORE FUN, OR AT LEAST UNIQUE, AS A PRODUCTION RACER RATHER THAN A MACHINE BUILT FROM VARIOUS OTHER PARTS…
Old race bikes can be a mixed blessing. On one hand, they harbor a mysterious quality of unknown races and riders. On the other hand, they rarely remain in "stock" condition for long – the whole goal of racing is to win, and winning requires more than the next guy (more HP, more speed, more talent). The seller does not note any history with this bike – although it is listed as in "as raced" condition – so that might be something to ask. Also, the bike seems to sport bodywork from a later model. The tail section resembles a "G" model more than an "E," so it is possible someone updated this bike through the years it was run in anger.
In all, this is a wonderful piece of racing history from one of the most iconic series on two wheels. The fact that the 2 strokes are all gone now might just help raise the value of this and other classic racers. With an auction that opened at just $1,500 and is at the time of writing only slightly above the $2k mark, this is a bike that will soon find a new home. For a great restoration project, a coveted track day bike or simply a piece of history, click the link and jump over to the auction. Good Luck!
MI