1994 Yamaha TZ250 King Kenny Roberts stable
Location: Santa Ana, California
Mileage: It's a racer 🙂
Price: $10,000 will do it
Que the AC/DC and crank up Back in Black because RSBFS.com is back baby! We're as amp'd about it as anyone and the IT guy better be apologizing to everyone- and quick! I personally think we should give him a good old southern ass kik'n for holding us down so long. Who wants to help?
Have your Angus cranked up yet? Mines on 11, but I can still hear and smell the cotton candy fumes of hi-octane and synthetic 2T burning from a full on GP bike. Yep, that's right my friends- the closet 99% of us will ever get to being a true GP racer boy is to buy an ex GP racer and now is your chance!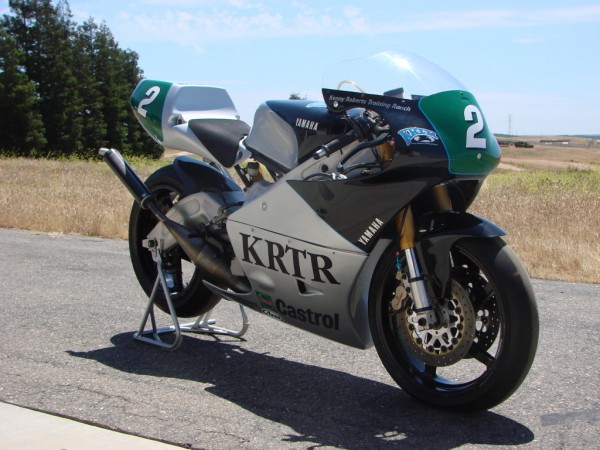 SCHWING! Pretty spiffy eh? Read on for the 411
1994 Yamaha TZ250 located in California. This bike belongs to Kenny Roberts and was raced by Jimmy Filice in the 1996 European 250cc Championships. Bike has Ohlins Forks and Brembo Brakes. The cylinders and pipes are Bud Aksland. This bike is in very good condition and fast. Sold with no spares, comes with what you see in the pictures.
Hmmm, comes with what you see in the pictures eh? Maybe KR will throw in a track lesson for the lucky buyer 🙂
I poked around on some of the two stroke forums and the main question seems to be "wonder what's in the motor?" I'm curious as well and would like to see the Dyno sheet for this machine.
Track day machine? Office art? Conversation piece? What would you do with a gem like this? Hit me back and tell us what you'd do with a full on GP machine.
Cheers!
dd