For Sale: 1985 Yamaha RZ500
OK two stroke fans, I have two words for you: California Title. Excited yet? Called out to us by sharp-eyed reader Ian, these bikes usually belong over on sister site CSBFS – but seeing how we need some great hardware to fight the influx of Ducatis posted here recently, I'm quite happy to show it off on RSBFS. Besides, The big RZ has lots of company on this site, as it continues to be a very popular model coveted and searched out by readers (check out some of the previous RZ500 listings by clicking on this RSBFS search link).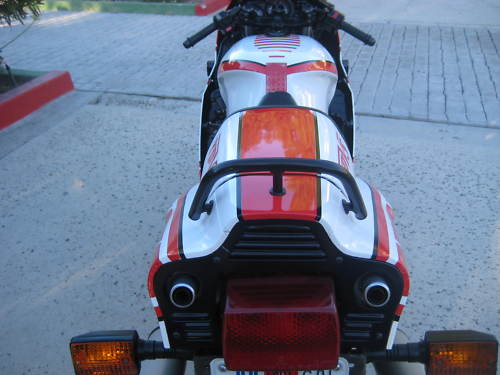 This has got to be one of the best pics in all of motorcycling: With the color-matched solo seat cover over the upper two of the four exhaust pipes and just a hint of license plate cleavage poking out from below, this just says "ready for business!"
From the seller:
You are bidding on a beautiful 1985 Yamaha RZ500 with only 27500 Km's (17087 Miles), it is not show/display quality but as you can see from the pictures it is a stunning daily rider, it is in standard configuration (not tuned) and has the original exhaust pipes, auto lube and air box, the bike has been fitted with longer lower suspension arms to raise the back of the bike up by 1" to give it a more modern look, (the original arms will be included).

When I bought the bike the tank and fairings had been re-painted in original Yamaha white but had no graphics, so I decided to replace all of the graphics with high quality hand cut vinyl and as you can see it looks amazing.

No expense has been spared on the up keep and maintenance of this RZ500 and it starts and runs like new, it has never had any issues with water, fuel or oil leaks and the gear box does not use a single drop of oil.

The RZ has new Bridgestone BT45 tires, zero gravity windscreen and Gorilla alarm and as you can see from the pictures many of the parts have been powder coated, the wheels are flat black and all of the other parts have been powder coated satin black
With 17,087 miles showing on the odometer (that's 27,500 kilometers for the metric set), this bike is in rare condition indeed. The apparently unmolested engine, intake and exhaust speak to a well-cared for machine that was not abused mercilessly. The repaint is striking – although questions on the reasons behind the repaint are probably in order. As always, we recommend asking lots of questions and requesting lots of pictures and information before committing hard cash on a bike unseen.
Thankfully, the seller has been quite forthright in what is not perfect on the bike:
From the seller:
Small piece of plastic missing from behind the front right turn signal
Fairing cut around the right side engine cover
Could use some paint touch-up on the engine (if you're a perfectionist)
Crack on under side of belly pan (can only be seen from underneath belly pan)
All in all, this is not a bad list considering we are talking about a rare, gray-market import bike that is 26+ years old! And perhaps you missed another key aspect – this bike has a coveted CA title and plates (which may not mean much to the inhabitants of the other 49 states – or our foreign and overseas RSBFS readers – but is a BIG DEAL where bikes like these are coveted yet not able to be titled by mere mortals).
So how much for a rare beauty like this one? The current bid at auction is only $6,800, with reserve still in place. Bidding has been spirited, and the bike is showing a lot of interest. These are $9k+ bikes when found titled and rideable condition, so there is still plenty of opportunity to get in on the action. To check out all of the pictures, read more from the seller and possibly even bid on this great machine, . Good luck to the bidders, and thanks again Ian for pointing this one out!
MI