Location: Lincoln, Nebraska
Mileage: 4,730
Price: Auction, $8,500 BIN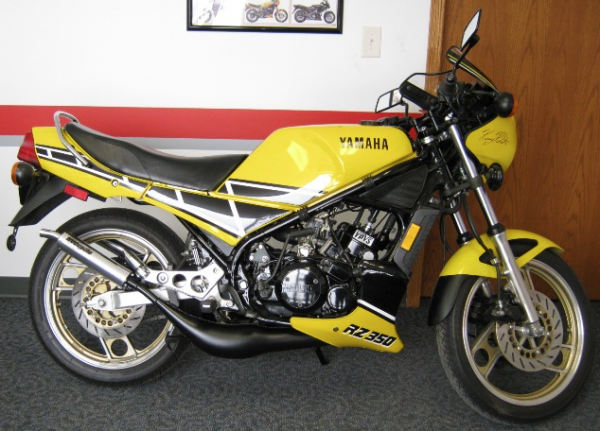 Here's a clean "King" Kenny Roberts edition Yamaha RZ350. Many of these have been featured here at RSBFS, being a rare US legal two stroke. Two strokes offer an exhilarating world of high revs, light weight and good power. Unfortunately, emissions kept them mostly out of the US. Yamaha's YPVS system helped boost power, keep things clean and gain its import into the States. And then there's also the fact that Kenny Roberts is an American racing legend, being the first American to win a Grand Prix.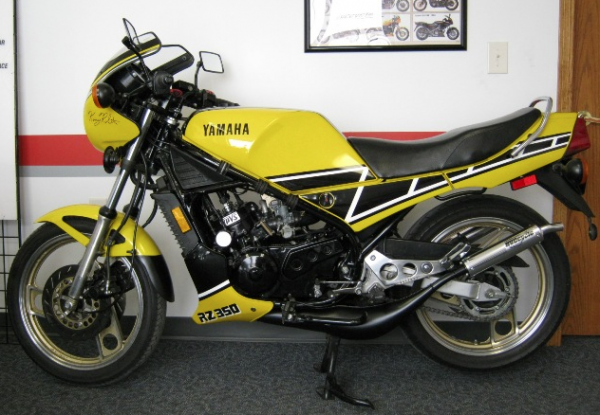 Here's the info on this machine from the seller-
This bike is one of my personal bikes that I must let go due to hard economic times, I will miss her.

This is a very low milage RZ350,  almost all original the upgrades are listed below. I bought this RZ from a customer about 4 years ago after we installed new rings, cleaned the power valves, installed new chain and sprockets and tires, went through the brakes and installed new brake pads. Since then I put around 350 miles on the bike.

This bike will start right up, run great for miles and miles, and will not dissapoint.

The professional pictures were taken of the bike before we installed the HVCcycle exhaust. It had AllSpeed exhaust at that time. The HVCcycle exhaust is a far better and lighter exhaust.

Upgrades:

Race Tech Gold valves and race tech springs in the front forks. (spring 2011)

HVCcycle Performance Exhaust, (Fall 2010)

Carbs have a Dyno Jet kit and a K&N Y-boot air filter kit.

Bridgestone BT45 tires  about 350 miles on the tires and tubes

New o-ring chain, and aluminum rear sprocket. (same as tires)

New EBC brake pads, front and back.

The bike will be sold with a brand new battery, the one in the bike is a few years old.

What is wrong with the bike

There is one tiny dent on the front right of the tank about a half a dime size.

Any questions, give me a call.

We can help to arange shipping.  I will deliver for a small price as far as Kansas City, or Des Moines.  Or about 3 hours from Lincoln NE.  (small price is determined on how much gas it will take to get there)

If you Win, a $2000.00 deposit is due within 48 hours. the balance due on pick up or before delivery.  I will take credit cards for the purchase but the 2.8% fee will be added to the total.  
And the pics-
So the great news on this bike is that it appears to be owned by a real enthusiast that has a shop pretty much dedicated to the RZ and two strokes in general. With that comes lots of upgraded goodies on the bike and what appears to be excellent maintenance. Also, mileage isn't that high either. The seller points out a small ding on the tank as really the only issue.
So now the price. At $8,500 BIN this bike is going for a premium. While the market is always difficult to read, usually these are around the the $5k mark. This looks to be very well maintained with good upgrades so it's up to you to decide how far that goes.
Regardless, these a killer rides. Take a look and if it strikes you, place your bid.
-RN