No Bids????? 1993 Suzuki RGV250 Gamma VJ22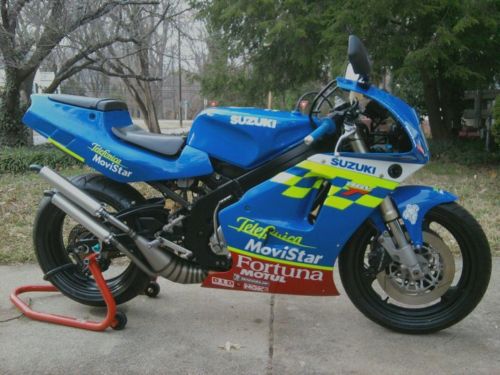 I don't know if I want to live in a world where no one is bidding on a perfectly good RGV.  What am I missing?  It has a title, it has some nice engine work, it comes with two sets of chambers and looks sharp.  Of course the paint is not original but it is one of better Kenny Roberts Jr. replica schemes I've seen.  Yeah, she needs some bits and pieces fixed up but no bids?
It is not a collector type bike but should be appealing to the guy that wants one that is ready to rock and roll for the street or track.    It looks like the engine work runs almost $2,300 alone.  From what I can gather the Fischer service is an engine exchange.  You send them your engine and they send you one back tuned to the spec you want.  What the actual Kit 3  includes I couldn't quite seem to find.  The seller says the bike also comes with two sets of chamber: Arrow and Jolly Moto.  Great to have two sets or a nice way to make a little $$$.
Look at that, it is gift wrapped for you.
The story:
1993 Suzuki RGV 250 VJ22.  This is a complete running motorcycle with a clear Virginia title.  I imported it from England in 2000 and it has been sitting in my dining room since about 2002. It was a project of mine that is 95% complete but I lost interest.  Bike is in complete running, riding order but has minor work to be done on the bodywork and other areas.  Jetting needs to be dialed in but it runs very strong.  The pilot jets probably need to be bigger.  It starts easily on the third or fourth kick when cold.  Starts first kick when warm.  It has a Fischer Kit 3 engine (see this link: http://www.fischerkfz.com/250er/motoren_en.php) which is highly modified and very strong.  Cylinders are actually marked Aprilia (the Aprilia RS250 used the RGV engine with different markings).  The engine has less than two hours on it.  It has Tyga steel expansion chambers.  The chambers have minor rust but no dents.   New tires.  Body work is original but has been painted to resemble Telefonica Movistar graphics.  The graphics are decals painted over with clearcoat.  It looks nice.  It needs rear brake pads, the passenger seat needs the latch secured, fairing needs some fasteners, the rear fender is not on the bike.  I have it but it's cracked.  Turn signals need to be put on.  I can send detailed pictures to interested parties and will gladly show it in person to local buyers.  If you're local and very serious I will roll it out and start it up for you.  Bike is sold as is with no warranties.  Payment by certified check within five days of closing.  Buyer pays all shipping costs.  I also have an old set of Jolly Moto chambers that are included.  They are kind of banged up but will work fine.  Send your questions and I'll answer quickly.  I travel a lot so might be a little late answering but I will.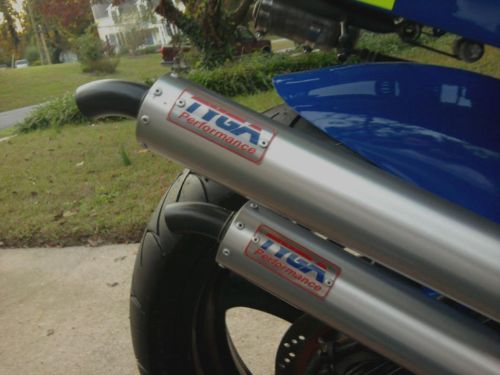 Some Tyga cans for your Arrows.  How about some nice short, black carbon ones to complete the replica look?  I'm still shocked someone has not thrown a single bid down.  Is the fact that the entire bike has been apart for powder coating and the engine swap scarring everyone off?   If the reserve is reasonable I'd consider this a nice find for someone that likes to tinker a bit.
Ian