1985 Yamaha RZ350
2-stroke mania continues here at RSBFS. Here is a rare RZ350 in red/white for your enjoyment. This example has seen some use, but looks to be in good condition for its age.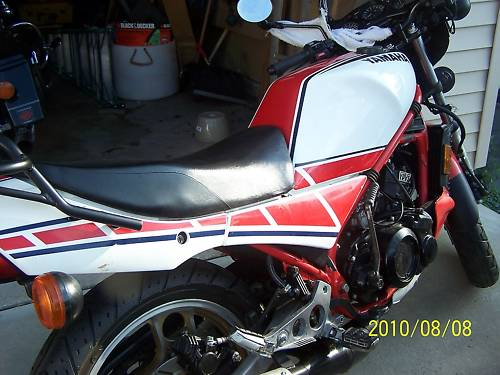 There is very little information regarding this gem in the ad, although the seller lists it as a California bike with 8,959 miles. The auction has the bike mistakenly labeled as an RC350 rather than an RZ350, so that might keep some people from finding it. But not us!
Offered in the US for only a short period of time, this is the second (and last) year of the RZ350. Earlier (1984) paint schemes had the yellow/black with Kenny Roberts' signature, and the red/white without a signature. In 1985, Yamaha added Kenny's sig to the red/white paint scheme as well.
This bike sports a set of Spec II expansion chambers. As the OEM exhaust system contained a complex (and heavy) set of catalytic converters to help the bike pass EPA emissions, aftermarket systems helped to shed 15+ lbs and offered substantial performance improvements.
Although not quite as fast as the 550 four strokes of the day, the little RZ built up a strong cult following and continues to be an affordable collectable that is fun to ride. Check out this one here!
MI